The ambition of the Department of Chemistry is to establish itself as a leading centre for research and teaching. Currently, we offer an undergraduate degree programme in chemistry and an MRes in advanced chemical sciences.
The structure of the undergraduate degree programme is designed to accommodate the background and specific requirements of students and is compatible with the modules offered by University of Liverpool so students may spend their last two years studying at Liverpool. To consolidate the learning of theoretical chemistry, students spend a high percentage of time performing practical experimentations. Our laboratories are equipped with modern facilities, where students are exposed to the state-of-the-art equipment and instrumentations used by respectable industries and research institutes.
In their final year, students are required to undertake mini research project as an essential part of their training. These projects are carried out in real research environments and aim to tackle real research objectives. At the end of the project, students are required to submit a thesis detailing the background, experimental approach and a discussion of results. The programme, and its teaching, gives student a taste of research career and exposes them to current research topics in the department. This hands-on experience with modern technologies and first-hand experience in research activities makes our graduate students more competitive in establishing a career in both academic and industrial environments.
"We aim to provide students with research-led education in modern chemistry, covering organic chemistry, inorganic chemistry, physical and theoretical chemistry, and analytical chemistry."
Professor Kim Lau, Head of Department

Royal Society of Chemistry accreditation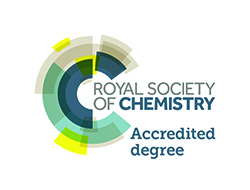 The department's BSc Applied Chemistry programme has been accredited by the Royal Society of Chemistry in the United Kingdom, one of the world's foremost professional bodies for chemical scientists.

The accreditation means that upon graduation, BSc Applied Chemistry students will have partially gained the academic requirements needed to achieve chartered status and be able to demonstrate internationally recognised standards of competency as chemists.

The Department of Chemistry at XJTLU is the first at an independent Sino-foreign university in China to achieve this accreditation for its undergraduate degree programme.