AACSB
International Business School Suzhou is one of an elite group of institutions worldwide to be accredited by the AACSB (Association to Advance Collegiate Schools of Business), a globally recognised standard for the highest quality in business education. Only five per cent of business schools worldwide have been awarded the accreditation and IBSS is the youngest school ever to have achieved it.


AACSB accreditation standards require a high quality teaching environment, a commitment to continuous improvement, and a curricula that is responsive to the needs of businesses. This achievement means that IBSS meets specific standards of excellence in strategic management and innovation; student, faculty, and staff as active participants; learning and teaching; and academic and professional engagement. It also means that IBSS has made a commitment to on-going improvement to ensure that we will continue to deliver high quality education to our students.
EQUIS
International Business School Suzhou has been accredited by the EFMD (European Foundation for Management Development) in 2018. IBSS has made history by being the youngest business school ever to obtain EQUIS in the shortest time of under two years. This achievement by IBSS comes two years after receiving AACSB accreditation making IBSS the youngest business school in the world to have received both EQUIS and AACSB accreditation, and with these, IBSS has become part of a small group of elite business schools in the world. There are only less than 100 business schools that have received both AACSB (Association to Advance Collegiate Schools of Business) and EQUIS accreditation.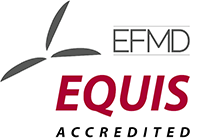 The EQUIS accreditation is a quality certification system for business schools set up by the EFMD. It has become the most global authoritive and select business school certification body in the world with its comprehensive and rigorous review process. EQUIS requires accredited business schools to be outstanding all-round education centres which excel in teaching, academic research, business engagement, internationalisation, and ethics. As of 2018, there are only 176 business schools in the world that have obtained EQUIS accreditation.
Programme accreditation and recognition
BA Accounting
ACCA (Association of Chartered Certified Accountants)
CIMA (Chartered Institute of Management Accountants)
CPA Australia
BA Accounting at IBSS is the first undergraduate programme in China to have obtained both nine ACCA exemptions and 12 CIMA exemptions.

MSc Professional Accounting
ICAEW (Institute of Chartered Accountants in England and Wales)
MSc Professional Accounting students now have exemption for six modules.