XJTLU Museum presents a series of lectures and activities on aspects of Suzhou culture for XJTLU students and staff to facilitate the cultural merge and interaction. Renowned artists, authors and scholars who are widely recognised for their achievements in Suzhou local culture will be invited to our lecture series. Here comes the tenth lecture of this series. XJTLU Museum invites Xuefang LIANG to share the history and development of "Suzhou embroidery". Also she will provide on-the-spot embroidery teaching for XJTLU students and staff.
Speaker
Xuefang LIANG
Master of Arts and Crafts in Jiangsu Province'
Senior Arts and Crafts Artist of Research Level
Deputy Director of Fiber Art Research Institution of Academy of Fine Arts of Tsinghua University
Vice Chairman of Art Professional Committee of Fiber Art of China
Specially-appointed Professor of Sichuan Academy Art Institution of Fine Arts
Specially-appointed Professor of Suzhou Arts and Crafts Vocational and Technical College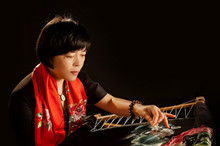 Xuefang LIANG was born in 1965, town lack in Suzhou. She was cultivated by the original lotus pond of China. She has been brought up to do the sewing work ever since she was a little child. Being a disciple of Mr Wenxia Gu, a master of arts and handicrafts in China in her early life, sequentially be mentored by Mr Yuecheng Lin in Tsinghua University, Liang eventually kicked off the journey of discovering textile fiber art, accompanying by a series of works with unique characteristics include 'Rhyme of Lotus' and 'If Blooming '.
Her distinctive artistic style of unadorned but stunning, concise but striking has earned her an international recognition. It is worth mentioning that a magnificent large-scale embroider 'flower blossoms when spring begins 'has been permanently archived by the National Museum at the Fourth Chinese embroidery culture art festival in 2009. Moreover, 'Rhyme of Lotus' has also been regarded as a perpetual collection by British Museum in 2013. With the purpose of inheriting and developing Chinese embroidery, Liang has created an experience mode of embroidery called 'embroidery saloon 'in 2013, which transformed the industry pattern from purchasing service to experiential service. The production of Liang could appropriately embody the characteristic of Su embroidery, which primarily centers around 'rhythmical, spiritual, sophisticated, lively, colorful, delicate, elegant.' She has been dedicated herself to explore and create original embroideries production and innovative frame of embroidery, constantly managing to combine traditional Su embroidery with contemporary arts and science, thus gradually formed her ingenious and unique artistic expression.
Lecture background
Embroidery
"Xiu Hua" is slang for Chinese embroidery, also known as "Ci Xiu", which has at least four-thousand-year history as Chinese folk arts. Chinese embroidery refers to embroidery created by any of the cultures located in the area that makes up modern China. The four major regional styles of Chinese embroidery are Suzhou embroidery (Su Xiu), Hunan embroidery (Xiang Xiu), Guangdong embroidery (Yue Xiu) and Sichuan embroidery (Shu Xiu).
Suzhou Embroidery
Suzhou embroidery as the treasure of the Chinese folk, is the showpiece arts and crafts in Suzhou area. It has been included in the first batch of national intangible cultural heritage list (Approved by the State Council on May 20, 2006). Suzhou embroidery is crafted in areas around Suzhou, Jiangsu Province, having a history dating back 2,000 years. Zhenhu is the place where Suzhou Embroidery originated. Suzhou embroidery is ranked first in the Chinese "four famous embroidery", having features of "exquisite, fine, elegant and pure". It is famous for its beautiful patterns, elegant colors, variety of stitches, and consummate craftsmanship. Its stitching is meticulously skillful, coloration subtle and refined. A rare subset is Su double-sided embroidery which requires ultimate skill and artistry. The front and back of the piece may have different designs, but the ends are not knotted but woven in so the back can't be distinguished. Suzhou embroidery allows the fingertips and heart to experience the changes of happiness and share the joy of life.
Language
Chinese (Bilingual slides and onsite translation support from volunteers)
Registration
If you would like to reserve a seat, please register: send "Name +contact number+ I want to participate" to [email protected]
Note: The first 40 people to arrive who have reserve a seat in advance will receive embroidery tools.