XJTLU Museum presents a series of lectures and activities on aspects of Suzhou culture for XJTLU students and staff to facilitate the mergence and interaction of culture. Renowned artists, authors and scholars who are widely recognized for their achievements in Suzhou local culture will be invited to our lecture series. Here comes the eleventh lecture of this series.
XJTLU Museum invites Jinde ZHONG to share about the history and development of "Rosewood Carving". Also he will provide on-the-spot rosewood carving teaching for students and staff randomly.
Speaker:
Jinde ZHONG
Research-level Senior Industrial Artist
Master of Arts and Crafts of Jiangsu Province
Academic Visitor of Arts & Design, Tsinghua University
Academic Visitor of Chinese National Academy of Arts
Specially-appointed Professor of Suzhou Arts and Crafts
Vocational and Technical College
Member of China's Arts and Crafts Association
Member of China's Society for the Study of Folk Literature and Art
Standing Committeeman of China's Folk Literature and Art,Sculpture Major Committee
Committeeman of Jiangsu's Professional Rosewood Committee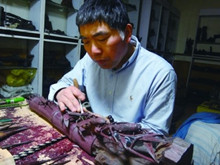 In 1963, Zhong Jinde was born at Tang village, Guangfu town,Wuzhong district, Suzhou, which isthe famous Taihu Lake resort area and known as "Xiangshan craftsman". It is also the former residence of Kuai Xiang, the Gongbu assistant minister of Ming dynasty who is called "Kuai Luban".
Zhong Jinde began learning from the noted folk sculptor Li Xinggen in 1980, and has specialized in rosewood carving, designing and producing rosewood furniture of Ming style for thirty-three years. From September 2009 to July 2010, he studied in the department of sculpture, college of fine arts, Tsinghua University, and learned from famous sculptor, the department head of sculpture professor Zeng Chenggang; from September 2011 to July 2012, he studied in the department of fine arts, Chinese national academy of arts, and learned from famous sculptor, the head of China sculpture academy professor Wu Weishan. His works make innovation on the basis of inheriting traditional art, and look for the integrating point of contemporary art language and traditional rosewood carving technology. The works have won gold, silver and bronze medals many times at the national arts and crafts masterpiece exhibition.
Lecture background
The Origin of Rosewood Carving
China's wood carving has a long history. In the development history of rosewood carving, there were numerous craftsmen who produced numerous exquisite crafts. These crafts were not only collected and appreciated by ancient emperors, dignitaries and literati, but also some of them were treated as holy symbols with the connotations of religion, morality, culture and wealth. During the flourishing period of Tang Dynasty, the shape of wood carving art tends to be perfect, especially subjected on Buddha and Bodhisattva. During Song and Yuan Dynasties, wood carving iss affected by the changes of social aesthetic tendency, works are mainly focused on realism and vividness. During Ming and Qing Dynasties, wood carving art has achieved unprecedented development. The works emphasize the combination of art and realistic life on both skills and shapes, and gradually form different types and styles of wood
carving art. During the period, nanmu, rosewood, camphor wood and longan wood become popular as their unique texture and quality, especially prevailing in Suzhou area. Su style rosewood carving skills can be traced back to the late Tang dynasty. Since the Ming dynasty, it has formed the "Su style" of concise shape, stiff and smooth lines, fine workmanship and bright surface. As an important part of wood crafts in Qing dynasty, rosewood carving has various types and different shapes. It combines technology and art, and has an irreplaceable position in Chinese traditional arts and crafts groups. Craftsmen all around the world are not likely to catch up.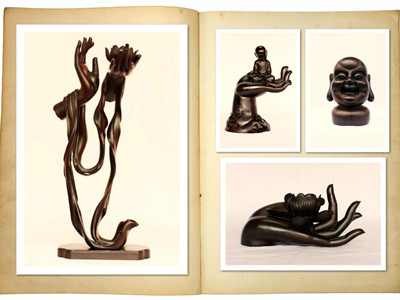 Introduction and Inheritance of Rosewood Carving
Suzhou rosewood carving is a carving art which is passed down to now with specific forms, materials and techniques in China's folk cultural heritage. It's mainly shown as rosewood furniture carving,three-dimensional round carving crafts and architectural sculpture. It's famous for beautiful and concise shape, fine workmanship, smooth paint, vivid spirit,exquisite elegance and deep culture. Hand carving is the main means of rosewood carving skills. It integrates all the essence created and refined by generations of artists for the unique folk art.The aesthetic value of rosewood carving is mainly reflected in shape and qiyun. A beautiful work should first look beautiful in shape. Its color must be gentle and elegant. "Qiyun" refers to the meaning and atmosphere of the work. It can express the author's spiritual pursuit and ideological realm. And the aesthetic and artistic value of rosewood carving also depends on the author's ideological height and artistic level. In 2012, Zhong Jinde and Chen Zhonglin were identified as the representative successors of Suzhou Wuzhong first-batch non-material cultural heritage project "Su style" rosewood carving skills. "Suzhou Rosewood Carving Skills" was included in the list of Jiangsu non-material cultural representative heritage in 2015.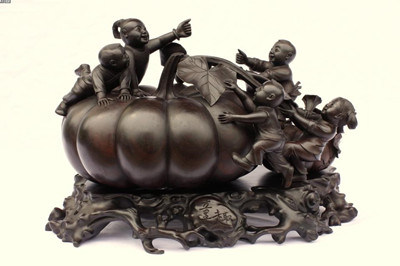 Language
Chinese (Bilingual slides and onsite translation support from volunteers)

Registration
If you would like to reserve a seat, please register: send "Name +contact number+ I want to participate" to [email protected]
Note: Two lucky audiences will have the chance to experience carving skills under the guidance from Mr Jinde ZHONG