Overview
The MSc International Financial Management programme offers an opportunity for graduates from a diverse range of undergraduate disciplines to specialise at postgraduate level in international financial management. The programme allows graduates from non-finance disciplines (including sciences, mathematics, engineering, humanities and social sciences) to obtain the requisite knowledge and education to allow them to transfer to a career in finance or related professions. The programme is ideal for those students who seek a career in multinational business, accounting and finance-related business, retail banking, financial markets and many other areas where financial expertise is needed. Graduates of the programme may also go on to consulting careers or further academic study at an advanced level.
Graduates of this programme, as with all XJTLU masters degrees, earn a University of Liverpool degree that is recognised by the Chinese Ministry of Education.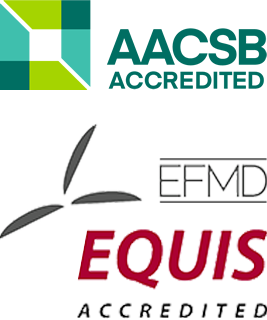 International Business School Suzhou (IBSS) is one of an elite group of institutions worldwide to be accredited by the AACSB (Association to Advance Collegiate Schools of Business) and EQUIS (European Quality Improvement System)in 2016 and 2018 respectively. AACSB accreditation is a globally recognised standard for the highest quality in business education. Only five per cent of business schools worldwide have been awarded the accreditation. The EQUIS accreditation is a quality certification system for business schools set up by the EFMD (European Foundation for Management Development). It has become the most global authoritative and select business school certification body in the world with its comprehensive and rigorous review process. IBSS becomes the youngest business school in the world to have received both EQUIS and AACSB accreditation. There are only less than 100 business schools that have received both AACSB and EQUIS accreditation. This is an important milestone in becoming a world class business school and highlights the strength and significant influence of IBSS at the international level.
Why should I study International Financial Management at XJTLU?
This programme aims to equip graduates with:
the intellectual skills and theoretical understanding appropriate to the study of accounting and finance
a strong practical ability to solve real-world financial issues faced by firms, especially those arising from the international dimension
skills in dealing with complex financial data and in using it to make decisions and recommendations that add value to an organisation
the ability to perform research into financial issues facing firms and to make recommendations based on that research
Knowledge and skills
You will acquire a wide range of skills relating to the analysis of business problems from a financial perspective, along with the ability to understand contemporary developments in international business, the accounting and finance industry, international financial markets and the global banking system. You will also acquire an ability to interpret, understand and apply data and information published in the financial statements of publicly-listed corporations, and to utilise financial data in decision-making.
Modules
Semester one

International business
Accounting and financial management
Corporate financial management.

Choose one of three options:

Econometrics
Quantitative methods for finance
Money and banking.

Semester two

International corporate financial management
International financial accounting and reporting
International finance and economics

Choose one of three options:

Business planning – financial modelling
Econometrics for financial decision-making
Topics in contemporary accounting and finance

Semester three

International financial management dissertation.

Additional learning activities

The completion of additional learning activities is required to complete your masters degree. Normally, required ALA hours will be distributed evenly across each semester, amounting to 200 hours per semester. Part-time programmes will normally require 100 to 150 hours per semester.

Additional learning activities offered include:

Introduction to research methods I and II
Personal and employability skills
Operations modelling and simulation
Postgraduate English
Chinese language
Graduate teaching assistantship
Graduate research assistantship
Independent study with an IBSS tutor
Participation in IBSS research seminar series
Writing and presentation of scholarly research paper
Thomson One certificate achievement
EIKON certificate achievement
DataStream certificate achievement
Professional software skills
Volunteer work for university and business school projects and events
In-company project
Field trip/company visit
Career development activities
Graduate work placement
International corporate governance
Stochastic methods for finance I and II
Time series analytics
Asset pricing analytics
Empirical data analytics.
Careers
Graduates of this programme will effectively have converted their non-financial undergraduate education into masters-level knowledge of international financial management. This will make graduates of the programme attractive recruitment prospects for the finance departments of both Chinese and international corporations, as well as in financial consultancies, banks, and accounting and auditing firms, especially when working in an international context.
The programme will also be a useful starting point for non-finance graduates who wish to sit examinations leading to the professional qualifications of the Chartered Financial Analyst (CFA) Institute, Chartered Institute of Management Accountants (CIMA), Association of International Accountants (AIA), or similar qualifications (though this would require additional training and the passing of professional examinations).
Fees
Fees

RMB 120,000 for the entire 18 month full-time programme.

University tuition fees cover the cost of your study with us.

Alumni discount

If you are a graduate of XJTLU, the University of Liverpool or Xi'an Jiaotong University, you will automatically receive a discount of 20 percent of the tuition fee.

Payment options

Masters students have the option to pay tuition fees in instalments each semester. You can also choose to pay the fees upfront at the time of registration, in this case a discount of five percent of the total fees will be offered.

You will be asked to indicate how you would like to pay the fees when you confirm your acceptance of the unconditional offer.
Scholarships
XJTLU offers a generous scholarship of up to 50 percent of the total tuition fee for all full-time masters programmes based on academic merit. Should you wish to apply for XJTLU master scholarship, please submit a scholarship application letter in your application stating the reasons why you should be considered.
Entry requirements
Minimum entry requirements

UK
Upper second class (2:1) honours
China
211 Project; Top 100 of 2018 Shanghai Ranking--75 percent or above
Non 211 project; Non Top 100 of 2018 Shanghai ranking – 80- 85% percent or above, depending on your Undergraduate institution
Note: Shanghai Ranking of The Best Chinese Universities is subject to annual update http://www.zuihaodaxue.com/zuihaodaxuepaiming2018....
Chinese applicants are not required to take the MoE postgraduate entrance exam.
North America
3.0 Cumulative GPA (out of 4) or 3.2 Cumulative GPA in the final two years of your undergraduate programme
Other regions
Equivalent academic qualifications
Academic background
Applicants should be numerate and have some background knowledge and understanding in quantitative methods and statistics. Generally, applicants with a bachelor's degree in science, technology, engineering or mathematics, and applicants from Tier 1 Chinese universities, will be considered to have sufficient skills in quantitative methods and statistics for the programme. Applicants from other disciplines will need to demonstrate numeracy skills and the ability to undertake mathematical work, which may include being assessed through interview and/or a numerical aptitude test. Students who cannot demonstrate suitable numeracy skills will not be accepted into the programme.
English language requirements
If English is not your native language or if you have not studied in English at degree level, you will need to provide evidence of your English proficiency. You should normally possess one of the following qualifications:
IELTS: 6.5 (minimum of 5.5 in all sections)
TOEFL iBT: 90 (minimum of 21 in any skill)
You can also apply to take the XJTLU English language test in lieu of an IELTS/TOEFL or equivalent. Based on the score, students may be admitted or may be required to take and successfully complete the five- or eight-week intensive English presessional course.
Effective financial management, especially the financial management of international operations, is an increasingly important area in assisting firms to unlock their potential for expansion and organic growth. With the fast pace of development in international accounting standards, capital markets, risk management, and the planning of international tax liabilities and hedging of currency exposures, now is an exciting time to enter into a career in international financial management. Graduates of this programme will find a diverse range of career paths open to them and their financial knowledge will place them well to add value to organisations in a range of strategically important roles. It also opens the door for those who wish to pursue their studies further at PhD level.

Dr Brian Wright

Programme director
How to apply
Applications should be submitted via our online application system:
Click/tap the APPLY link
Create an account or log in to your existing account
Complete your application
Once your application account is successfully created, enter all the information required in the application form carefully and make sure the information you provide is correct, complete and up to date. Upload the required documents to the corresponding fields.
You may log-in to view your application form at any time and upload any remaining supporting documents.
For further details of how to successfully apply to study at XJTLU, please visit the how to apply page.
Note: This programme is awaiting official recognition from the Ministry of Education of the People's Republic of China.