Overview
The MSc Operations and Supply Chain Management programme covers all aspects of effective operations and supply chain management in a highly competitive global marketplace. It looks at how successful operations and supply chain management can shape the sales and profit ambition of a business. Combining XJTLU's growing reputation and International Business School Suzhou's dynamic and innovative international expertise, intensive collaboration with the business community and proximity to the Yangtze River Delta region, the programme is one of the few English language masters programmes of its type in China.
Throughout the programme, opportunities are provided for you to analyse and examine the most up-to-date developments in operations and supply chain practice through a series of industrial lectures and best practice industry visits. You will be equipped with the knowledge and skills to reach senior managerial positions or become an operations, logistics and supply chain management strategist.
Graduates of this programme, as with all XJTLU masters degrees, earn a University of Liverpool degree that is recognised by the Chinese Ministry of Education.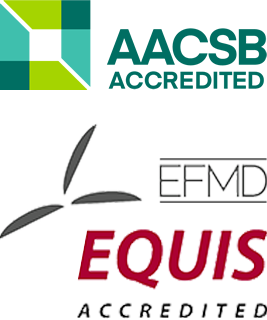 International Business School Suzhou (IBSS) is one of an elite group of institutions worldwide to be accredited by the AACSB (Association to Advance Collegiate Schools of Business) and EQUIS (European Quality Improvement System)in 2016 and 2018 respectively. AACSB accreditation is a globally recognised standard for the highest quality in business education. Only five per cent of business schools worldwide have been awarded the accreditation. The EQUIS accreditation is a quality certification system for business schools set up by the EFMD (European Foundation for Management Development). It has become the most global authoritive and select business school certification body in the world with its comprehensive and rigorous review process. IBSS becomes the youngest business school in the world to have received both EQUIS and AACSB accreditation. There are only less than 100 business schools that have received both AACSB and EQUIS accreditation. This is an important milestone in becoming a world class business school and highlights the strength and significant influence of IBSS at the international level.
Why should I study Operations and Supply Chain Management at XJTLU?
During your studies, there is the opportunity to engage with and learn from leading organisations, thanks to our extensive links with businesses and public sector services, locally and across the world, providing you with exciting opportunities for placements, mentoring, involvement in live projects and networking.
Knowledge and skills
Through studying MSc Operations and Supply Chain Management you will:
develop an understanding of how operations can be managed as a strategic resource
understand the requirements of successful operations and supply chain practice in modern business
learn how to identify and apply a range of operations management initiatives and techniques that can be considered in the development of an operations strategy
understand and be able to apply the models, processes and tools used to analyse, design and implement operations and supply chain management and logistics solutions
gain understanding of the decisions involved in the selection of suppliers as well as the role and objectives of the purchasing function
develop a thorough understanding of the components of supply chains, the material and information flow interactions between them and the analytical and management processes that facilitate successful supply chain performance
be able to apply benchmarking and comparative performance techniques
be able to demonstrate critical awareness of current research in business and management through independent analysis of a relevant business case
Working as a business consultant, specialising in supply chain and operations projects, and the knowledge I have built up during my masters helps me on a daily basis.

Rebecca Hubler

Student, MSc Operations and Supply Chain Management, Austria
Modules
Compulsory modules

Optional modules

Additional learning activity

The completion of additional learning activities is required to complete your masters degree. Normally, required ALA hours will be distributed evenly across each semester, amounting to 200 hours per semester. Part-time programmes will normally require 100 to 150 hours per semester.


Available additional learning activities include:

Research methods
Postgraduate English
Chinese language
Project management
Operations modelling and simulation
In-company project
Research assistant
Careers
MSc Operations and Supply Chain Management graduates are now working for companies like Jaguar, Bosch, Mondeleze, Accenture, Caterpillar, Daimler Chrysler, Deloitte Consultants, Ford Motor Company, GE, Maersk, Unilever, Unipart, Westinghouse and Cargill.
Fees
Fees

RMB 120,000 for the entire three year part-time programme.

University tuition fees cover the cost of your study with us.

Alumni discount

If you are a graduate of XJTLU, the University of Liverpool or Xi'an Jiaotong University, you will automatically receive a discount of 20 percent of the tuition fee.

Payment options

Masters students have the option to pay tuition fees in instalments each semester. You can also choose to pay the fees upfront at the time of registration, in this case a discount of five percent of the total fees will be offered.

You will be asked to indicate how you would like to pay the fees when you confirm your acceptance of the unconditional offer.
Entry requirements
Minimum entry requirements
UK
Upper second class (2:1) honours
China
211 Project; Top 100 of 2018 Shanghai Ranking--75 percent or above
Non 211 project; Non Top 100 of 2018 Shanghai ranking – 80- 85% percent or above, depending on your Undergraduate institution
Note: Shanghai Ranking of The Best Chinese Universities is subject to annual update http://www.zuihaodaxue.com/zuihaodaxuepaiming2018....
Chinese applicants are not required to take the MoE postgraduate entrance exam.
North America
3.0 Cumulative GPA (out of 4) or 3.2 Cumulative GPA in the final two years of your undergraduate programme
Other regions
Equivalent academic qualifications
Academic background
An undergraduate degree (UK 2:1 or equivalent) in any discipline.
English language requirements
If English is not your native language or if you have not studied in English at degree level, you will need to provide evidence of your English proficiency. You should normally possess one of the following qualifications:
IELTS: 6.5 (minimum of 5.5 in all sections)
TOEFL iBT: 90 (minimum of 21 in any skill)
In exceptional circumstances, individual cases will be considered on their own merits. You may be required to attend interviews or tests to further demonstrate your English proficiency.
If you miss the English language requirements by 0.5-1.0 of an IELTS band, or a similar number for other English language exams, you can be admitted to the programme after successful completion of our five- or eight-week intensive English presessional course.
You can also apply to take the XJTLU English language test in lieu of an IELTS/TOEFL or equivalent. Based on the score, students may be admitted or may be required to take and successfully complete the five- or eight-week intensive English presessional course.
Additionally, students may be required to complete English language courses on a pass/fail basis as part of the additional learning activity requirement during their studies at XJTLU.
Dr Ismail joined International Business School Suzhou as professor of operations and supply chain management in 2014 from the University of Liverpool. Before joining IBSS he was an associate professor at the University of Liverpool and, for 13 years, director of the Agility and Supply Chain Management Centre, a research and business support centre based at the University of Liverpool Management School. His research interests include how organisations develop operational and strategic agility and the use of simulation and modelling tools for the optimisation of operations.

Dr Hossam S Ismail

Professor of operations and supply chain management, Programme director, MSc in Operations and Supply Chain Management, Director of the Operations and Supply Chain Excellence Research Institute (OSCE)
How to apply
Applications should be submitted via our online application system:
Click/tap the APPLY link
Create an account or log in to your existing account
Complete your application
Once your application account is successfully created, enter all the information required in the application form carefully and make sure the information you provide is correct, complete and up to date. Upload the required documents to the corresponding fields.
You may log-in to view your application form at any time and upload any remaining supporting documents.
For further details of how to successfully apply to study at XJTLU, please visit the how to apply page.