Getting a head start on the future
Distinguished leaders, guests, valued staff members, students and alumni - welcome!
As we sit here celebrating the 10th anniversary of the founding of XJTLU, the earth is rotating at a speed of 1674.6667 kilometres per second and the world is changing at an unprecedented pace.
Ten years ago, XJTLU was just a figment of the imagination of its two parent universities: Xi'an Jiaotong University and the University of Liverpool. It carried the boundless expectations of explorers in British and Chinese higher education and had been the subject of skepticism from many quarters.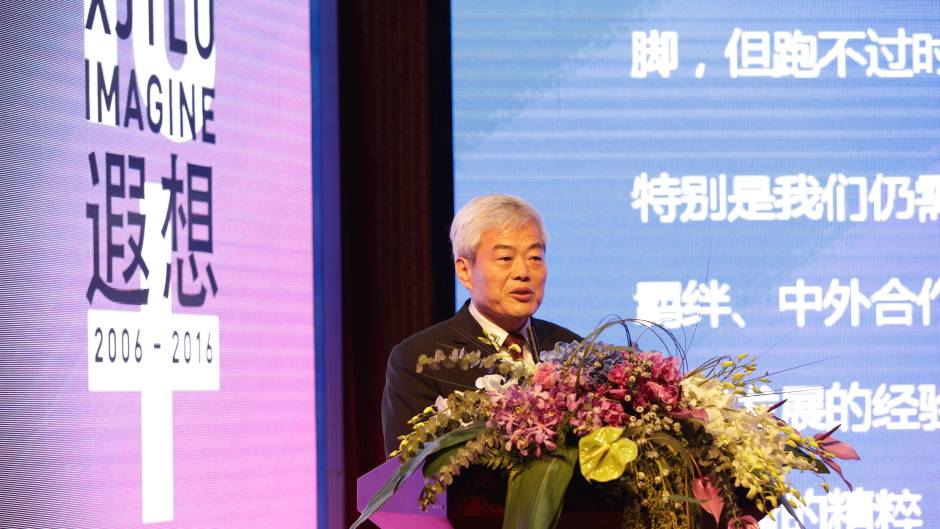 In the space of 10 years, XJTLU has gone from a little-known institution that was often asked if the Ministry of Education recognised its diplomas, to where it is today, with the scores of its students rising year-by-year, and more and more high school-aged students, and even younger, seeing it as their dream university.
It has gone from an intake of just over 100 students in its first year to the 10,000-strong student population of today, gone from only offering domestic bachelors degrees to becoming an international university with postgraduate masters and PhD programmes, boasting students from over 50 countries. It has gone from being jokingly referred to as a "one-building university" to today when it possesses a modern campus that embodies the essence of Chinese and Western culture. From an initial academic staff of just several dozen members, today it has staff numbering close to a thousand who hail from dozens of countries around the world.
From a fledgling school, it has grown into a modern university that enjoys partnerships with many top-rate companies and organisations from both China and abroad. From its highly doubtful beginnings, it has now been acclaimed as at the cutting edge in the reform of Chinese higher-education and a model for joint Sino-foreign education.
Looking back on our growth, it feels as if these 10 years have flown by. With the support of students, parents, academic and professional services staff, Suzhou industrial Park and the Suzhou Municipal Government, education authorities at all levels, and the local community, XJTLU has achieved astonishing growth. There has already been seven rounds of bachelors graduates and countless masters and PhD graduates. They can be found all over the world in every kind of industry as they chase their dreams on the international stage.
Their glittering success has helped XJTLU win respect. Research from XJTLU makes frequent appearances in international academic circles and has been acclaimed by peers around the world. XJTLU's social services have also been praised and our partners in various fields are growing by the day. XJTLU's exploration in education and its communication of the results represent a beautiful future for higher education in China. XJTLU's mission is a historic one: to reconsider, reshape, and redefine education. But in the long rivers of history and magnificent tableau of constant change, 10 years is but the blink of an eye. The world and education need us to speed up: if we rest on our laurels, we're going to get left behind.
XJTLU is extremely fortunate to have been established in an age when many industries are rethinking their traditional models and undergoing reform. It had the precious opportunity to stand on the same starting line as world-class university in reforming education, but without any historical baggage and possessing late-starter advantages. It is based in China, which is leading the world's socio-economic development, and in the Yangtze River Delta, which is celebrated as the driver of the world's economic growth. It employs a unique international joint educational model, which is both advantageous to embarking upon an exploration of education and conducive to integrating the world's resources. It enjoys a favourable environment for exploration provided by a strong Chinese influence, a tremendous market for education in China, powerful support in a variety of areas, and a special geographic location. All of this has made it possible for XJTLU to lead the way in the revolution in education. XJTLU's board of trustees and strategic planners also possess the courage and resourcefulness to become leaders in education. A global team of teaching staff and students who are passionate about exploring XJTLU education gives us the power to explore. Only if we go faster than the world can the future be ours! Thus, we boldly and loudly proclaim to the world that we are trying to break through the shackles of higher education in China, and even the world, to become explorers and pacesetters in education for a new era. We want to be the future of higher education!
To this end, through its educational philosophy XJTLU strives for "happiness in life and success in one's career", epitomises the school motto of "Light and Wings", and embodies the five-star educational model of nurturing, skills, and knowledge systems and support strategies and systems. In terms of strategy, we have four intentions:
To explore new educational models based on future development trends and demand
To explore a new kind of model of university organisation and management that is right for knowledge workers and knowledge organisations
To explore a new interactive relationship between the University and society in the age of the internet
To influence Chinese higher education reform and educational development in the world.
In terms of education, the University is experimenting with fusion and connection in three areas:
The fusion and connection of best practices in Eastern and Western education
The fusion and connection of on and offline education
The fusion and connection of teaching and research.
In terms of our educational philosophy, we help students achieve three transformations:
From child, to young adult, to citizen of the world
From passive learning, to active learning, to research-led learning
From blind learning, to interest-led learning, to focusing on life plans.
In terms of reshaping learning methods, we emphasise fusion in three areas:
Achieving interest-led specialisation through the targeting of students' healthy growth
Creating cross-cultural leadership abilities by taking the nurturing of citizens of the world as our duty
Creating a practical study environment and exploring research-led learning that combines on and offline approaches.
When it comes to university management, we are building three bridges:
A bridge between Eastern and Western culture, scholastic concepts, and models and best practices for education
A bridge between XJTLU exploration and the Chinese system and cultural environment
A bridge between the original training and teaching models of XJTLU's staff and new explorative spaces.
In terms of culture, we advocate pluralistic coexistence, mutual respect, integration of the world's human wisdom, forming the five core concepts of XJTLU culture: diversity, rules, innovation, freedom and trust, amongst others.
Throughout these 10 years, we have continued exploring and continued to reap the benefits! The guardian of explorative practices is our five-star career development model:
At the core is a commercial model of foresight and sustainable development
The mission of wide-ranging approval and a shared vision
The formation of a robust governance structures and the alliance of relevant stakeholders
Creating a strong cross-cultural leadership and management system
Meticulously planning a development strategy and a range of tactic for success
Tenacious efforts in long-term sustainability.
In a time full of change, getting a head start is but the first step in practicing XJTLU's ideals and heading forth into the future. Looking forward to the next 10 years, and the 10 years after that, we need to keep a clear head - even when we don't stop, if we're not overtaking then we're falling behind! In particular, we still need to address the constraints of traditional practices on education, the hindrances of policies and systems that have yet to be properly reformed, and the various challenges of diverse cultural differences in Sino-foreign collaboration. We need to continue reflecting upon our development experiences and be cool-headed in considering the various possible obstacles on the road ahead. We need to keep our feet on the ground, continue integrating the essence of the world's education, keep a close eye on the pulse of the times, take aim at the world's future direction, take one step at a time, and embark upon a completely new path of developing higher education!
Looking back on these last 10 years, we are overcome with emotion, looking toward the future, we're staying true to our original intentions. Today, on this special day, I would like to express my gratitude to all those who have taken part in the creation and growth of XJTLU, as well as to the University's staff, students and supporters. XJTLU couldn't do without your wisdom and hard work, and I look forward to your continued focus and input. I'd also like to take this opportunity to wish happiness in life and professional success to the alumni that are here today as well as those across the globe. Come home often! Thank you!