A real estate expert gave a guest lecture at Xi'an Jiaotong-Liverpool University on trends in China's real estate market, highlighting that its healthy and sustainable development relied on avoiding the risk of overoptimistic planning, investment and construction.
Jingyu Xie, head of research department at Colliers International (China), was invited by the Department of Urban Planning and Design at XJTLU to deliver the lecture, which was one of series organised by the department to enhance teaching and research communications among scholars, practitioners and students.
During his talk, Jingyu provided an overall analysis of the development of the Chinese real estate market, sectoral dynamics in office, retail and residential markets, and their mutual interactions with economic growth potential and sustainability.
He spoke about the rising enthusiasm of domestic developers and investors under the 'new normal' growth rate in China as well as accelerating urbanisation, particularly in the sectors of commercial complexes and logistic properties in less developed areas, which contribute to the oversupply of spaces in most second and third-tier cities.
And he emphasised that the healthy development of the real estate industry relied on collective long-term behaviour of all those involved.
He said: "The transformation of the Chinese economy has been reshaping challenges and opportunities in its real estate market. The sustainable development of the real estate industry, and of Chinese cities, relies on how well we can address the risks of being over-optimistic in the process of planning, investing and building."
He also shared insights into conducting strategic market research, a skill that Dr Yunqing Xu, a lecturer in Department of Urban Planning and Design, said was essential for students in the department.
"This presentation provided a vivid illustration on why it is important for planners and urban shapers to understand real estate," she said.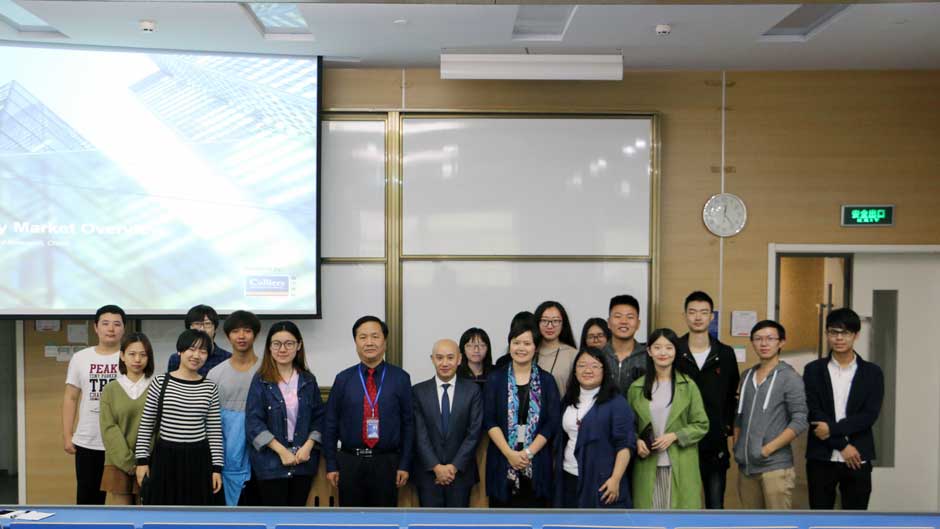 "The transitional China and inadequacy of accessible and reliable data makes it more crucial to conduct rigid and thought-leading researches. This is also one of the essential skills that we aim to cultivate our students in the process of research-led teaching."
Dr Xu added that the real estate sector in China had been drawing attention both domestically and internationally: "This is not only because it is closely related to Chinese economic miracle, but also because it is critical to the sustainable development of Chinese cities," she said.
Xuanyu Wu, a final year student in the department, said: "I was impressed by the rich data and valuable insights shared by Jingyu Xie, which help me better understand the unique characteristics of the Chinese real estate market and its wider connections with urban development."
Jingyu Xie has more than 15 years' experience in the real estate market in both China and the United Kingdom. He currently holds the position of head of research department at Colliers International (China) and leads a team of 18 research professionals in producing thought-leading market analysis and professional services.