Details
Time: 9:00-10:30am
Date: Wednesday 16 June 2021
Venue: Zhumu (Please contact the organizer for Zhumu details)
Abstract
This talk is derived from my new book titled On the Horizon of World Literature: Forms of Modernity in Romantic England and Republican China. Among the literary forms that the book examines as sites for the testing of modern socio-political forms-of-life–across languages and cultures–is the informal or familiar essay. In a 1921 essay in the Beijing Chenbao or Morning News, Zhou Zuoren points to a line of Anglo-American essayists from Addison to Lamb to Chesterton as inspiration for his Chinese contemporaries in the practice of this form. In later critical writings in the 1930s, Zhou would elaborate on the significance of late-Ming essayistic practices for his early 20th-century moment. This talk will pair Charles Lamb and Zhou Zuoren as essayists who tap into different yet connected literary genealogies for the writing of the everyday and the probing of ordinary life. Focusing on Lamb's "Old China" and Zhou's "Wild Vegetables of my Hometown," the talk elucidates how the essayists attempt to address and unsettle, with gentle irony, their readers as peers in the incremental and everyday task of rediscovering the ordinary.
*Link to the article: https://box.xjtlu.edu.cn/f/b520f1bde9c44553ae0d/
Speaker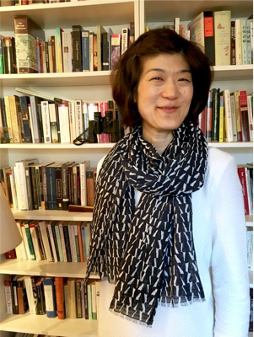 Emily Sun is Visiting Associate Professor in Comparative Literature and Translation Studies. She came to Barnard in 2015 from National Tsing Hua University in Taiwan, where she was Associate Professor in Foreign Languages and Literature and where she founded and directed the Center for Comparative Literature. After growing up in California, Singapore, and Taiwan, Professor Sun received her B.A. in English and German from Amherst College and her Ph.D. in comparative literature from Yale University. Her research interests include British and continental European Romantic and nineteenth-century literature, cross-cultural literary relations between China and the West, literary theory, politics and aesthetics, and psychoanalysis and literature. Professor Sun is the author of On the Horizon of World Literature: Forms of Modernity in Romantic England and Republican China (Fordham UP, 2021) and Succeeding King Lear: Literature, Exposure, and the Possibility of Politics (Fordham UP, 2010). She is co-editor, with Eyal Peretz and Ulrich Baer, of The Claims of Literature: A Shoshana Felman Reader (Fordham UP, 2007) and, with Emily Rohrbach, of "Reading Keats, Thinking Politics," a special issue of Studies in Romanticism (2011). She has published articles, translations, and reviews in Studies in Romanticism, the European Romantic Review, the Yearbook of Comparative Literature, and the Journal of the History of Ideas in East Asia, among other journals.