The 2015 FIRST (For Inspiration and Recognition of Science and Technology) LEGO League (FLL) robot tournament China Final, co-organised by the Chinese Robot Competition Association and Xi'an Jiaotong-Liverpool University (XJTLU) was held recently at XJTLU.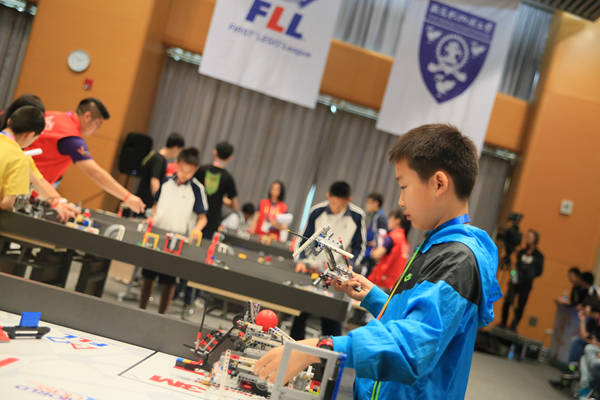 In this year's competition a total of 92 teams from 7 sub-divisions across China entered the final round and the topic was 'Free Class' The aim was for teams to identify more creative approaches to help people study better through daily reflection and observation. Every team consisted of 5-10 players and one coach. Team members required to finish the four tasks of: field contest, technique reply, thesis writing and defense.
One of the organisers, Dr. Gang Liu, Deputy Head of the Department of Mathematical Sciences at XJTLU, said that as a pioneer of university education reform, XJTLU encourages students' active learning, team-spirit, innovative design, quick learning and application to practical problems, which fits the aim of the FLL Robot Competition.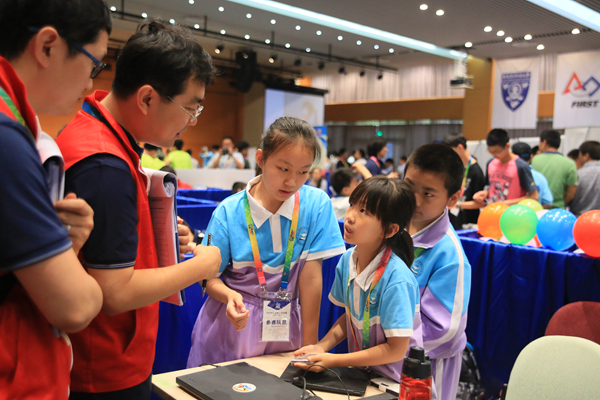 XJTLU Year 1 student Mr. Zhuang Fang from the Department of Chemistry attended the competition as a volunteer judge. Fang started to participate in this FLL competition since he was in junior middle school. Previously, he won second place of the national competition and the first prize in the 2010 FLL Robot World Championship held in Gaoxiong, Tai Wan. Reflecting on his experience, Fang said that participating in the FLL robot competition one can practice one's operating ability and also have opportunities to communicate with other participants from the world.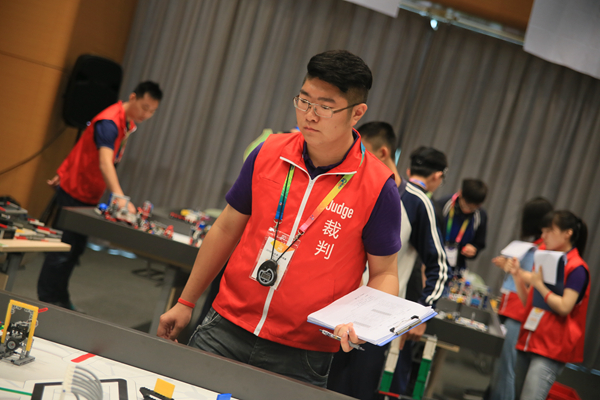 Mrs. Yan Guo, Director of Taiyuan Lego Activity Center, stated that nine children from their center had prepared for two months for this tournament. "The LEGO robot could develop children's imagination, practice ability and potential ability for exploring science. During the operating process, children can enhance their knowledge and abilities in science, technology, engineering and mathematics," said Guo.
A grade five student from Shanghai East Experimental School, YilunDong, added "I can practice my practical and thinking abilities through participating in this competition. Many of the missions of the robot need to be realised through programming and to install and operate a robot needs an overall view and I can learn to treat one thing by different ways".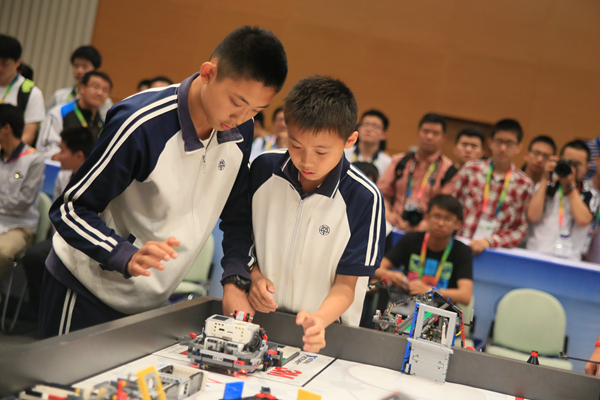 The FLL International Tournament was set up in 1998 and founded by FIRST - an American non-profit company founded in 1989 to inspire young people's interest and participation in science and technology – in cooperation with LEGO Denmark. The international robot contest aims to activate and cultivate interest in science and technology of youth between 9 and 16 years old.
Every year, FLL will invite educational experts and scientists to design the content of the challenge which is published online worldwide. The challenge task consists of two separate items: robot contest and theme research. Usually the task is related to current hot topics and worldwide issues. FLL robot competition first came to China in 2003 and it has successfully hosted different themes of the contest, such as 'Food Safety', 'Exploring Mars' and 'Intelligent Transportation'.