It's been a week of celebration at Xi'an Jiaotong-Liverpool University (XJTLU) as this year's students – almost 2,000 in total - graduated.
Subject-specific graduation ceremonies have been held throughout the week in the University's Central Building and have been attended by academic staff, and students and their families.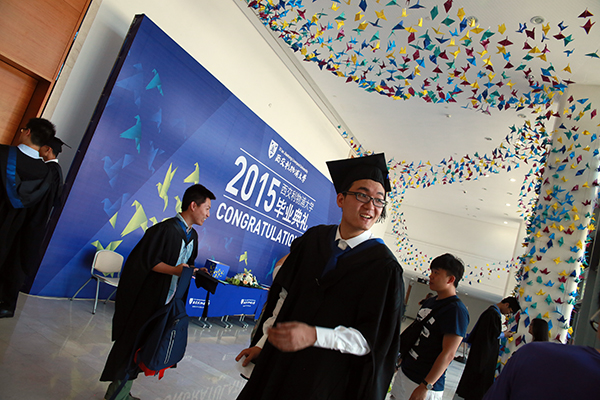 Based on the University's motto 'Light and wings', the ceremonies have been a chance for students to reflect on their achievements and experiences at university.
Cheng Cao, who graduated from BSc Economics, learnt that sharing knowledge is crucial for success in today's interconnected world, something that he hadn't realised before studying at university.
He said: "Success requires us to be more open and more cooperative, including seeking more trans-border opportunities…XJTLU has encouraged us to recognise the importance of sharing and is such an open-minded and youthful university. It has shared so much with us."
As part of the celebrations, students were asked to write inspirational messages onto paper birds that represented them soaring into their futures. The messages will be given to new students starting in September to guide them through their own university journeys.
Xuan He, who graduated from BA English and Communication Studies, wrote: "Sometimes it will be easy but sometimes it will be stressful. Find your strengths and plan with other people how to get the best out of your experiences."
Wang Yangyu, a BEng Electronic Science and Technology graduate, simply wrote: "Experience is your best teacher. Enjoy life!"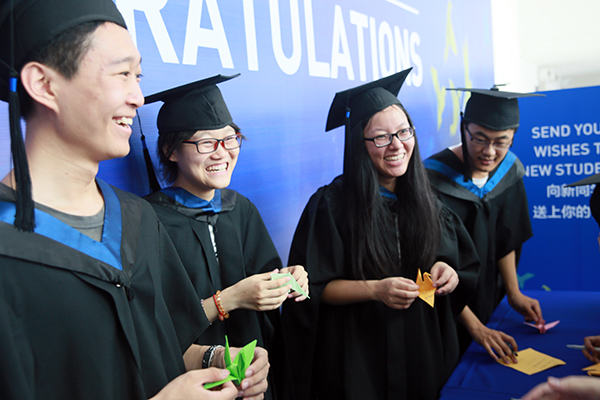 It wasn't just students commemorating the end of their studies, their families also attended to support them during this significant achievement.
BEng Architecture student Maryam Zabihi's whole family joined her from Iran to see her collect her degree certificate.
Her father, who works in China, said that graduation was the "best time" for any parent and that he was proud to see his daughter "blossom".
He said: "She is getting the best future, trying to have a better life by…studying in a good university."
Now she has graduated, Maryam said she will return to Iran to work before going abroad again to pursue postgraduate studies.
Among other students celebrating finishing their studies were those who achieved the best overall academic performances, and who were honoured at their respective ceremonies.
Felicia Lim, from Indonesia, achieved the best academic performance of students in BSc Biological Sciences. She came to XJTLU on a scholarship thanks to her excellent scores at high school and is aiming to go onto a PhD programme oversees now that she has finished her studies at XJTLU.
Felicia, who says her most memorable time at XJTLU was being a speaker at TedYouth@Suzhou in 2014, had a simple message for her fellow graduates: "Don't give up!"
While a chance to look back over their years as XJTLU students, for many graduation was about looking forward to the next stage of their lives.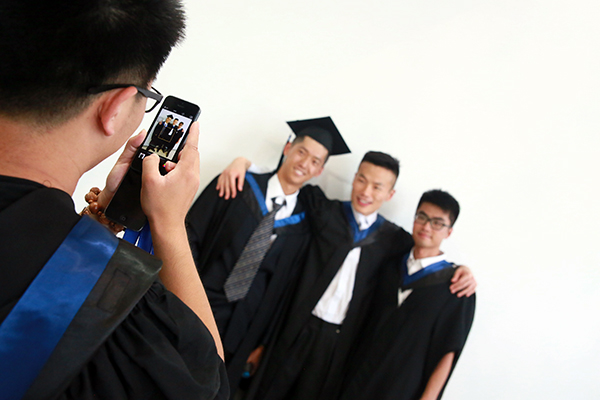 Speaking at her ceremony, where she graduated from BSc Information Management and Information Systems, Tongjie Bian said: "Many of us know our next step – perhaps further education, perhaps starting a career, perhaps travelling. Whatever your choice, I'm sure we all agree that XJTLU was a perfect place to foster our minds in this critical learning phase and to improve our abilities to leap into our futures."
2015 Graduation Ceremony Professor Youmin Xi's Speech