The Department of Architecture at Xi'an Jiaotong-Liverpool University has awarded the first BDP-Farrell prize to Year Four student Chenxing Sun, for his final year studio work.
Named after Ed Farrell, the first academic member of staff to join the department in 2011, and sponsored by UK architecture practice BDP, the prize recognises the undergraduate architecture student with the best studio performance in the final year.
Studio modules allow students to apply the skills they have learnt throughout their degree to practical projects. There are two studio modules in the fourth year.
Chenxing (pictured above) was given his award at a ceremony held in the XJTLU Museum, during the University's graduation week. Chenxing was among the architecture students who graduated from the University earlier in the day.
Now working at an international architecture practice in Beijing for a year before considering postgraduate study, Chenxing Sun said he was honoured to be given the award.
"It's very exciting to hear that I'm the first winner of this honourable prize. Graduation has meant a lot to me, marking the end of my studying life. It's been a big milestone," he said.
Three other students were awarded joint second place: Marcus Rigon, Yanzhe Zhang and Jie You (pictured below with Chenxing, left to right).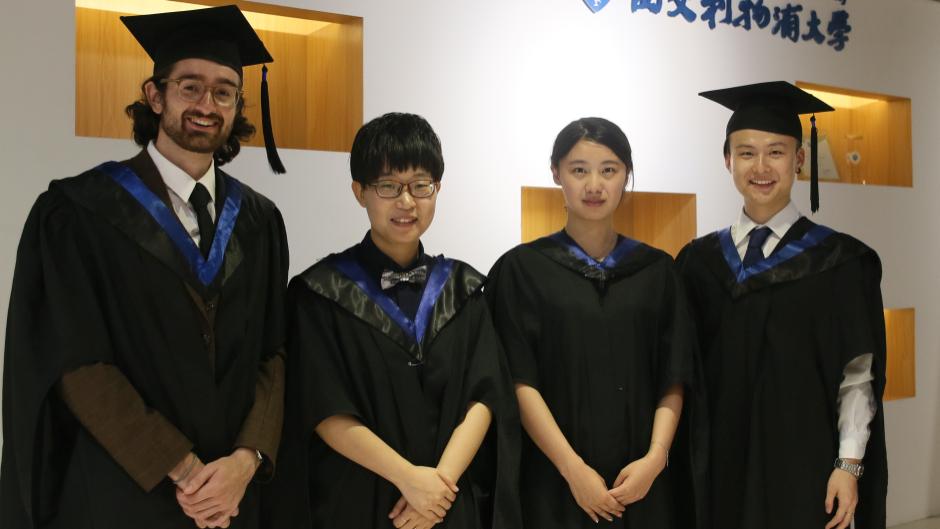 Architecture lecturer Austin Williams presented the students with their prizes. He said: "I can only congratulate you all for performing so well and doing well in the course. Onto bigger and better things, the world is your oyster so congratulations!"
He added that the BDP-Farrell prize will be awarded annually from this year: "We want to make this prize bigger and better, hopefully the next generation of students will aspire to winning these awards before going onto bigger things," he said.
The award is a gift of Professor André Brown, vice president for academic affairs at XJTLU, who invited BDP, the architecture practice who designed XJTLU's newly-opened South Campus, to be a sponsor.
BDP have close links with the Department of Architecture at XJTLU, with Wang Tao, one of the principal designers of the South Campus, having lectured for a number of years on the architecture programme's professional practice module.
Professor Brown, who was involved in setting up the department at XJTLU, congratulated the students, saying it was an 'honour' to read out their names during the day's earlier graduation ceremony.