Dr Stephen Jeaco and Dr Rining Wei from the Department of English at Xi'an Jiatong-Liverpool University, together with Professor Marina Dodigovic of the American University of Armenia, have guest edited a special issue of the TESOL International Journal.
The issue is available for download online and is entitled 'Teaching, Learning, and Assessing Vocabulary'. It focuses on vocabulary research, one of the fastest growing areas in applied linguistics and TESOL.
"Research on lexical features in learner language is also an important specialism of applied English studies at the Department of English at XJTLU," said Dr Jeaco (pictured below, left).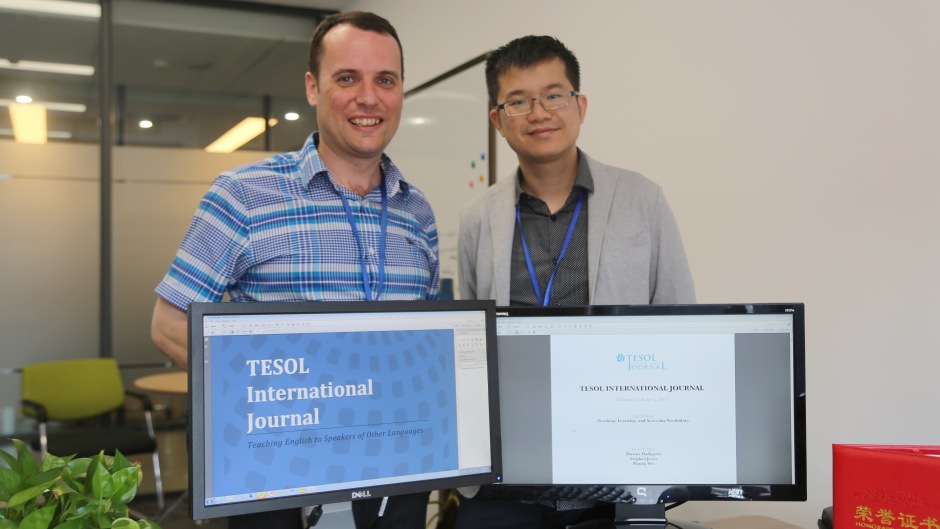 "For example, Dr Zhoulin Ruan from our Department has also done some interesting research using students' writing as a corpus," said Dr Wei (pictured above, right).
The special issue covers such topics as vocabulary knowledge, the processes that lead to vocabulary learning, ways of assessing aspects of vocabulary knowledge as well as lexical errors, and applications of technology in vocabulary instruction and learning.
Established in 2007, the TESOL International Journal is now indexed in the MLA (Modern Language Association) index, Asian Education Index, Social Science Research Network, Google Scholar, and Open J Gate & Ulrich's Web.
reporter: Danny Abbasi; photo by Weiqian Zhang