William Lindesay, an alumnus of Xi'an Jiaotong-Liverpool University's parent institution, the University of Liverpool, delivered a lecture on his life's work exploring, researching and protecting the Great Wall of China, as part of celebration activities for Shanghai-Liverpool Sister City's 20th Anniversary.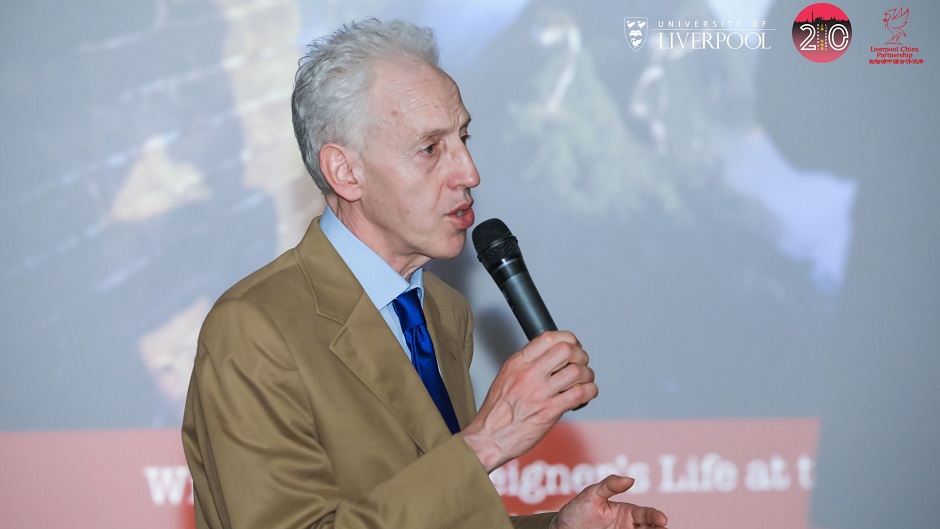 Lindesay, who is the first foreigner to traverse the Ming Great Wall on foot from end to end, explained that his passion for the Great Wall of China began as a small child.
"When I was a little, I spotted the Great Wall of China on a map and I was amazed by it," he said.
"I tried to work out how long it was, and I decided that when I grew up, I was going to walk it – I wanted to experience every single step."
With the passing of time, Lindesay almost forgot his childhood dream. He said it wasn't until he went to the University of Liverpool to study geology that the Great Wall came into his sights again.
"I started to talk about going to China. At that time, China was still largely closed off from the outside world so my teachers and peers said going there to do research would be a revelation. So I decided to do just that," he said.
"My aim was to become the first foreigner to trek along the Great Wall."
This is how Lindesay began his journey to explore the Great Wall, which has taken his thirty years and across Gansu, Ningxia, Shaanxi, Inner Mongolia, Shanxi and Hebei.
He has documented his work with a number of books, documentaries and films to share his knowledge and experience of the Great Wall with the world.
In 2006, Lindesay received an Order of the British Empire for his contribution to protecting the Great Wall of China.
The 'Walking the Wall' alumni lecture was hosted by University of Liverpool's Pro-Vice-Chancellor for Education, Professor Gavin Brown. Vice Mayor of Liverpool, Councillor Gary Millar and Vice President of Academics Affairs at XJTLU, Professor David Goodman were also in attendance.
The lecture was one of a series of events held across the week of April 15-21 as part of official celebrations for the Shanghai-Liverpool 20th Sister City Anniversary.
By Bingyu Chen, edited by Rosanna Galvin
Photo supplied by the University of Liverpool