As university research laboratories around the world shut down to prevent the spread of COVID-19, the impact on scientific research could be considerable.
News the last few weeks included reports of experiments shelved, tossed or placed in a frozen stasis as many laboratories face open-ended closure.
China, being ahead of the global curve in tackling the coronavirus, provides a good indicator of what happens next when it's time to reopen, however. Taking stock, hitting the reset switch and being collaborative are among the first priorities for supervisors of research conducted in wet laboratories at Xi'an Jiaotong-Liverpool University, whose physical campus is reopening after being closed since late January.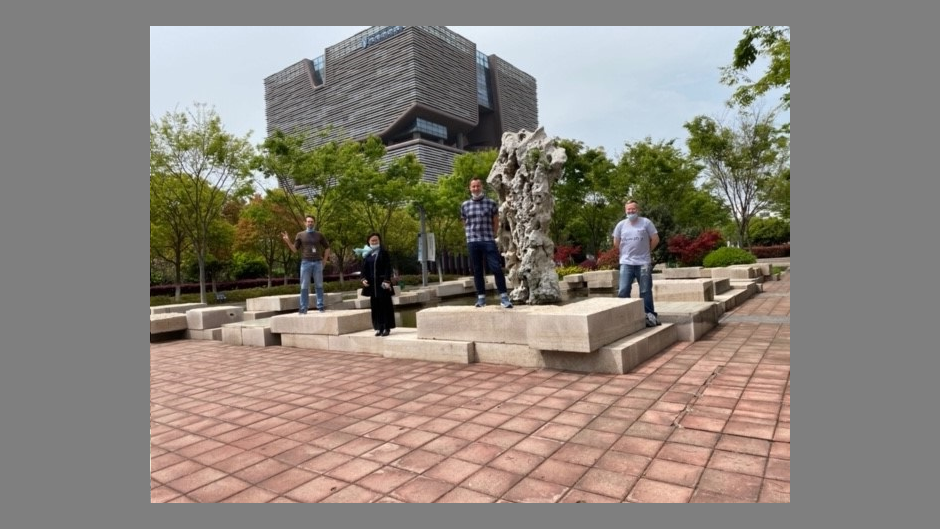 Pictured above: Dr Boris Tefsen, Dr Minyan Wang, Dr Ferdinand Kappes, all of the Department of Biological Sciences, and Dr Graham Dawson, Department of Chemistry

A key task for Dr Minyan Wang of XJTLU's Department of Biological Sciences will be to navigate the logistics of the collaborative relationship between XJTLU and a neighboring university responsible for breeding the live tissue used in her team's studies of the molecular mechanisms of migraine pain.
"Both of my PhD students' research relies on a continuous supply of live tissues. Getting live tissue again depends on access to our collaborating university," she said.
As both universities take baby steps to safely reopen, she's not sure when re-access will occur, but she's confident it will. In fact, even when the city was silent and both campuses closed, the neighboring university cooperated in an emergency plan to rescue the tissue.
"I knew that if we did not find a way to access the tissue, it would be a serious loss," Dr Wang said. "Otherwise we would have had to throw it away, which would be very expensive."
They managed to arrange a handoff of the tissue one or two times a week, she explained. Collaborators brought tissues from their laboratory outside to waiting XJTLU staff. With special permission, the XJTLU staff then transferred it into the minus 80 Celsius freezer in Dr Wang's lab.
"To a certain extent, this enabled us to mitigate the impact of the closed campus. On one hand, most of the tissue was saved. On the other hand, since we had to freeze it, we cannot use it for its initial planned use," she said.
"Nonetheless, I am still happy with the outcome."
According to Dr Graham Dawson of XJTLU's Department of Chemistry, whose laboratory synthesises nanomaterials in studying novel ways to produce hydrogen and degrade water pollutants, one machine will need to be re-set.
"When we left campus, we thought we would be back in a week after the Spring Festival holiday. During the extended time away, our gas chromatography device's argon cylinder has run out and the machine's column will have been exposed to air," Dr Dawson said.
"It will take us about a week before we can use it for research, which is not that bad, really.
"We were able to get clearance to fill other machines that need liquid nitrogen every week, so those are ready to go."
Dr Boris Tefsen of XJTLU's Department of Biological Sciences said that his laboratory's research, the core of which studies the biogenesis of the Mycobacterial cell envelope, can also be restarted relatively quickly, pending receipt of laboratory consumables.
"For some of our experiments, we need reagents, but the outbreak caused the supply chain to be disrupted. Some of our materials are sourced in China and some from overseas. Some shipments might take awhile," he said.
The impact of a wet laboratory shutdown depends on the type of research being conducted, said Dr Ferdinand Kappes, also of the Department of Biological Sciences, whose laboratory conducts epigenetics research related to tumour biology.
"We use only human cells, which need to be frozen, thawed and treated in a particular way," he said.
"The experiments themselves take 1-2 weeks and require preparation, so getting back to normal will take our lab at least a few weeks, maybe up to a month."
While the disruption stopped lab experiments during the physical closure, the laboratory supervisors did find silver linings.
"My two PhD students did not stop working," said Dr Wang. "We were very efficient - we produced a scientific research paper and an additional two manuscripts.
"Without the distractions of normal activity, they were able to thoroughly consider their research proposals.
"Instead of allowing them to rely on me for guidance, I tried to encourage them to engage more, followed by a round of discussions to polish the ideas. This allowed them to become more independent.
"I think all PhD students should have this type of training during a certain stage of their studies."
Dr Dawson said that his PhD students took time to review previously collected data, which was a valuable exercise.
"We've identified a lot of holes in our data, which is something we are always trying to do – write things down and break it up and check where the gaps are. But this has given us a prolonged period to do that," he said.
"Now the students are raring to go on a list of the things they want to do based on that analysis."
Some team members had more time to read, think and analyse, lab supervisors said.
"I tried to stimulate my beginning PhD student to read more," said Dr Tefsen.
"I would say he now has a very solid foundation to start his project, probably better than he would have had this not happened."
"During a campus closedown is a good time for a researcher to dig out those journal articles you've wanted to read for a long time," added Dr Kappes.
For their counterparts in other universities whose laboratories remain closed, the XJTLU laboratory supervisors emphasised how important it was to stay connected with students during the time physically apart and to find ways to support each one.
"I really think about each student, because they have different needs," said Dr Tefsen.
"When we've had Zoom meetings over this period with the students and other collaborators, we usually take time at the beginning of the call to find out how each person is doing."
"I think this is very important – the human element, caring for each other," agreed Dr Kappes.
It's helpful to keep the impact of the outbreak on the wet laboratories in perspective, he also noted.
"I could work myself up about the time lost, but it doesn't change anything. We need to accept the facts, it is what it is. In the end, we are scientists, we like facts," Dr Kappes said.
"And it's important to remember it's not just a local impact on research, it's global. Researchers are all in this together.
"That doesn't make it better, but maybe a little bit easier to accept."
By Tamara Kaup
Photo courtesy of Dr Kappes