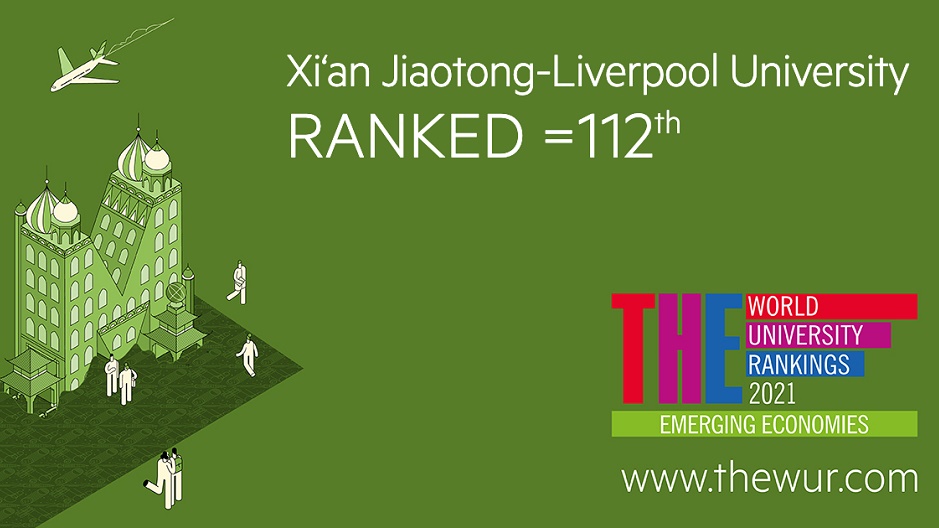 Times Higher Education (THE) announced 9 March that Xi'an Jiaotong-Liverpool University has been ranked 112th in THE's Emerging Economies Rankings 2021. This is the first time XJTLU has appeared in this ranking.
The ranking considers educational institutions in countries or regions the London Stock Exchange's FTSE Group considers "advanced emerging", "secondary emerging" or "frontier."
This year, 606 emerging economies universities rank from 48 countries and regions.
"Today's ranking is the latest reason for XJTLU staff to pause, smile and take pride in their achievements," said Professor Chris Harris, XJTLU's Vice-President Academic Affairs.
"Just fifteen years since our first undergraduates began their studies, there is increasing global recognition for the University's high-quality research and its influence in shaping new models of higher education."
THE's Emerging Economies ranking uses the same 13 performance indicators used in THE's World University Rankings, considering teaching, research, knowledge transfer and international outlook. However, the performance indicators' weightings are recalibrated to better suit emerging economy universities' characteristics.
According to THE, overall, universities from emerging economies are improving at a much faster rate than those around the rest of the world who are ranked in the THE World University Rankings.
Phil Baty, THE's Chief Knowledge Officer, commented:
"The Covid-19 pandemic has resulted in a number of changes for higher education, with many turning to online learning and teaching, and less students travelling internationally. We are looking forward to seeing how universities from emerging economies position themselves in the upcoming year, and the opportunities they offer both internally and on a global scale."
In October 2020, THE announced XJTLU Xi'an Jiaotong-Liverpool University ranked in five of the 11 Times Higher Education (THE) World Subject Rankings 2021.
THE is a global data partner for higher education with five decades of expertise in the sector, millions of individual data points and more unique institutions participating in their flagship university rankings than any other.
For more details about the THE's Emerging Economies Rankings 2021, please click here.