A Memorandum of Understanding (MoU) was inked between 21st Century English Education Media and Xi'an Jiaotong-Liverpool University (XJTLU), on April 14, 2021, to develop academic and research collaboration and to promote mutual understanding between the parties. Dr Penelope Scott, Head of Department of Applied Linguistics and Ms Gloria Peng, Deputy Director of Teacher Training Division, 21st Century English Education Media, signed the MoU on behalf of their respective organizations. This event marks a major milestone in their budding relations. The process was witnessed by participants from both sides.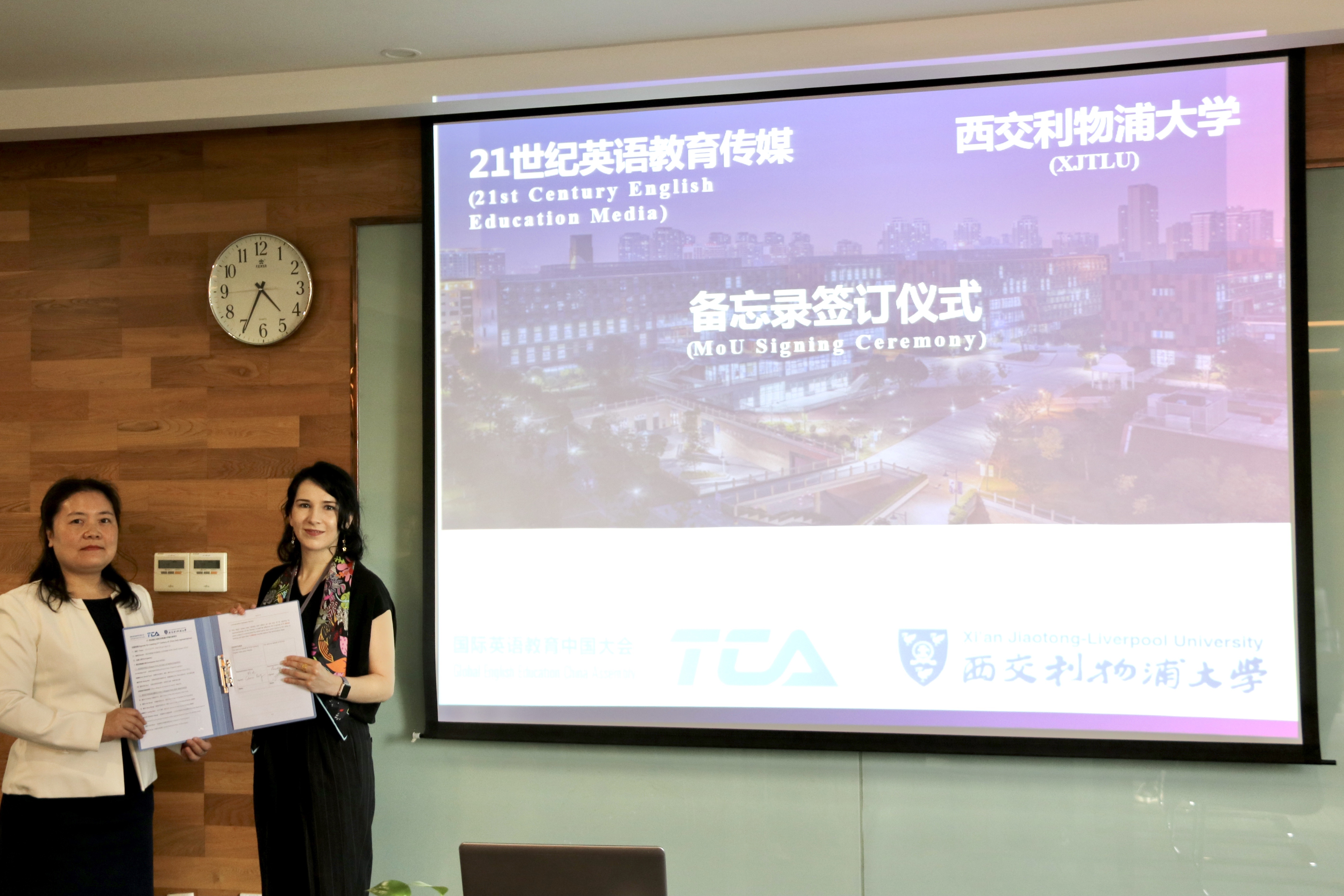 Ms Gloria Peng & Dr Penelope Scott
There being an underlying need to strength the industry-university-research link in recent years, increasingly more academic institutions have set up cooperation relationship with enterprises and companies. This agreement envisages that both the institutions will endeavor to strengthen, promote and develop academic and research co-operation between them.
By signing the MoU, both parties agree to develop a number of collaborative activities in the academic areas of mutual interest. XJTLU will be one of the two academic supporters of Global English Education China Assembly and 21st Century will support XJTLU's foundation of a TESOL Research Institute. 21st Century and XJTLU are to collaboratively hold international academic events and conduct joint training programs in a few areas: teacher professional development, adolescent media literacy training, critical thinking strategies and etc. Staff from 21st Century can take part in short-time seminars provided by XJTLU and students in XJTLU are provided with opportunities for practical training and internship.
With the MoU, more opportunities for exchanges, cooperation and joint research, and development in disciplines of mutual interest are expecting to be identified.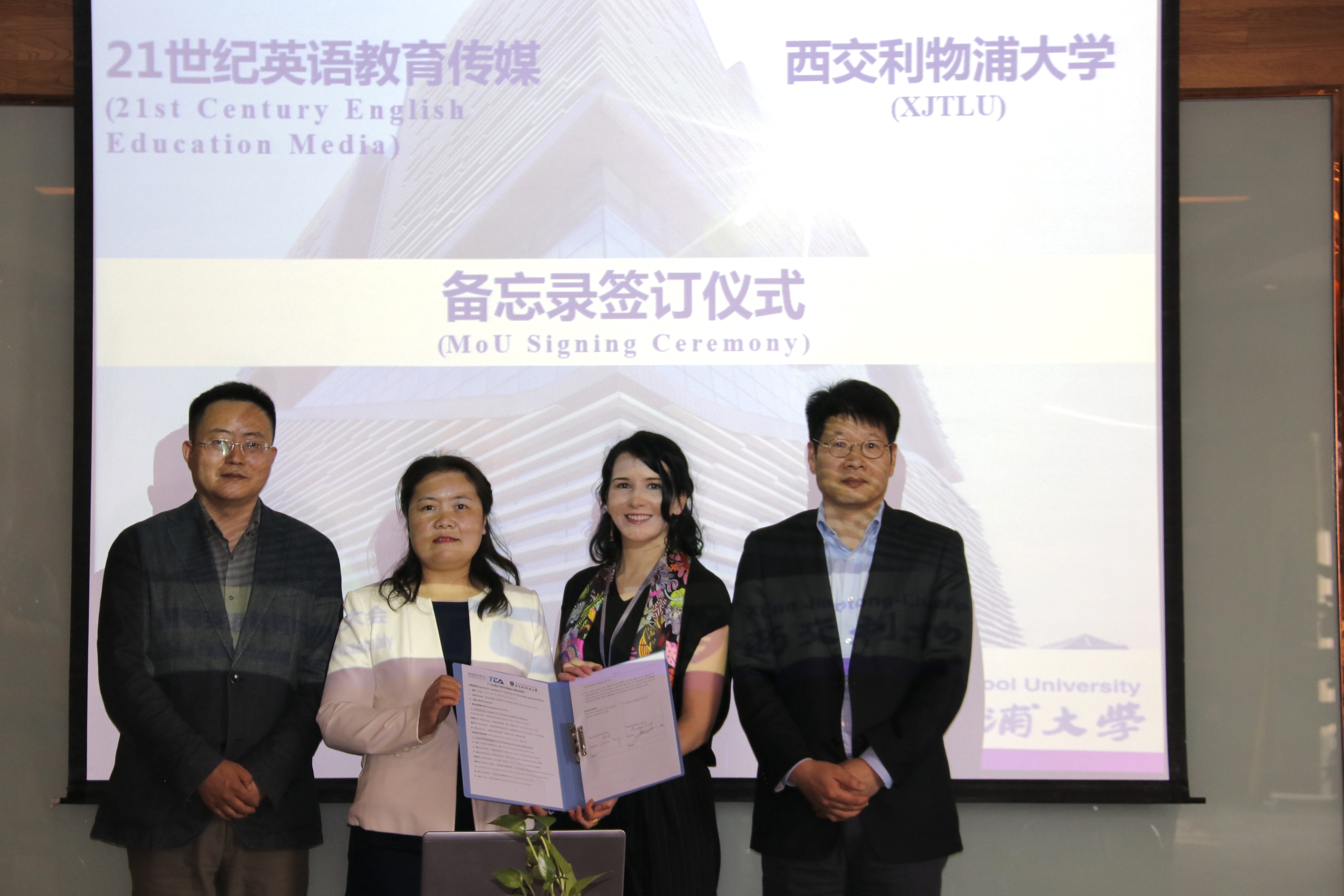 "It's a real pleasure that the relationship we have been building is now becoming stronger and more formal, and I hope both parties could benefit from this strengthened relationship." Noted by Ms Peng in her speech.
Dr Penelope Scott, Head of Department of Applied Linguistics, echoed: "This is an exciting opportunity for academic collaboration to the benefit of both parties and the wider community."
Founded in 2006, XJTLU is the leading international joint venture university in China, a partnership between Xi'an Jiaotong University and the University of Liverpool in the United Kingdom. As an independent Sino-foreign cooperative university, it captures the essence of both prestigious parent universities and is the first and only one of its kind approved by the Ministry of Education in China. With the aim of "becoming a research-led international university in China and a Chinese university recognised internationally for its unique features", XJTLU equips the student with skills, knowledge, abilities, temperament and tenacity to succeed in today's highly competitive world and increasingly globalized environment.
21st Century English Education Media ("21st Century") is a brand affiliated with China Daily, China's national English-language daily newspaper. The "21st Century" brand comprises 10 media platforms, including print and electronic newspapers, websites and mobile apps, Weibo and WeChat public accounts. 21st Century has promoted high-quality education and created powerful teaching and research methodologies since it was established in 1993, as well as high-profile brand activities that include the 21st Century English Newspaper, 21st Century English Education Newspaper, the 21st Century Cup English National English Competition, the Global English Education China Assembly and the Tribute to the Classics series.
Other participants in this meeting including Prof Zhoulin Ruan, the Director of Graduate School, Dr Rining Wei, Deputy Head of Department of Applied Linguistics, Dr Bin Zou, the editor of IJCALLT, and Dr Hui Wang, the Head of Department of Translation and Interpreting from XJTLU; and Mr Haigang Zhang, the Deputy General Manager, Mr Zhiqiang Peng, the Director of the Nanjing Unit, and Ms Ruolin Gao, the Director of the Training Unit from 21st Century English Education Media.
Edited by Ying Jiang
Photo by Ying Jiang