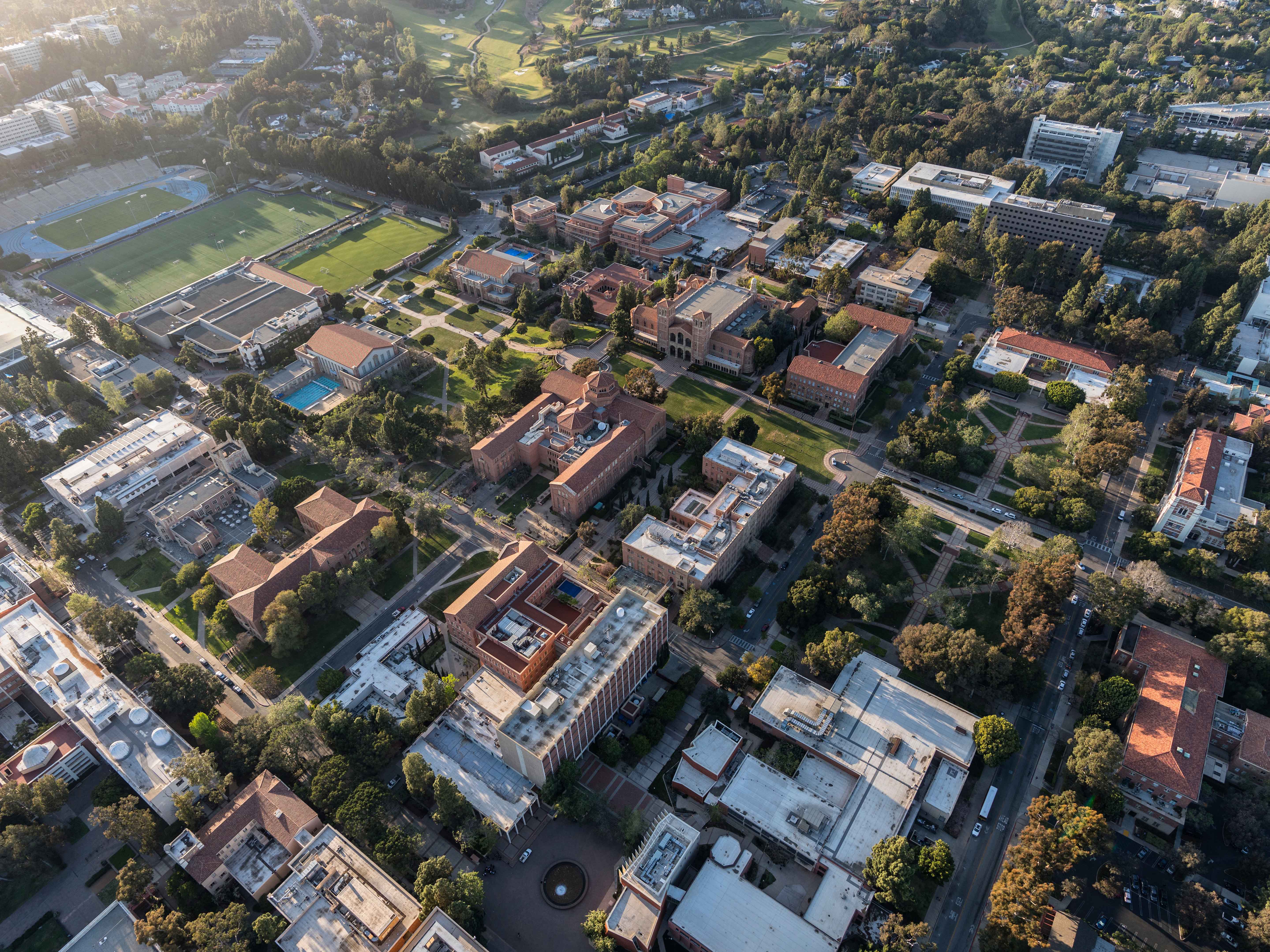 With global temperatures soaring as a result of high levels of carbon emissions from industrial and other sources, the world, right now, is facing an environmental emergency of unparalleled magnitude. At a time of crisis, it is increasingly understood that a transition to a low-carbon economy is necessary, and that the building and construction industry, which accounts for 36% of global energy use and 39% of energy-related carbon dioxide emissions annually, should play a critical role in this shift.
The takeaway? There's never been a more crucial – and thrilling – time for design professionals and architects to explore greener and more sustainable practices. This is especially true in China, where climate and energy policies have increasingly taken centre stage in the central government's plans.
Understanding sustainable architecture
Sustainable architecture is a broad term that refers to buildings designed to minimise humanity's negative impact on the environment. As an alternative approach to modern-day building, this eco-friendly way of thinking can be applied to virtually every aspect of the design and construction process, including the choice of building materials and finishes, the use of renewable energy, the integration of the built environment into the natural landscape, and a series of other green considerations.
"Sustainable design is a search for a natural alliance by necessity," explains Dr Adam Brillhart, an Assistant Professor in the Department of Architecture at Xi'an Jiaotong-Liverpool University.
Although many of the practices and principles used in sustainable architecture are rooted in ancient building techniques, it was not until the early 21st century that the concept of green buildings emerged in response to growing concerns about climate change. In recent years, as the idea of sustainability treaded to the forefront in many industries like fashion and automobiles, interest in sustainable design has grown exponentially among architects, with the green building market on track to be among the fastest-growing industries worldwide.
"Particularly in the built environment, sustainability emphasises the benefits for future generations," says Dr Yiping Dong, an Associate Professor in the Department of Architecture at XJTLU.
Dr Dong adds that sustainable principles can not only be applied to the design of modern buildings, they can also be used in restoration and renovation of historical architecture. "There are myriad ways that sustainability can be incorporated into the new design of old architecture, such as the use of green material, the reduction of carbon prints in the production process, and a variety of recycling techniques," she says.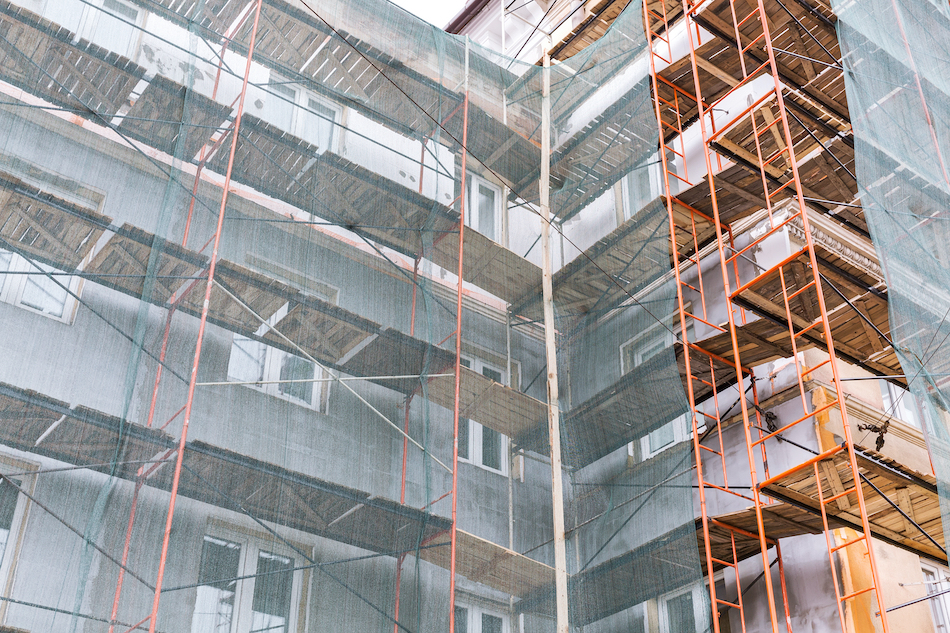 The green case for China
With up to two billion square metres constructed annually, China is the largest building construction market in the world, accounting for nearly half of new construction globally in the coming decade. At the same time, China's 14th Five-Year Plan, formalised by the National People's Congress (NPC) last year, aims to reduce "emissions intensity" – the amount of CO2 produced per unit of gross domestic product (GDP) – by 18% and sets a 13.5% reduction target for "energy intensity" over the period of 2021 to 2025.
Because China's ongoing urbanisation is slated to increase its energy consumption by as much as 40% in the next 15 years, Chinese policymakers have made advancing green building construction and renovation a top priority. According to Xinhua, in 2021, the total floor area of China's green buildings exceeded 6.6 billion square metres amid the country's efforts to promote high-quality development in urban and rural areas.
The country will "make continuous efforts to further increase the proportion of green buildings, raise building energy efficiency standards and popularise buildings with ultra-low energy consumption in regions with suitable climate conditions," said Guomin Tian, a senior official with the Ministry of Housing and Urban-Rural Development.
Encouraged by the government's vision, a growing cohort of Chinese architects have embraced sustainable design and incorporated its principles into an expanding list of projects throughout the country. Among them is Shu Wang, the first China-based architect to win the Pritzker Architecture Prize, the profession's highest honour. His Amateur Architecture Studio, which Wang co-founded with his wife, Wenyu Lu, have designed a variety of buildings using materials salvaged from demolished houses. The Ningbo History Museum, one of Wang's best-known creations, is largely composed of debris collected from the surrounding area, where traditional Chinese towns and villages were torn down to make room for new developments.
Having worked with Wang on several projects, Dr Brillhart says that the renowned architect "best represents a sustainable approach for China," where he "uses architecture as a way to connect to the social reality by fostering knowledge exchange around traditional material processes which are inherently sustainable."
Meanwhile, a generation of young, passionate Chinese designers eager to help mitigate climate change are actively bringing an environmental sensibility to their work. Heading the effort is a group of teachers and students at XJTLU, who worked together with both overseas and domestic partners to compete in Solar Decathlon China 2021 (SDC 2021), an international competition where collegiate teams design and build solar-powered, net-zero energy buildings to push the boundaries of sustainability.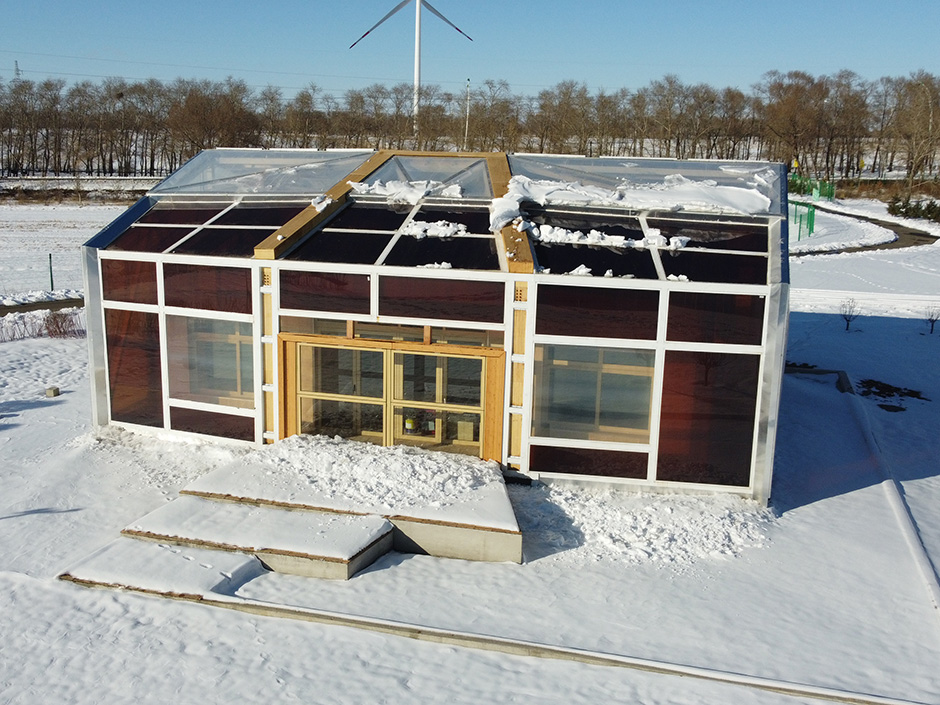 The fully solar-powered, sustainable house designed by Y-team
With 17 academics and over 60 students from different disciplines, the international partnership – led by XJTLU and named the Y-Team – has resulted in the creation of a fully solar-powered, sustainable house that's currently on display in the northern Chinese city of Zhangjiakou, one of the three main events sites at the Beijing 2022 Winter Olympics. The Y-Team is among the 15 finalist teams in the contest.
Y-Team house construction workers in Zhangjiakou build living green walls and frames for outer membranes that will regulate the temperature, capture solar energy, and bring in daylight.
Speaking of his experience, Dr Marco Cimillo, an Associate Professor at the Department of Architecture at XJTLU, who serves as the faculty lead of the Y-Team, says that "all aspects of the project were new and challenging" as the students had to work together remotely due to the Covid-19 pandemic and the teachers had to familiarise themselves with "the complexity and technicalities of the full process, from conception to construction and monitoring."
But despite the difficulties, Dr Cimillo says that the project has been successful in that it has resulted in distinctive architectural outcomes and user experience. "We all learned a lot and students had the opportunity to collaborate directly with sponsors and industry partners. The weeks spent on the construction site were an unforgettable experience and the building in the end does incorporate a number of pioneering features," he says.
And it's likely that the Y-Team's house will have an impact outside the competition. "There are solutions in the final project that can be advanced relatively quickly and non-standard applications of existing technologies that can be easily replicated in other projects," Dr Cimillo says. "The ventilation system, for example, is quite standard in terms of components, but the way they are combined together allows to increase energy efficiency. Most contractors and workers involved in SDC have experienced similar developments, which is one of the many ways the initiative makes an impact on industry."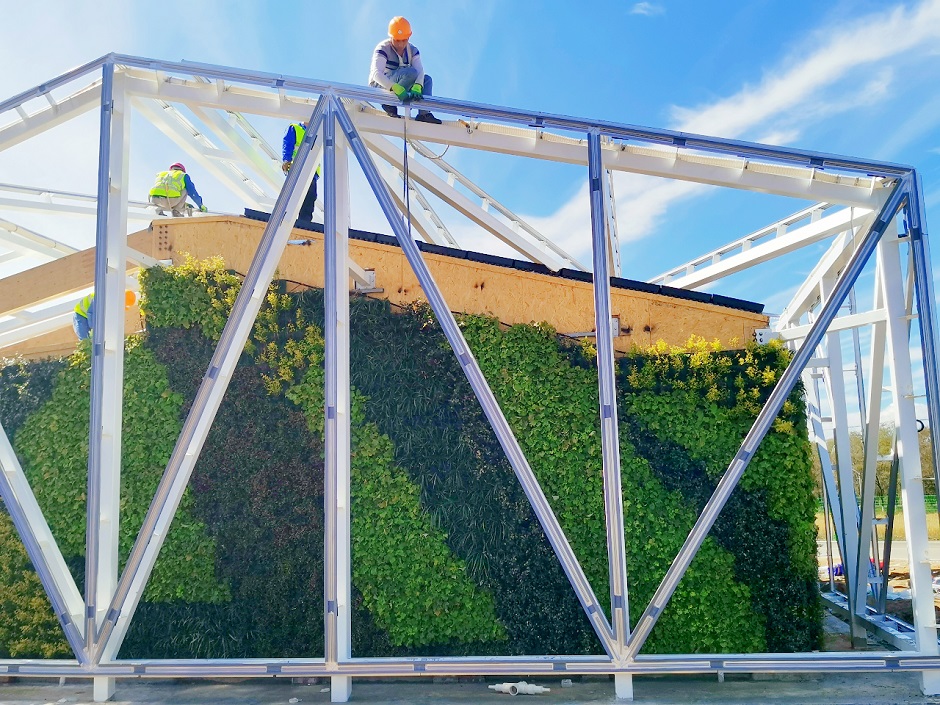 Y-Team house construction workers in Zhangjiakou build living green wall and frames for outer membrane that will regulate the temperature, capture solar energy and bring in daylight.
Challenges for Chinese architects
For sustainable design to reach its full potential in China, the biggest obstacle is the cultural psyche of the population, according to Dr Jiawen Han, who teaches multiple levels of design studio and architectural theory at XJTLU.
"A society that is driven by efficiency in every aspect conspicuously and dramatically changes the psychology of the people within that society. Although new governmental and architectural regulations are attempting to raise awareness of green buildings and encourage construction of them, the tangible benefits may not be easily recognisable to the general public," she says. "Many of those who benefit the most from China's rising affluence may still prefer to live in fancy apartments as a way to display their financial power and social status."
Beyond a lack of demand, Chinese architects have other reasons to remain lukewarm on sustainable practices. "In architectural discipline, it is sometimes hard for architects to gain professional recognition as experts in green buildings. Instead, they are often categorised as technical experts rather than as talented designers," Dr Han says. "In addition, green buildings cannot always easily incorporate the aesthetics and symbols that appeal to the wider public, or are favoured by certain developers in China."
Echoing Dr Han's views, Dr Dong argues that because consciousness on the clients' end is not high for green building, and the cost of labour and energies like electricity remains on the low end, Chinese architects are hesitant to fully embrace sustainability in their design. But the situation can be turned around if financial or structural incentives are introduced to incentivise the market. "Personally, I feel the current driving stakeholder in the green building movement in China is the government," Dr Dong says.
Even without financial incentives introduced by the government, a growing awareness of sustainability in the sector of design education is accelerating the green transition. Through SDC and the Y-Project, Dr Cimillo says that XJTLU's Design School is pursuing a variety of strategic directions for its educational model, including industry-education-research collaboration and the integration of theory with problem solving and project-based learning.
"We deem them critical to equip our graduates for the complexities of an increasingly articulated professional world. The new generation must have the ability to think collaboratively and out of the box to lead the transition to a more sustainably built environment and society, the greatest challenge of our time," Dr Cimillo says.
By Jiayun Feng
This article is republished from SupChina. Read the original article: https://thechinaproject.com/2022/02/22/building-a-green-future-in-china/