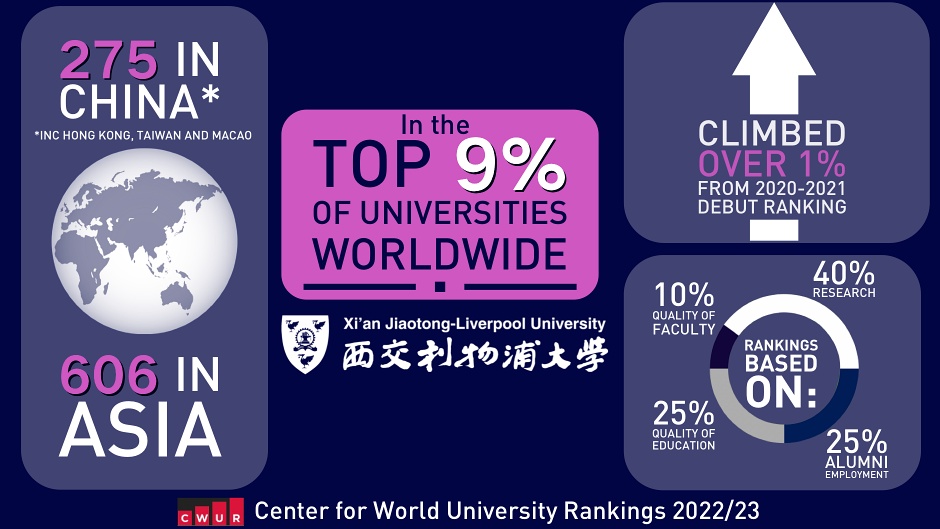 According to the 2022-23 Global 2000 list by the Center for World University Rankings (CWUR), Xi'an Jiaotong-Liverpool University is ranked number 1,683 worldwide.
A total of 19,788 universities were assessed, putting XJTLU in the top 8.6%. CWUR also places the University at 606th in Asia, and 275th in China (including Taiwan, Hong Kong and Macau).
This is the third year that XJTLU has been ranked in the Global 2000 list, up 262 places from its 2020-21 debut rank of 1,945th. The University's overall score has also increased from 66 to 66.9 (out of 100).
XJTLU's research rank has consistently been higher than its overall rank, underlining the University's focus on research. In 2020-21, XJTLU ranked number 1,866 worldwide for research and in 2022-23, rose to 1,612.
About the rankings
CWUR, now in its 11th year, assesses universities based on seven criteria, with various weightings. Education and employability are both worth 25% of the score, and academic staff is worth 10%.
Research is 40% of a university's ranking, and is divided into four sub-sections, worth 10% each: research output, which is the total number of papers published; high-quality publications, which is how many papers are published in top-tier journals; influence, which is the number of papers published in influential journals; and citations, which measures the number of highly cited research papers.
To read more about the rankings, visit the website.
By Patricia Pieterse
Edited by Catherine Diamond
Infographic by Catherine Diamond