On 16 March, Xi'an Jiaotong-Liverpool University and Swiss Education Group (SEG) signed a Memorandum of Understanding (MoU) with the aim of enhancing academic cooperation.
At the event, both parties exchanged views on university development strategies, educational philosophy, student exchanges, summer programmes, collaborative research, academic staff exchanges and more.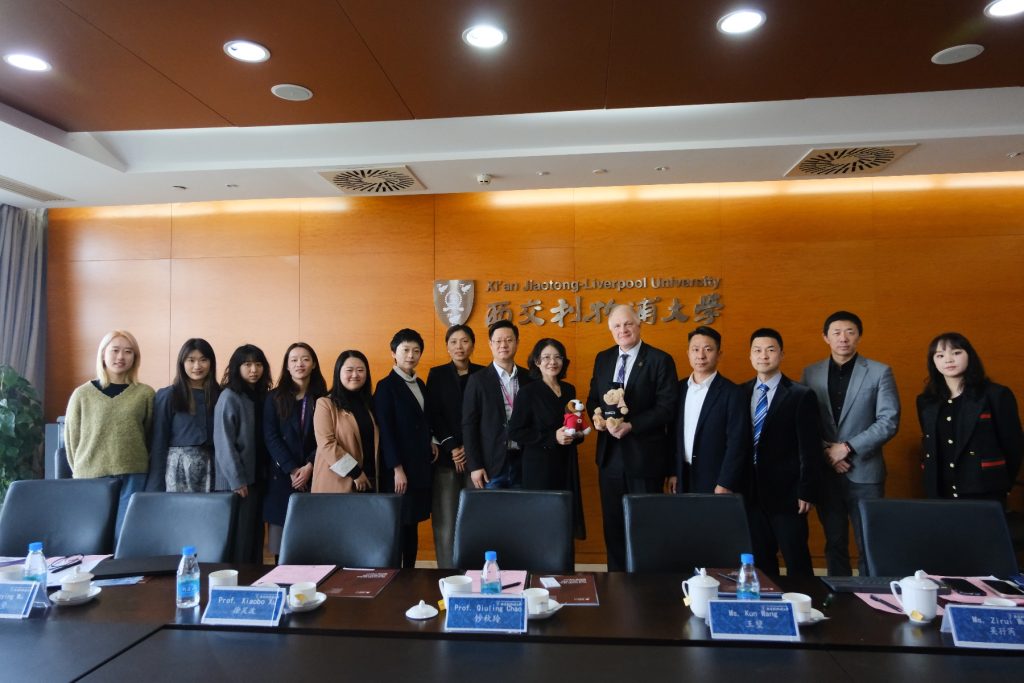 The event's attendees from both XJTLU and SEG
SEG is the largest private educator in Switzerland and operates four of the world's top hospitality schools, namely Swiss Hotel Management School (SHMS), César Ritz Colleges, Hotel Institute Montreux, and Culinary Arts Academy Switzerland.
At the event, Professor Qiuling Chao, Vice President of XJTLU, introduced the University's educational philosophy, and said: "The forward-looking education model has nurtured a great number of outstanding XJTLUers."
Dr Dominic Szambowski, President of SHMS, expressed his appreciation and said: "As the largest private educator in Switzerland, SEG is committed to delivering leading-edge science and timely industrial information that equips students with the skills needed in the hospitality industry and beyond.
"In learning the hospitality business and culinary arts, the most important thing for our students is to develop and accumulate transferable skills, and to explore their own strengths from both academic and practical perspectives," Dr Szambowski said.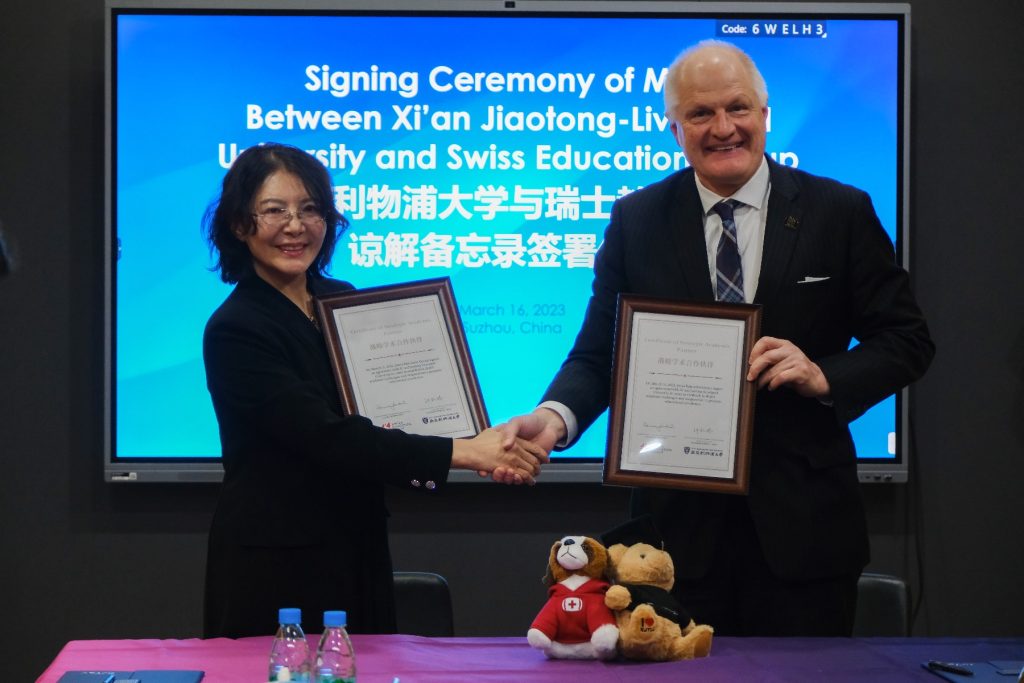 Professor Qiuling Chao and Dr Dominic Szambowski
He also mentioned that SHMS emphasises the combination of tradition and modernity. They appreciate old tradition but also embrace cutting-edge technologies. "In order to break the rules, you have to know the rules," he said.
Jianhui He, SEG China Director of Institutional Partnership Programmes, presented a scheme for future cooperation in areas including direct entry enrolment for master programmes at SEG, student exchange programmes, summer programmes and more.
"We hope to provide students at XJTLU with world-class education, equipping them with practical skills that are essential to the hospitality industry and beyond," he said.
Kun Wang, the Deputy Head of XJTLU's Student Admission and Career Development Office, said: "Hospitality management is related to luxury marketing, real estate, internet and finance. With a hospitality business degree, our students will acquire essential and transferable skills which they can apply across many different industries."
Finally, Professor Chao concluded: "International cooperation is an important part of China's higher education. SEG is an important partner of XJTLU. With the MoU, we will deepen pragmatic cooperation and academic exchanges. Together, we will train more globally competitive talents in line with the needs of enterprises in various sectors."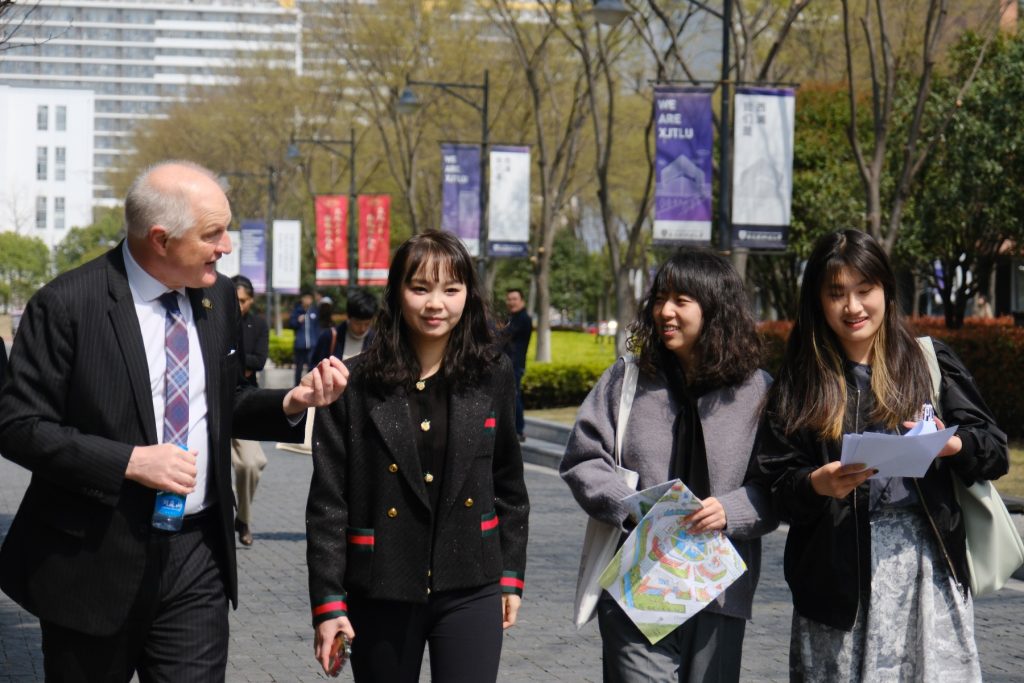 Dr Dominic Szambowski (left) and his assistant with student representative of XJTLU and staff representative from XJTLU Career Centre
Other attendees at the event were: Rongming Hu, SEG China Director of University Cooperation; Guanghua Zheng, SEG China Director of Operations; Zhe Huang, SEG East China regional manager; Professor Xiaobo Xu, Head of the Department of Intelligent Operations and Marketing; Dr Yingying Wu, International Officer of Finance Department & Assistant Professor of Finance, and Lihua Cui, Business Engagement Manager.
By Juejun Pan and Zirui Wu
Translated by Juejun Pan
Edited by Xinmin Han and Patricia Pieterse
Photos by Yiwei Chen and Yuan Gao