On 28 February 2022, Xi'an Jiaotong-Liverpool University signed a Memorandum of Understanding with the Chartered Institute of Building (CIOB) in an online signing ceremony. The MoU was signed with the aim of enhancing mutual collaboration to face global challenges like climate change and sustainable development.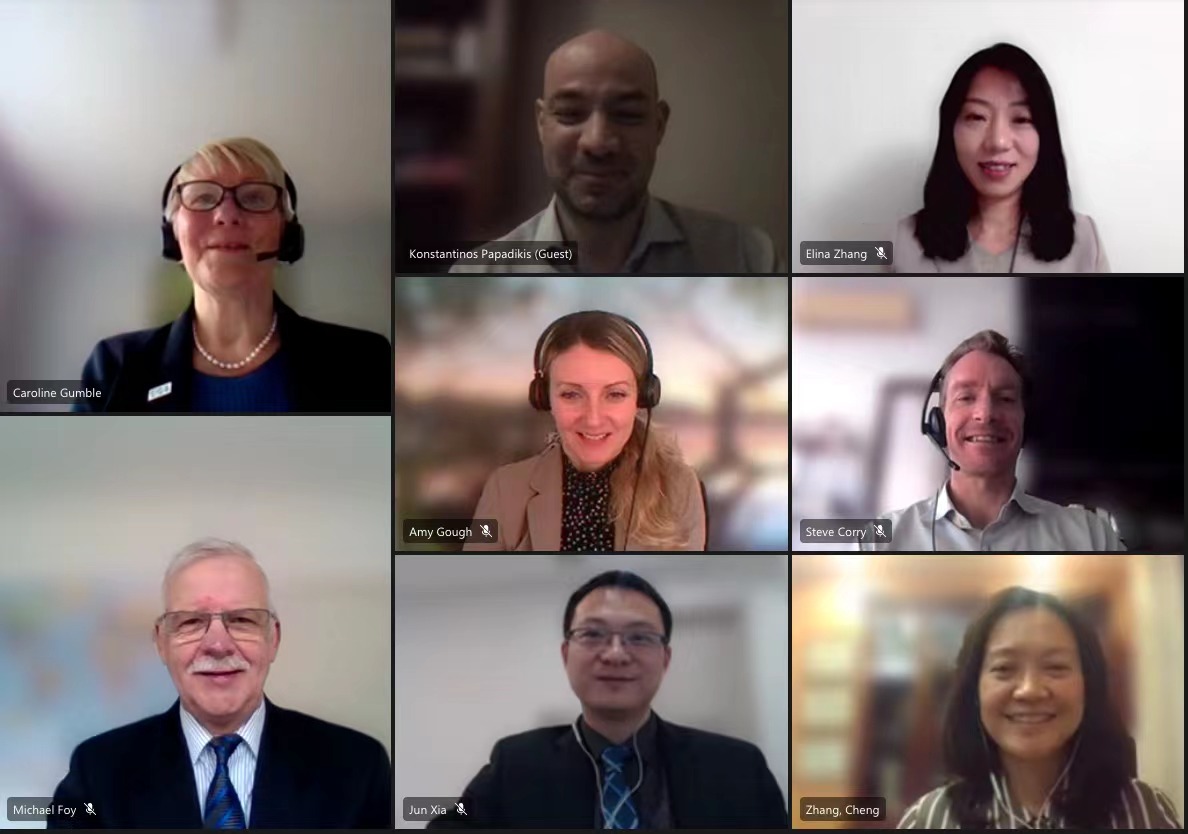 Left column, top to bottom: Caroline Gumble, Mike Foy. Middle column: Dr Konstantinos Papadikis, Amy Gough, Dr Jun Xia. Right column: Elina Zhang, Steve Corry, Dr Cheng Zhang
Established in 1834, CIOB is the world's largest and most influential professional body for construction management and leadership. With its headquarters located in the UK, it has more than 45,000 members in more than 100 countries.
According to Mike Foy, President of CIOB, the institution is committed to working with global members to conduct research, develop robust policy positions, serve the public interest, and improve the quality of life for the creators and users of the built environment.
"With XJTLU joining our membership, we aim to create opportunities for the students, connecting them with a global network and supporting them on their career journey," says Caroline Gumble, CEO of CIOB.
"We will collaborate on joint programmes such as conferences, seminars, publications, and educational materials, and we look forward to having XJTLU students compete in our global student challenge, as well as to having academic staff participate in our global academics' conference.
"What makes our connection even closer is that Suzhou, where XJTLU is located, is where CIOB established its first heritage conservation centre outside of the UK more than 10 years ago," she says.
Under the MoU, the collaboration will explore the feasibility of integrating CIOB's Academy content into XJTLU's online learning platform, Learning Mall.
Furthermore, CIOB will assist in facilitating XJTLU employees to gain CIOB memberships with a 50% discount on the fee.
"Construction management and leadership are amongst the core teaching and research directions of Civil Engineering Department of Design School," says Dr Jun Xia, Head of Department of Civil Engineering.
"I hope good experiences can be shared among practitioners and educators, and then passed down to new generations in our field," he says.
Dr Konstantinos Papadikis, Dean of XJTLU Design School, says this cooperation will become a bridge connecting the professional and educational world in the most creative and exploratory of forms.
"I am looking forward to initiating the common activities of the Design School and CIOB and witnessing the growth of our students through their engagement with the world of the profession," he says.
By Yi Qian
Edited by Patricia Pieterse