Details
Time: 18:30 PM (Beijing time)
Date: 27th of March, 2021
Venue: CB G13W
Organizer: The English Debate Society
Introduction

The English Debate Society is pleased to announce the first special guest speaker series of the 2020-2021st academic year.
Chengfang Lv, a renown Kun Opera performer, has very graciously agreed to do a Kun Opera show introducing famous opera stories and misical accompaniment.
What is Kun Opera?
Kun Opera is a 600 year old art form that originated in Suzhou, China. It is known for it's combination of singing, artistic choreography, and recital. The opera is accompanied by musical instruments such as the bamboo flute, drums, gongs, and other percussive instruments to accentuate the scenes within a story.
Due to Kun Opera's vibrant representation of humanity and language through the passage of time, UNESCO in 2001 designated it as the one of 19 Intangible Culture Heritage of Humanity masterpieces. With this designation, Kun Opera has received safeguarding and revitalization by the international and national community at large.
Schools in Kunshan are now teaching Kun Opera to primary and middle students. New theaters have been constructed for specifically Kun Opera series. Kun education continues in different cities like Beijing, and Hong Kong where university students have to staged their own original Kun plays.
Kun Opera & Debate
In debate, all topics that are currently in the societal discourse could be used in a tournament. Often times, arts & culture tend to be the topics that are little known to students. Having a Kun Opera show will illuminate the importance of culture that has been passed down several generations. UNESCO in their decision to designate Kun Opera as a Masterpiece of Oral & Intangible Heritage of Humanity states that "culture is at the heart of contemporary debate about identity, social cohesion, and the development of a knowledge-based economy" (UNESCO Universal Declaration on Cultural Diversity, 2001). This idea continues to reverberate on the impact of culture. The English Debate Society is honored to have such an opportunity to bring Kun Opera to XJTLU.
Agenda

This program(60 minutes) will cover the following four categories: Ancient Chinese Instruments, Kunju, Pingtan, and Chinese Music.Ancient Instrument:
Ancient Instrument
GuanShanYue ("The moon at the fortified pass")
Kunju (one of the oldest extant forms of Chinese Opera):
Mudanting ("The Peony Pavilion")
Pingtan (opera performing with rap, singing and playing):
Baishezhuan ("The White Snake-Celebrating the Mid Autumn Festival")
Jiangnan Xiaodao
On the beautiful Tai Lake
Chinese Music:
Instrument Lute
Introduction and demonstration
Final audience participation: recitation with music
Questions and Answers
Speaker
Chengfang Lv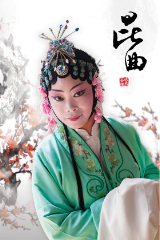 Chengfang Lv is a local volunteer of Suzhou Kunqu Opera Inheritance and Education Institute's "Protection and Promotion Agency of Kunqu Opera". Influenced by parents, she loves literature and opera and has won many awards in provincial and municipal Kunqu Opera or Oarcompetitions. She has been acting and propagating Kun Opera in Pingjiang Road, a famous historical street loaded with culture, since 2011. Her innovativestyle, "explaining while acting", is popular among tourists and young audiences.
She has acted and lectured on Kun Opera for a number of Chinese universities including Peking University, Tsinghua University, The University of Hong Kong, Beijing Normal University, and Beijing University. To promote tourism, Suzhou Administration of Tourism has invited Ms. Lv to visit various provinces to act. Malaysia-China Chamber of Commerce invited Ms. Lv twice to perform in Malaysia and local media commented highly on her performances. The documentary Opera, solo produced by an international student from University of Sussex won the special award in the International University New Media Culture Festival in 2013. In the next year, an article based on an interview with her, Chengfang Lv: A Kun Opera stage of one's own, written by Suzhou Daily received the third award in photography in the twenty-forth China News Awards. Later, The Modern Suzhou of Suzhou Daily Agency listed her in the first group of "People of Suzhou Living" in March of 2015.
Registration
Please scan the QR code and participate in this event: