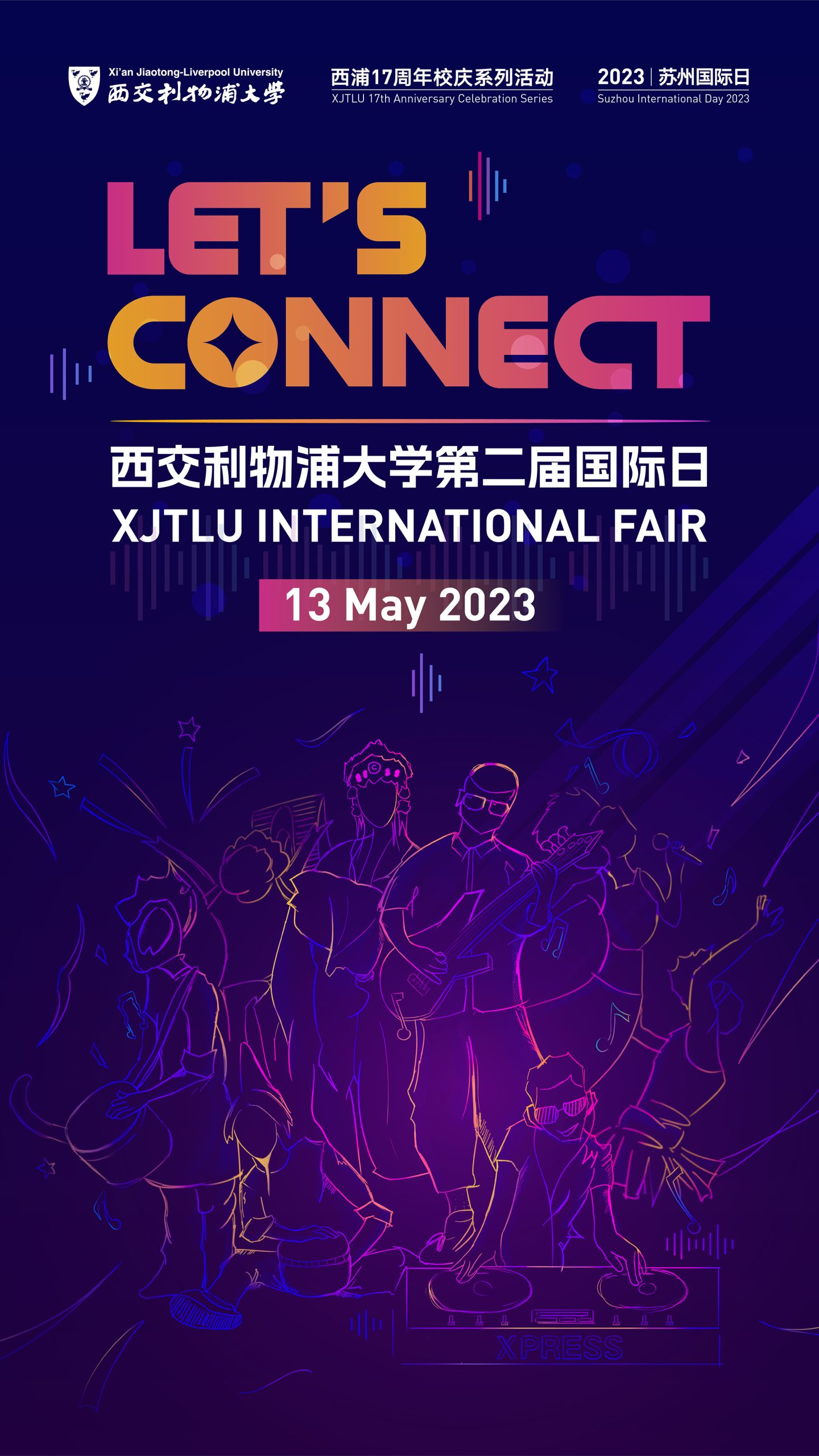 DETAILS
Time&Date:09:00-20:00, 13 May 2023 (Saturday)
Venue:XJTLU South Campus Central Lake
ABSTRACT
Xi'an Jiaotong-Liverpool University is excited to announce its second International Fair, taking place on 13 May 2023. This year's theme, "Let's Connect", aims to foster connections between people and the XJTLU community, as well as the beautiful city of Suzhou. The event consists of two parts: a city tour and an outdoor party. Our aim is to provide more opportunities for people to connect and create a vibrant international atmosphere for XJTLU students, staff, and the local community.
AGENDA
09:00 - 12:00   Visit Suzhou Silk Museum – Our tour bus will take you past the city's most iconic landmarks, including the Gate of the Orient, Xiangmen, Pingjiang Road and Guanqian Street before arriving at the museum. Our professional guides will explain the tourist attractions above and lead you through the exhibits, offering insights into the silk culture that has been passed down for thousands of years. You will also participate in an interesting workshop and create your own souvenir to take home.
12:30 - 15:30    Cruise around Jinji Lake – Prepare to set sail on an unforgettable journey aboard a beautiful cruise ship, departing from the Moonlight Pier. This picturesque location sets the perfect tone for a romantic experience around the Lake. Our tour guide will introduce the tourist attractions and landmarks that line the shores. You'll enjoy stunning scenery, beautiful music, and free afternoon tea.
16:00 - 20:00    Outdoor party – We've got everything you need for a fun night, including a variety of food trucks, Jammala, live band, dance performance, DJ performance and more. This party promises to be a night to remember, filled with great food, drinks, music, and entertainment.
| | |
| --- | --- |
| 16:00 – 16:30 | Warm-up |
| 16:35 – 16:40 | Opening speech - Professor Qiuling Chao, Vice president of XJTLU |
| 16:40 – 16:45 | Free talk - Professor Youmin Xi, Executive President of XJTLU |
| 16:50 – 17:00 | 17th anniversary champagne ceremony |
| 17:00 – 17:10 | Live band |
| 17:30 – 17:45 | Dance performance |
| 18:00 – 18:10 | Music performance |
| 18:15 – 18:18 | Recap video |
| 18:50 – 19:00 | Launch of Light & Wings e-magazine |
| 19:00 – 20:00 | DJ performance |
| 20:00 | Party closing |
SIGN UP
Click here to sign up