The Wisdom-lake Internationalization Summit of Higher Education 2015 (WISHE 2015) was held at Xi'an Jiaotong-Liverpool University (XJTLU) on April 17th.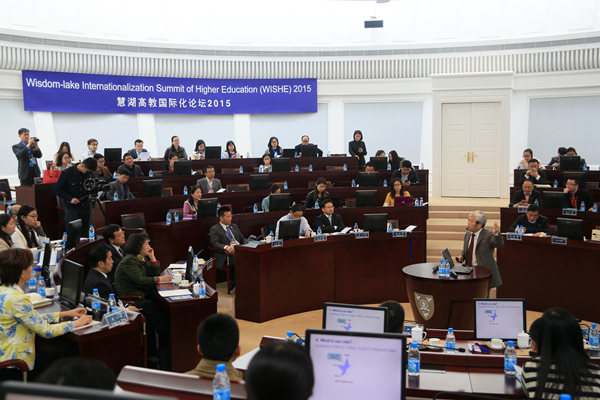 WISHE 2015 was co-organised by the Suzhou Dushu Lake Science and Education Innovation District (SEID) and XJTLU. The aim was to discuss the challenges which are arising from the development of the Higher Education Town due to greater Internalisation and to realise the reform and innovation of Chinese Higher Education through the development of Sino-Foreign cooperative universities. The summit lasted for two days and attracted nearly 200 renowned experts, scholars, university presidents and government representatives.
During the Theme Forum, Professor Youmin Xi, Executive President of XJTLU, first shared his experience of intercultural and international cooperation among universities, saying, "intercultural and international cooperation is a symbiotic development in need of fairness, innovation, nationalisation and enthusiasm, and is built around talented individuals with intercultural, inter-organisation competence and leadership. " He also mentioned, "A new type university should be an open and shared university with international perspectives. Modern universities need to find actively consider difficulties in the innovation process and solve these with innovative solutions.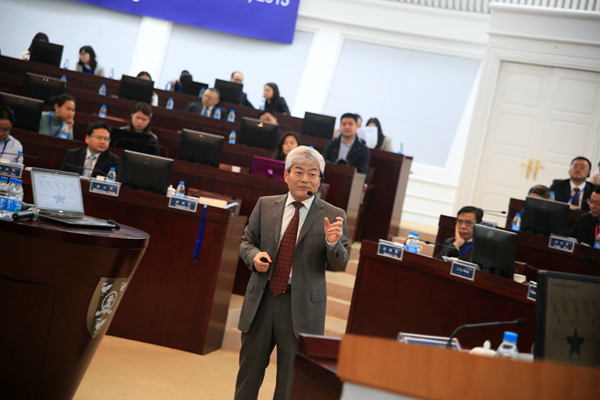 Referring to the experience of running XJTLU, a cooperative education institution, Professor Xi indicated that a "series of grand construction projects and plans are necessary because everything should present an outlook of success and hope. It's possible to make dreams come true only through persistent efforts." Since its establishment, XJTLU has been adhering to the concepts of opening education, all-round communication and cooperation. XJTLU has currently set up a series of cooperation and communication exchanges with many international and domestic organisations and institutions. It has also carried out academic communication with numerous research institutions.
Mr. Weiming Jiang, Vice Director of SEID, shared their exploration experiences with Internationalisation in the Higher Education District. He introduced that SEID currently has 26 higher education institutions, two academic institutions, 65 Sino-foreign cooperative programmes and 77300 college students (as well as nearly 2000 overseas students from approximately 60 different countries) working with them every year.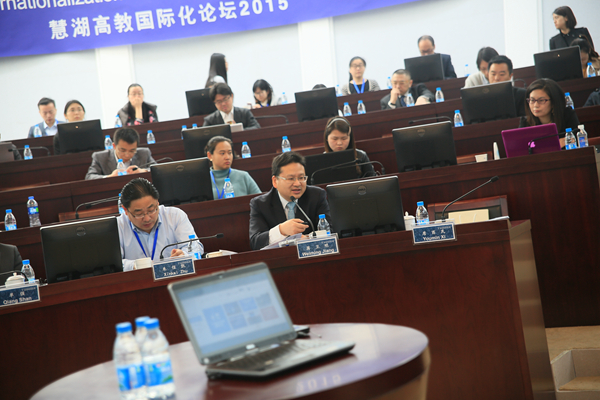 This speech was followed by one by Professor Wanhua Ma (Center for International Higher Education at Beijing University) which was titled "One Belt and One Road and Sino-foreign Cooperative University". He emphasised that besides learning from developed countries, it's also necessary to enhance the exchange among those developing countries along the borders. President Zhixing Xiao, from the China Academy of The George Washington University, then talked about "New Perspectives on America-China Cooperative Education" and explained that there are 280,000 American students studying abroad and 800,000 overseas students studying in the US, and Chinese is a big problem for American students studying in China.
Following on from the previous speeches, Professor Lily Kong, Vice President of the University of Singapore (UoS), took UoS as an example to discuss how to cooperate with institutions from three angles, namely, crowds, politics and policy. She said: "Crowds, Policy and Politics are all indispensable for succeeding in both internal and external collaboration within an institution.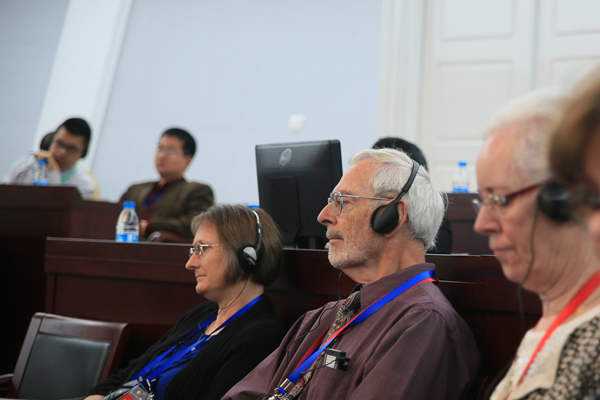 Professor Chengwen Hong from Beijing Normal University then introduced the philosophy and strategy of interdisciplinary Coalition-building by focusing on his own experiences of founding the Global Education Alliance (GEA). He indicated that the first step of developing international education is to enhance international leadership; and the second element is treating others sincerely and also understanding international regulations.
During the two Roundtable Forums, two delegations from the Sino-foreign cooperative educational institutions of SEID and Association for Collaborative Leadership discussed aspects of interschool cooperation, cooperative education and university alliances between America and China.