A delegation from Ghent University, accompanied by the Suzhou Foreign Affairs Office and government representatives of the Province of West-Vlaanderen in Belgium visited Xi'an Jiaotong-Liverpool University (XJTLU) on April 3rd.
The delegation aimed to seek potential exchange and cooperation with XJTLU. It was comprised of fifty five students and they are mainly majored in Industrial Design, Electronic Engineering and Information Technology.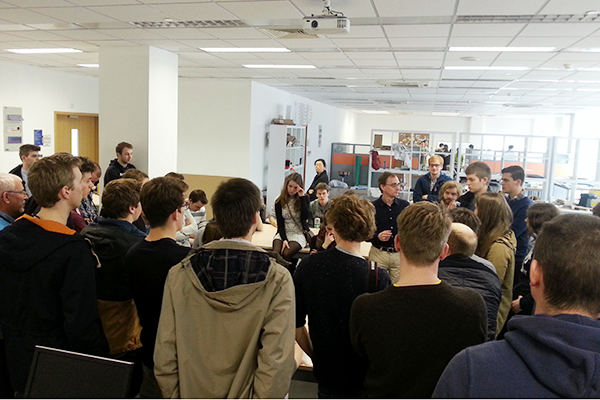 Dr. Derrick Tate, Head of the Department of Industrial Design at XJTLU, welcomed the delegation and gave a general introduction about XJTLU and the Department of Industrial Design.
He emphasised that 2/3 of the department's graduates this year have applied for master's study abroad. Talking about cooperation between university and enterprises, Dr. Tate said that there were hundreds of multinational corporations in Suzhou Industrial Park (SIP) and many enterprises have offered internships and full time work.
At the end of the meeting, the Suzhou Foreign Affairs Office also hoped that XJTLU might provide more exchange programmes abroad in order to further develop students' international perspectives.
The delegation also visited the Department of Electrical and Electronic Engineering (EEE) at XJTLU after the meeting. Dr. Lam Sang, Han Xin and Yanfei Qi from the Department of EEE showed the delegation around the laboratory and explained how the equipment worked. The delegation members were impressed by XJTLU's unique teaching model, international environment and campus.
Ghent University, which was founded in 1817 by King William I of Orange, is one of the major Belgian universities counting over 41,000 students and 9,000 employees. Its 11 faculties are composed of 117 faculty departments and these departments offer more than 230 high-quality courses in every one of their scientific disciplines, each inspired by innovative research.