Dr. Paul Howe, Associate Professor of Innovation and Entrepreneurship of International Business School Suzhou (IBSS) at Xi'an Jiaotong-Liverpool University (XJTLU) and Vice Director of the Suzhou Private Science and Technology Enterprises Chamber of Commerce, kicked off a series of seminars with over 200 participants from the Wujiang Taihu Lake New City District Government on 24th April, 2015.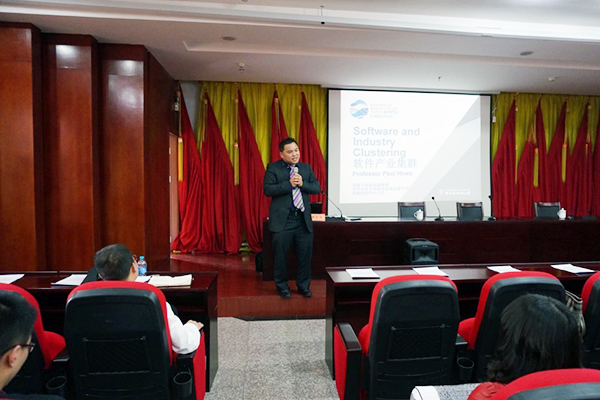 The Seminar outlined the main historical and current practices, theoretical concepts and pragmatic strategies for attracting relevant industry clusters into a developing city, in particular the software industry and the high technology sector.
The lecture used practical examples from the top Software and High-Tech clusters in China, the San Francisco Bay Area (Silicon Valley) and the Cambridge Fen areas in which the presenter has conducted research and accumulated extensive working experience, working as a professor, high-technology company regional manager and as a venture capitalist. The research topics include: 'The Chinese Software Industry Clusters, "Stanford" and "Cambridge" Phenomenon'; 'Theories of "Clustering" and the Herfindahl-Hirschman Index'; 'Industry Selection'; and 'Industry Growth, Growth and Sustainability'.
The lecture was well received and more seminars are planned later on in the year including topics in "New Finance", "Capital Operation" and "Investment and Project Management".
The lecture is part of the tailor-made training programmes from IBSS to the cadre of the Wujiang Taihu Lake New City administrative institutes including HR Bureau, Investment Promotion Bureau and Construction Bureau in accordance with the cities construction and development needs. XJTLU signed a Memorandum of Understanding with the Wujiang Taihu Lake New City Administrative Committee last year with the commitment to supporting the Wujiang Taihu Lake New District to develop into a leading region for business, recreation, research and education in China.