The 'A-Choice Student of the Year Award' is to reward students who not only show excellence in academic achievement, but also make significant contributions to enrich the overall student experience within the Department. The sponsor of the award, the A-Choice Instruments Co. Ltd is a local business established in Suzhou to support the higher education and research institutes within the SIP.
This year, the awards have gone to Ms Yixin Xie (Sophia) for the year 4 category and Mr Tianyou He (Kym) for the year 2 category. Both students are recognised with their contributions to enhance student experience within the Department of Chemistry and their outstanding academic performance.
The newly graduated Ms Yixin Xie had served as student representative for three years and was the chair of the Chemistry Society during her second year of study in the Department. Her important contributions include organising a very successful career fair for students that featured the presence of over 10 local /international enterprises in 2012; she was selected as the student representative in the IPR panel to review the Department's performance in 2013-4. She is currently studying in the University of Delaware, USA for a PhD degree in chemistry with a full scholarship.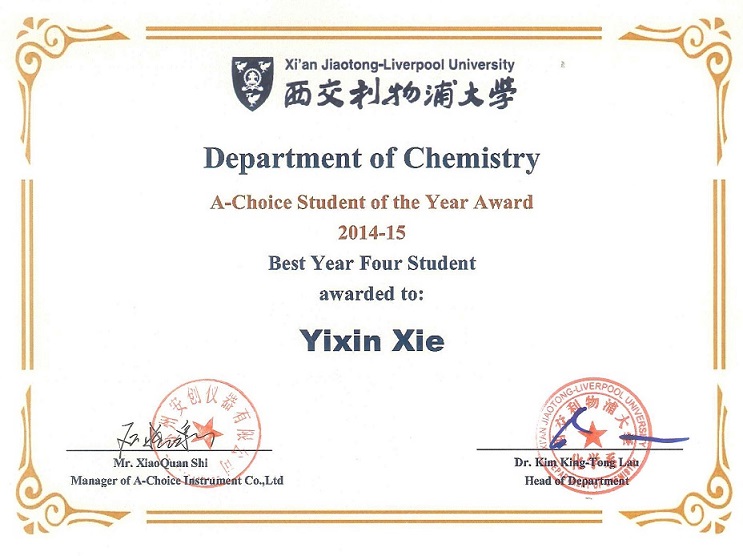 Kym was a year 2 student representative and an active committee member of the Chemistry Society. He had contributed much in organising student activities for the Chem Soc. while maintaining his outstanding academic performance throughout the year. He is now studying in UoL for a MSc. degree in Chemistry and Nanotechnology through the 2+2 articulation.