An on-campus recruitment event with Industrial and Commercial Bank of China (ICBC) was a chance for Xi'an Jiaotong-Liverpool University students to consider working for a leading global bank.
Recruitment staff from ICBC visited the University to speak to students about their available employment opportunities. ICBC is one of the top listed banks with a presence in 41 countries and regions around the world.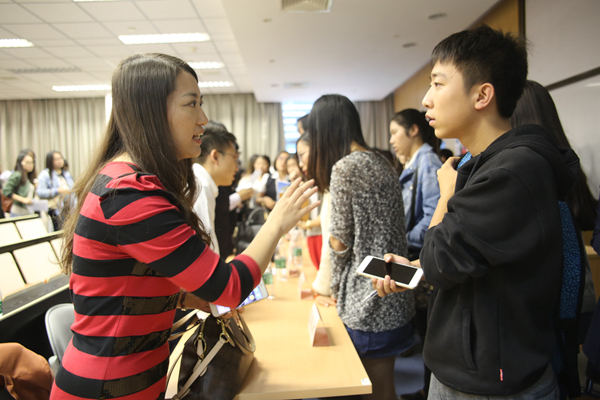 As part of the event, Jingwei Sun, an XJTLU graduate who currently works for a branch in Suzhou Industrial Park, shared her experiences. She said: "The independent learning, collaboration and problem-solving skills that I gained at XJTLU helped me to adapt to the working environment quickly."
Additionally, she said her English language skills were not only praised by customers but also by her colleagues, and she often dealt with foreign customers who visited the branch. She hoped that she would be able to continue taking advantage of her English skills in order to work in the bank's international business department.
Jin Huang, Associate HR Manager at Suzhou ICBC, said: "Last year, we recruited eight XJTLU graduates, who adapted to our working environment quickly, and were good at English and working in a team. More importantly, their academic skills mean they are able to provide a more professional service for customers."
The event not only attracted current XJTLU students, but alumni as well. Ye Zhong, who studied at XJTLU and has just finished a masters degree in the UK, said: "Recruitment events such as this are convenient and helpful for me. Although all recruitment information can be found online, events on campus offer a face-to-face opportunity to communicate directly with HR personnel."
The event is part of a wider programme of activities designed to support XJTLU students in their career aspirations.
Over the next two months a number of well-known companies, such as engineering company Weir Group, accountancy firm Grant Thornton International and China Construction Bank, will visit the University to take part in recruitment events.
The recruitment events are organised by the Student Career Development Office at XJTLU to support students as they prepare to enter into the competitive jobs market.
As well as individual employer events, SCDO will also coordinate a larger recruitment fair that will take place in November and feature hundreds of well-known companies all hoping to attract XJTLU students to work for them.
Qiuchen Qian, team leader of the Careers Service Team in SCDO, said that while the jobs market is increasingly competitive, XJTLU students are well-placed to find employment after they graduate.
The Careers Service Team also plan to increase the information available to students about job opportunities and how to apply, using both online and offline communications channels.