A group of Year 3 students from Department of Urban Planning and Design (UPD) and Department of Environmental Science (ES) recently enjoyed a field trip to the Wujiang Tai Lake New City. This field trip is considered as an important teaching and learning method under the cross-disciplinary module 'Environmental Sustainability' in UPD. Based on XJTLU's 'student-oriented research-led learning' principles, such mixed teaching and learning methods (including lectures, tutorials (i.e. student-led debate) and a fieldwork) can increase students' knowledge and overall competence in environmental planning, and thereby nurture an inquiry-based learning environment from an integrated perspective.
Mr. Xiaohua Chen, Deputy Director of the Urban Planning Bureau of Wujiang Tai Lake New City, and his colleagues Mr. Li and Ms. Yuan, gave students a brief introduction on the overall development framework of the Wujiang Tai Lake New City as well as some key planning strategies. In the Q&A session thereafter, students were encouraged to raise questions relating to environmental planning, environmental assessment and the collaborative decision-making processes. Using the Wujiang Taihu Lake New City as an example, Mr. Xiaohua Chen answered student's questions and indicated that achieving environmental sustainability in urban planning and design is always a dynamic balance between 'what is theoretically possible and what is practically most desirable'.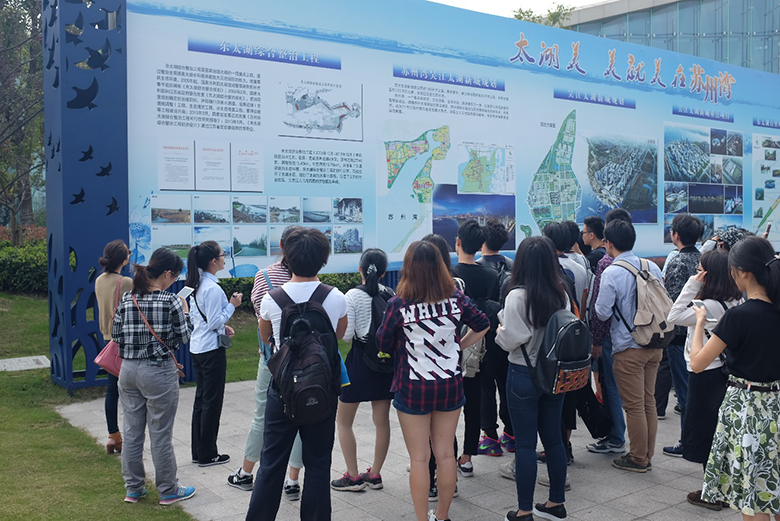 To help students better understand some details of the development of Wujiang Tai Lake New City, Dr. Bing Chen from UPD and Dr. Yixin Zhang from ES led students on a tour of the Wujiang Tai Lake Eco-park, the Green Land exhibition centre, and other ongoing/completed projects in the given region. These site visits were supports by Ms. Jing Du from the Housing and Construction Bureau of Wujiang Tai Lake New City.
A Year 3 student from UPD commented that it was important to see how the sustainable planning concepts (e.g. TOD) could be implemented in practice (e.g. short- and long-term action plans), and expressed the learning benefits from the visit.
Based on the Memorandum of Understanding signed by Xi'an Jiaotong-Liverpool University and the Wujiang Taihu Lake New City Administrative Committee on November 2014, it is expected that there will be more interdisciplinary learning opportunities like this for XJTLU students.