More than 50 companies from the finance, architectural design, engineering, manufacturing, consulting and pharmaceutical industries were represented at the Xi'an Jiaotong-Liverpool University Job Fair on 11 November.
The Job Fair had more than 200 occupations on offer to XJTLU students including full-time and internship positions. Nearly 400 students applied for these jobs.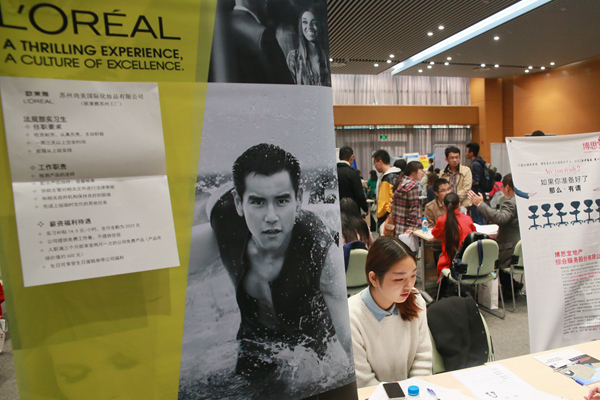 Graduating students, alumni and international students were all attracted to find our more information at the fair and there were long queues in front of some well-known companies, such as Oracle (China) Co., L'Oréal, Suzhou Institute of Architectural Co. Ltd., and American pharmaceutical giant Eli Lilly and Company.
Valeria Nagornaya, a Russian student from the Department of Computer Science, approached 10 recruiters related to IT businesses using her fluent Chinese. She said: "I have been in China for four years. I really like Suzhou and China, and I hope to work in China after graduation. It is better to work in the field of IT, which is related to my study."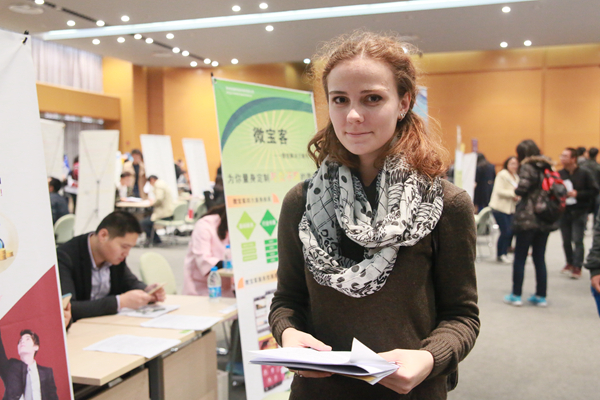 First year student Li Huan Zhou asked many relevant questions to the representative of the Suzhou Institute of Architectural Co. Ltd, including what they were looking for in applicants and whether they a masters degree is needed to be considered for employment.
Li is a student from the Department of Architecture and plans to choose to study architecture or civil engineering from his second year on. He appreciated meeting recruiters directly to find out more about their talent demand. "I think as the employment situation is very competitive, we need to know more about our industries and prepare in advance," he said.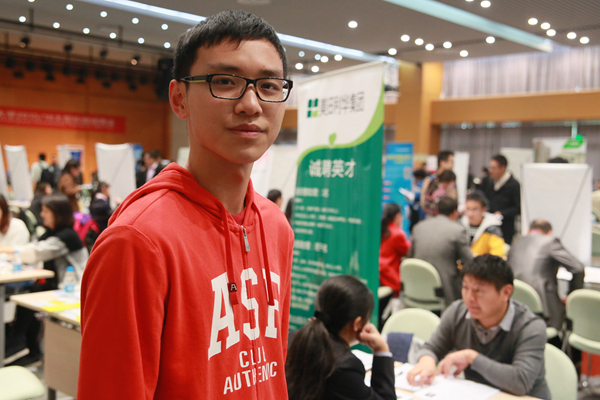 Since last year, XJTLU has collaborated with Suzhou Institute of Architectural Co. Ltd. through a mentoring programme as well as internships. Human Resource Manger Guan Ju Zhu praised XJTLU students, saying: "XJTLU interns have good communication and cooperation abilities. Our company now has many projects in collaboration with foreign companies and XJTLU students have the advantage of English proficiency."
He added: "Compared with traditional university students, XJTLU students are more open-minded and active. Their overseas study and internship experiences are important for our companies to absorb the new ideas abroad."
L'Oréal also has a good relationship with XJTLU. Human resources recruiter Sun Zhaodan said: "Many XJTLU students are doing internships in our department of human resources. They are open-minded, responsible, flexible and willing to learn. When faced with problems, they attempt to solve them by themselves rather than first asking for help."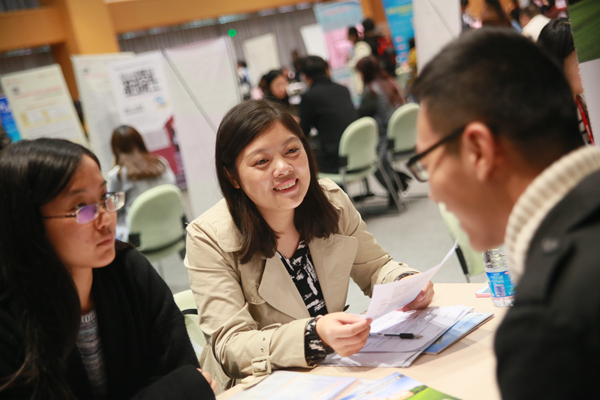 Miss Sun said she received many good résumés from students attending the fair and that she hopes to cooperate more with XJTLU in the future. L'Oréal will return to XJTLU in the future to give a lecture about recruitment, as well as summer internship opportunities for students.
She added: "To adapt our work, we prefer students with overseas study experience and internship experience in foreign-capital enterprises."
Education and training companies were also invited to the Job Fair. Qian Qiu Chen, from the Student Career Development Office at XJTLU who coordinated the event, said: "As the demand in traditional industries is decreasing, we hope to provide more choice to our students after graduation. After this fair, we will also invite other famous enterprises such as American Airlines to give a lecture, providing more opportunities for our students."