Climate change has become a worldwide challenge due to its widespread impact on human and natural systems. In addition, issues regarding society, the economy, resources and the environment are emerging throughout the process of China's urbanisation.
In response to these, Xi'an Jiaotong-Liverpool University and Suzhou University of Science and Technology, together with Chinese Built Environment Experts, held the first international conference on sustainable buildings and structures, and a second low-carbon construction industrialisation forum in Suzhou.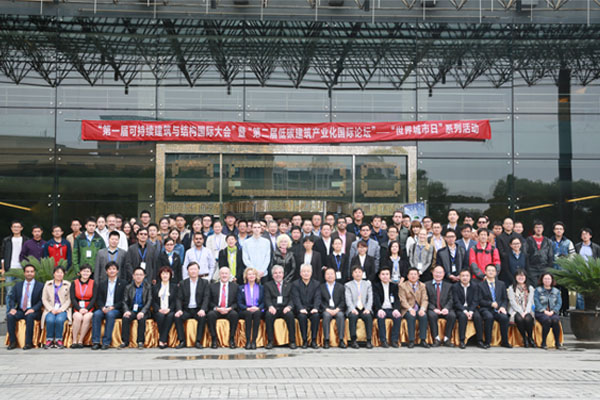 Almost 200 experts from China and abroad attended the event, including Jiaming Cao, chairman of the Architectural Society of Shanghai China; Angela Brady, past president of RIBA (the Royal Institute of British Architects); Professor Guoqiang Li, previous Vice-President of Tongji University and the Director of the Research Institute of Steel Construction within the Ministry of Education in China; Sir Geoff O'Brien, former Sheriff and Deputy Lord Mayor of Newcastle-upon-Tyne for the municipal year 2010/11 and Lord Mayor for the municipal year 2011/2012; and Andy Wen, Global Board Director at Aedas.
They gave keynote speeches about sustainable steel, green low-carbon buildings and sustainable urban design.
Professor André Brown, XJTLU Vice President of Academic Affairs, gave a welcome speech, introducing the ways sustainable architecture technology is being applied at XJTLU as well as how sustainable environment education is having a positive impact on students' development into global citizens.
Green architecture and sustainable development
This event aimed to nurture an interdisciplinary research and development environment to support innovation in the whole lifecycle of a green building. Discussions were intended to help drive current and future urban and rural development in China towards sustainable standards.
As part of the 'World Cities Day' series initiated by the UN, the conference and forum was financed by Suzhou Office for Talents and Suzhou Association for Science and Technology and was listed as one of the advanced academic exchange activities of Suzhou in 2015.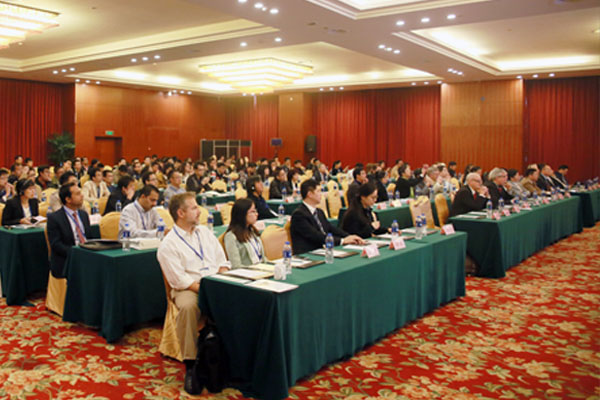 Associate Professor Chee Seong Chin, co-chairman of the conference and head of the Department of Civil Engineering at XJTLU, said: "As a result of China's rapid urbanisation, economic growth and huge population, the need for infrastructure development is urgent. Urbanisation also affects the domestic living environment and ecosystems hugely so we will need to pay more attention to sustainable technology development and application in the process of building and construction, from design to construction in the whole cycle."
Co-chairman of the conference, Professor Xiaoyong Mao of Suzhou University of Science and Technology, stated the importance of green architecture and sustainable development, saying it was a great opportunity to bring together scholars from around the world to communicate and exchange ideas, providing profound technological support to the sustainable development of the architectural structure field.
Lei Zhou, President of Chinese Built Environment Experts, expressed great appreciation for this event, saying: "Climate change is one of the major challenges that human beings are facing now and architecture is right at the forefront. How to provide the society with more comfortable and low energy-consuming buildings will be the key issue we need to solve in the new stage of China's urbanisation. The integration and practice of low-carbon technology will accelerate the reformation and upgrading of industry, and will be another driving power of economic development."
The conference was co-held by XJTLU's Departments of Civil Engineering, Architecture, Urban Planning and Design, and Research Institute of Urbanisation. The collaboration helps strengthen interdisciplinary coordination at the University.
Professor David O'Connor, Dean of Research and Graduate Studies, attended the conference and praised the efforts made by the different departments. He said: "XJTLU is committed to creating an interdisciplinary research environment. We hope that delegates can take advantage of this opportunity to search for cooperation in related fields."
Conference papers named "Sustainable Architecture and Structure" will be published by Taylor & Francis Publishing.
Launch of the XJTLU-Suzhou Research Institute of City and Environment
As a feature of this event, XJTLU Executive President Professor Youmin Xi announced the opening of the XJTLU-Suzhou Research Institute of City and Environment.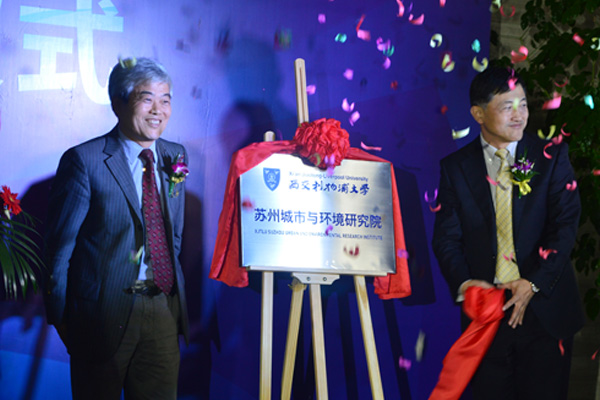 Director of this newly founded research institute, Dr Yixin Zhang, said that the institute will take advantage of XJTLU and Suzhou Wujiang Taihu New City's cooperation, providing the latter with intellectual support on the integration of industry, city life and tourism, as well as Wujiang Taihu New City's brand promotion.
"We aim to position and form this institute as one of XJTLU's integrated and cross-disciplinary research platforms, offering practical and training opportunities to undergraduate students, and providing potential research projects to academic staff and postgraduate students, and to explore and build up an innovative research-led teaching ecosystem with positive interactions between the University, local authorities, industries/companies, and the community," he said.