Students and staff from Xi'an Jiaotong-Liverpool University are celebrating success in Ultimate Frisbee and badminton.
A student sports team was runner-up in a recent national Ultimate Frisbee competition, while a staff team from the University won second place in an annual district badminton competition.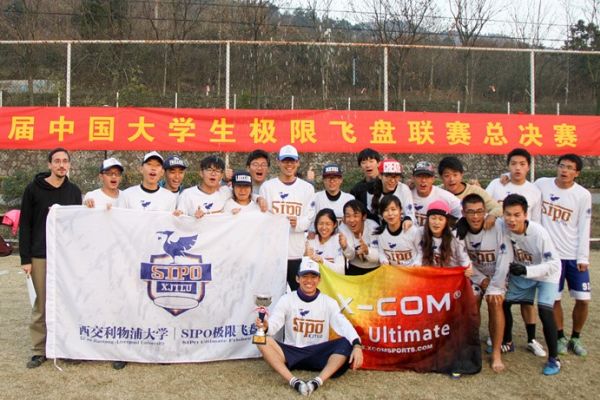 The First China Ultimate Frisbee College League Final was held in Nanjing and the final attracted the top eight teams from five divisions in China, including teams from Fudan University, Tsinghua University, Nanjing Sport Institute, and Tianjin Sport Institute.
Faced with so many powerful teams, members of the XJTLU Ultimate Frisbee Team were thrilled to finally take the runner-up position.
The team consisted of the elite members of the Frisbee Club. In 2015, they formally became a sport team able to represent XJTLU and they actively participate in many tournaments across China, keeping in touch with Frisbee organisations.
A number of student and staff teams from XJTLU took part in the Ninth Annual Suzhou Industrial Park Badminton Competition, which was held last weekend at the Dushu Hu Sports Centre.
A knockout competition, teams are pooled according to their rankings with the stronger teams playing together in the top tier event, and the newer and less experienced teams competing against one another in the second tier equivalent setup.
This year, for the second year running, the staff team, which features players from a number of departments and centres, played in the top tier category. Captained by the Physical Education Centre's Qianqian Yu, the team qualified from their group, and finally took second place.
Gareth Morris, XJTLU Academic Support Officer who plays in the team, said: "With a strong personal performance in the women's singles by Xinhong Wang and an equally impressive showing in mixed and ladies doubles, the team advanced with a 3-0, 3-2, 0-3 group stage record with the only defeat coming at the hands of last year's top ranked team.
In the final phase of the competition, the XJTLU staff team was drawn against last year's number one side, with the XJTLU team not quite managing to beat them.
"Unfortunately, there was no upset on the cards as the end result went with seeding but XJTLU performed admirably. The team can take a lot of pride in their performance as well as belief into next year," added Gareth.