"English language teaching at universities in China is undergoing big change," says Dr Stuart Perrin, Director of the Language Centre at Xi'an Jiaotong-Liverpool University. "And the Language Centre is at the forefront of the debates surrounding these changes."
Dr Perrin, who is also Dean of Learning and Teaching at XJTLU, is talking about a groundswell of opinion over the effectiveness of the way English is taught in universities in China and how the system may be improved.
Currently, in most Chinese universities, in order to graduate from their degree programmes students have to pass an English language element called the College English Test. Taught very much in the style of English language teaching adopted in Chinese high schools – based on a system of memorisation and rote learning – critics of the College English Test claim it is not an indication of how well a student can actually use English and that the language should be taught in a much more applicable way.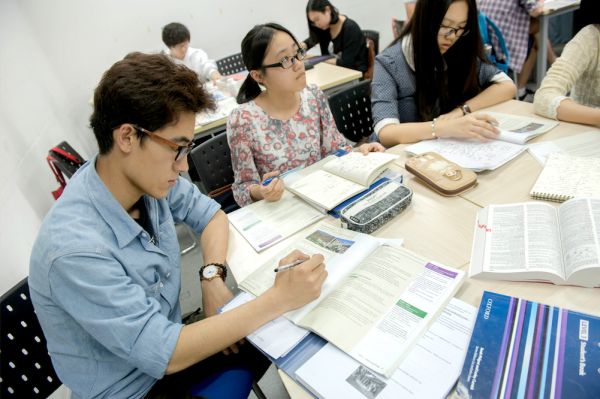 "The current way that university students tend to learn English is that they memorise vocabulary and grammatical structures and then have vocabulary and grammatical structure tests," says Dr Perrin. "This means that theoretically they are graduating with a level of English but actually can't communicate or use that English in a practical way."
The debate is being driven at the national level by the Ministry of Education, but there is also activity taking place at regional level to look at what other systems of English language teaching might offer a more effective alternative.
"A number of institutions in China have started looking at how EAP, English for Academic Purposes, can be used in a much more practical way," explains Dr Perrin.
Where CET could be seen as learning English to pass a test, EAP focusses on the idea of learning to use English in an applicable, discipline-relevant way. Under the method, a student studying sciences at university would study a very different English to a student studying media or creative disciplines, for example.
Dr Perrin (pictured below) explains that is because the type of language used and the forms of written communication needed varies hugely between different disciplines: "It's not about learning lists of words, it's about learning language and styles of writing that can be used within the discipline a student is studying, as well as, ultimately, in their future career area," he says.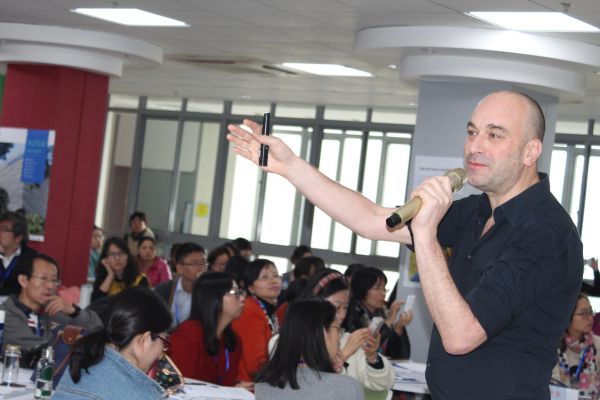 It's not the only model for teaching English, but is the model that the Language Centre has been using to teach students English since XJTLU was established.
The Language Centre works with first and second-year students to bring their English language abilities up to the standard needed for UK university-level study.
"We're also the department that works with students initially to turn them into active learners," adds Dr Perrin. "We're part of XJTLU's philosophy of taking students from high school and turning them into young adults."
Now, he says, university English teaching professionals around China are looking to the Language Centre for insight into how to use EAP in the Chinese context: "What's happening increasingly is that Chinese universities want to find out the secrets of what we're doing, including the types of materials we would use, how to actually deliver an EAP-type of class and how we recruit our teachers," he says.
Their interest is the result, in parts, of XJTLU's reputation as an English medium university, as well as the Language Centre's role in founding the Suzhou EAP Association, which brings universities in the city together.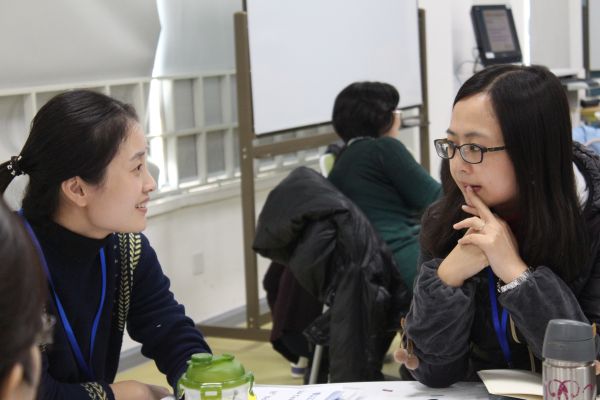 The work of the University's Institute of Leadership and Education Advanced Development has also spread XJTLU's reputation as a model for different ways of education delivery.
In response to the interest in its teaching methods, and the 'rethinking' around EAP taking place across the country, the Language Centre has launched a number of initiatives to support Chinese professionals wanting to find out more about EAP.
On Saturday 28 November, a one-day training session was held for more than 185 EAP professionals in collaboration with the China EAP Association, which gave participants from around China a practical taster session on how to teach in an EAP style.
Xiaoru Chen, a professor at Guangdong University of Technology, has been teaching CET English for almost 30 years and wanted to move her practice towards teaching EAP. She found the training session to be highly relevant to English teachers in Chinese universities.
"All the trainers were really professional and provided us both theoretical and practical knowledge about EAP. The course improved our knowledge of academic study skills, critical thinking, independent learning and research skills while at the same time presented useful approaches and ideas to help EAP learners be successful in their academic learning," she says.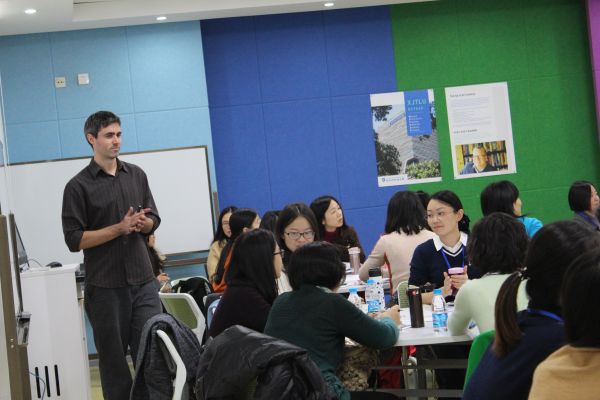 Professor Jigang Cai, President the China EAP Association, believes training such as this is hugely beneficial for EAP practitioners in China: "It not only contributes to their understanding of the role EAP instruction plays in tertiary education but also to their good command of pedagogical EAP principles and skills that they can apply in their teaching," he says.
The session also addressed the challenge of finding ways to make EAP applicable to Chinese institutions and the Chinese context.
"We shouldn't wholly criticise the current system, it works for China," explains Dr Perrin. "At XJTLU we can teach the way we teach here because of how we are as an institution. It's for Chinese universities to work out whether they can do it in the same way in their situations."
The training day comes ahead of a three-week training programme that the Language Centre will offer over the summer of 2016, which will give EAP professionals the chance to study for a National Certificate in Teaching English for Academic Purposes.
This brand-new qualification has been created by XJTLU to advance the best practice in EAP in higher education in China and it is designed for employers to recognise a teacher's excellence in the field.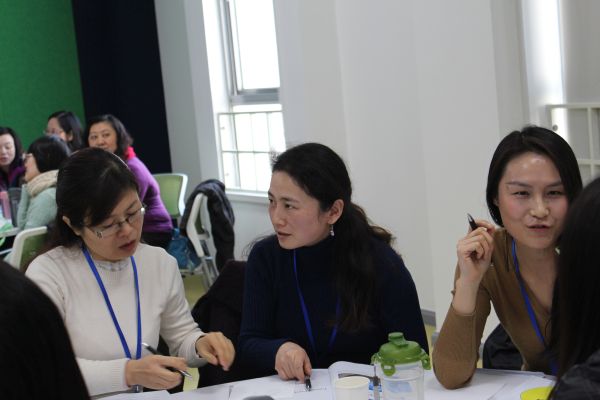 "It's very important for the Language Centre to be developing this kind of training," explains Dr Perrin. "If we have confidence and belief in the way we're delivering our English language programmes I think we should be sharing that."
Despite XJTLU's important role in advancing the debate around English language teaching in Chinese universities, Dr Perrin is still keen for the University to take time to learn from other institutions and understand their methods.
"We shouldn't be seen as 'saviours', because the context here is different," he says. "It's about contributing to the debates and changes going on in China today."