A group of 34 Year Four and masters students from the Department of Urban Planning and Design at Xi'an Jiaotong-Liverpool University visited Singapore last week for field trip exploring recent urban development and practices on a variety of important fields.
The field trip was part of the Year Four module 'International Planning Studies' led by Dr Yunqing Xu and Dr Chia-Lin Chen and the masters module 'Spatial Analysis and Evaluation' led by Dr Pietro Calogero from the department. Qichao Ban, a PhD student in the Department of Urban Planning and Design, also provided assistance on the trip.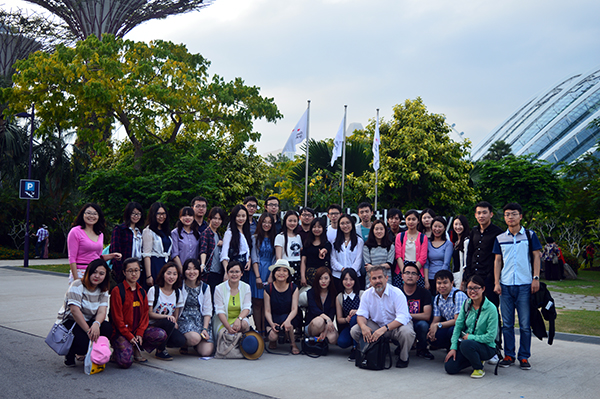 Singapore was chosen as a destination for its well-documented bold attempts and efficient management on urban planning issues. The field trip focused on investigating Singapore's urban planning, building design, public space, green building and vertical green, housing market and affordable housing, public transport, waterfront development and water resource management.
During the trip, students visited a number of key government agencies, such as Urban Redevelopment Authority, Housing and Development Board, Land Transport Authority and Public Utilities Board; top higher education institutions, namely National University of Singapore and Nanyang Technological University; as well as private enterprises, including CONSIS Group and State and City Planning.
Discussion and exchange with government officials, academic scholars and professional practitioners enabled a rich debate and deeper understanding of the urban planning theories, challenges and responses in the complex and dynamic context.
Dr Xu, who led the group, said: "The field trip was aimed at maximising the learning perspectives and outcomes by integrating exchange activities with various organisations and people and incorporating exploration on projects with different scales and types."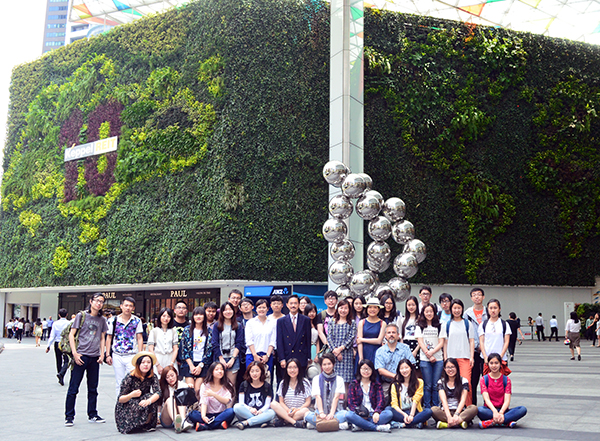 In accordance with these focused subjects of study, the group visited a number of current and future urban development projects, including the Central Business District and its mixed land uses, the Ocean Financial Centre and its world's largest green wall, as recorded by GENIUS, Marina Bay and Gardens by the Bay, Barrage, Newater, waterfront development, new town development, Botanic Garden etc. This all provided students with a real-life examination of the implementation of planning ideas and methods.
Urban planning in an international context
At National University of Singapore, students received a joint lecture delivered by the University's Department of Real Estate and Dr Xu. The lecture examined and compared the affordable housing planning and development in Singapore, Hong Kong and China. Students were given the opportunity to learn and exchange ideas with master students at NUS, and brainstormed possible ways to improve the efficacy and efficiency of China's affordable housing policies.

This learning was further deepened by a visit to the Housing and Development Board gallery that provided an overview of 50 years of housing development in Singapore as well as different types of show flats in current public housing. The tours to the [email protected] project, Bugis neighbourhood and a private condominium also enabled students to compare varied housing provision from different eras and for different groups.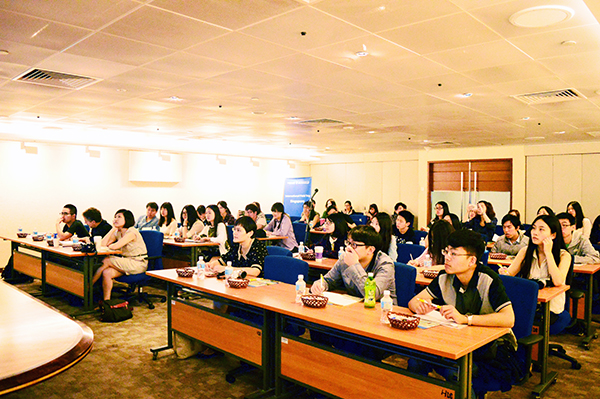 A visit to the Gardens by the Bay showed students the determination and willpower of the Singapore government in realising its strategy of transforming a "garden city" to a "city in a garden". The guided tour in Nanyang Technological University also enabled students to observe its remarkable attempt to make green buildings and design on campus.
In addition, CONSIS group, one of the leading companies on vertical green, introduced students to the current greenery practices on the built environment, including principles and policies, technological innovation, and project operation specifications. Discussion was further extended to possible development and major challenges of green building and building greenery in China, which has been emphasising green building as central to its green action.
Reception at the Chinese Embassy
The study group was also received by the Chinese Embassy in Singapore. Xinwen Fang, Deputy Chief of Mission and Minister Counsellor, welcomed the group and said: "Urban planning and design has been one of the main fields of mutual collaboration between the two governments for the past 26 years.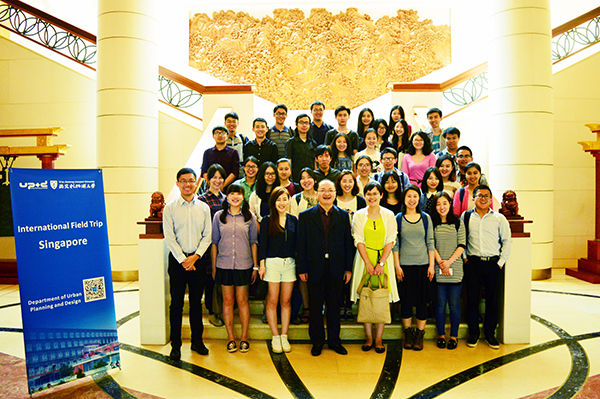 "Singapore offers an excellent base to draw experience from, particularly its highly-efficient land and resource use and forward-looking planning system, which is central to China's urbanisation and sustainable development."
Mr Fang commented positively on XJTLU's education model and principles, and recommended students to learn from the heart, reflect on their career planning and make their contribution to bi-lateral relations.
"I'm glad to see the active participation of students and I hope this trip broadens their horizon on contemporary planning development, bridges their knowledge and theory with practice and implementation, and lays an important foundation for their future career plan," said Dr Xu after the trip.
Ting Wang, the Year Four student representative, said: "This is really an unforgettable trip, which provided students an excellent opportunity to understand urban planning in an international context. During the trip, we visited a number of government institutions and real-life projects, providing us a deeper comprehension of the implementation of urban planning in Singapore."
"The opportunity of having a joint lecture with master students at National University of Singapore and visiting Nanyang Technological University especially its green building and campus has inspired us to further our education and develop ourselves into a global talent in the future."
Students will submit a research report about urban planning challenges and responses in Singapore. There will also be a photo competition to encourage the active sharing of their findings.
The field trip, planned by Dr Yunqing Xu, has gained wide support from leaders and academic staff in XJTLU. Dr Joon Sik Kim, Acting Head of the Department of Urban Planning and Design, said: "The international field trip is an important part of our programmes to challenge students to think beyond the scope of what they learnt in the class, and nurture a self-directed study environment learning contemporary urban planning and design."
"It is important to give students chances to travel abroad so that they can experience first hand new realities and learning from methods and practice of foreign countries; the choice of Singapore is a very good one as the country, having strong ties with China and being one of the most advanced in terms of research in architecture, planning, and technology, combines well many good factors so important for the education of future urban planners and designers from XJTLU," said Dr Raffaele Pernice, from the Department of Urban Planning and Design.
Contacts in Singapore have been provided by a number of institutions, including SCP (MOU partner of XJTLU), NUS, GB Windows, Armature Design and TUNAS.
(Reporter: Dr Yunqing Xu, Dr Chia-Lin Chen, Dr Pietro Calogero)
(Photographer: Huahui Ai)