Xi'an Jiaotong-Liverpool University has earned accreditation for its International Business School Suzhou from the Association to Advance Collegiate Schools of Business (AACSB International), an accolade that has been earned by less than five percent of the world's business schools.
The accreditation makes IBSS the youngest business school ever to earn AACSB accreditation.
Founded in 1916, AACSB International is the longest serving global accrediting body for business schools that offer undergraduate, masters, and doctorate degrees in business and accounting.
AACSB accreditation is a hallmark of excellence in business education, with 755 business schools in 51 countries and territories maintaining AACSB accreditation.
Achieving accreditation was a process of rigorous internal review, engagement with an AACSB assigned mentor, and peer review. During the multi-year process, IBSS focused on developing and implementing a plan to align with AACSB's accreditation standards. These standards required excellence in areas relating to: strategic management and innovation; students and staff as active participants; learning and teaching; and academic and professional engagement.
Professor Jean Chen, Dean of IBSS at XJTLU, was happy with the accreditation and said: "I am absolutely delighted that we received the AACSB accreditation. Attainment of AACSB accreditation has placed IBSS among the league of elite business schools in the world.
"It demonstrates that our achievement has been recognised by the world-wide business school community and will greatly increase our competitiveness in the higher education market. It has also placed IBSS in an excellent position to attract more talented staff and students."
Robert Reid, AACSB executive vice president and chief accreditation officer of AACSB International, said: "During this peer-review process, International Business School Suzhou confirmed alignment with 15 global accreditation standards, while demonstrating how they achieve success within each of the three pillars on which AACSB accreditation rests — engagement, innovation, and impact."
AACSB accreditation builds on other successful accreditations within IBSS such as those from the Association of Chartered Certified Accountants (ACCA), the Chartered Institute of Management Accountants (CIMA) and CPA Australia for BA Accounting and the Institute of Chartered Accountants in England and Wales (ICAEW) for MSc Professional Accounting. BA Accounting at IBSS is the first undergraduate programme in China to have obtained both nine ACCA exemptions and 12 CIMA exemptions.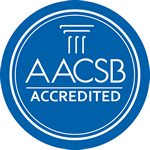 XJTLU also has other accreditations including: unconditional Part 1 accreditation from the Royal Institute of British Architects (RIBA) for its undergraduate architecture programme, full Joint Board of Moderators accreditation for civil engineering programmes and Institution of Engineering and Technology (IET) accreditation for electrical and electronic engineering programmes.
Founded in 2013 as the exclusive business school of XJTLU, IBSS offers a unique blend of Western and Chinese academic practices. Creative interaction and collaboration with international and domestic businesses, coupled with solid academic grounding, underpins the IBSS learning and teaching environment. This prepares Chinese students for international business and international students for doing business in or with China.
"AACSB accreditation represents the highest achievement for an educational institution that awards business degrees. Everyone at XJTLU and IBSS, including both academic and supporting staff, the students and the senior management team are to be commended for their contributions in earning accreditation, and for their commitment to ongoing improvement," added Robert Reid.