Participants at this year's Learning and Teaching Colloquium had the opportunity today to experience Xi'an Jiaotong-Liverpool University's innovative developments in educational technologies.
Staff from across various departments at XJTLU, and supported by the Educational Technologies Team within the University's Academic Enhancement Centre, hosted an educational technology showcase that included demonstrations and examples of good practice.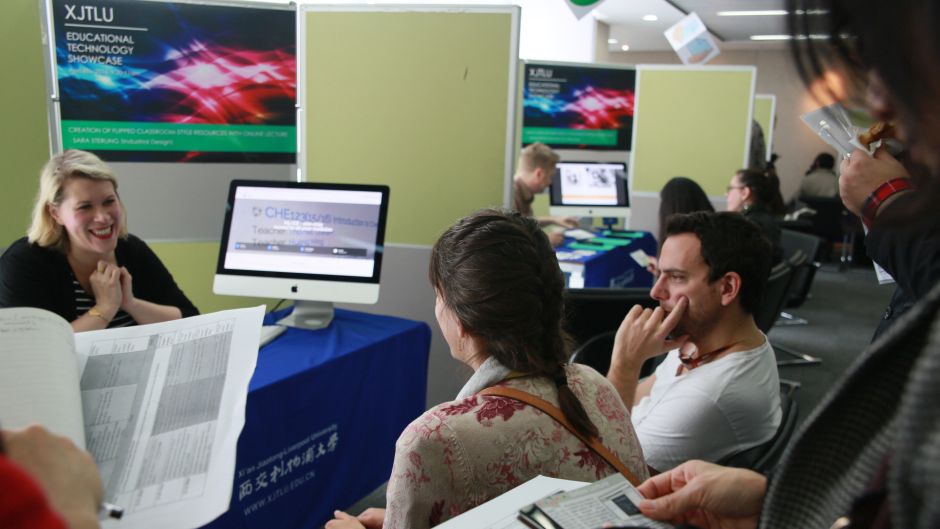 Short, interactive presentations focused on using technology to facilitate and improve marking and assessment, assessing and supporting student work placements and encouraging in-class student engagement and interaction, amongst other topics.
The speed-dating style of the event allowed for animated participant interaction, many of whom expressed how useful the session had been for their own teaching practices.
Erika Sigvallius, an English instructor in the College of Nano-Science and Technology at Soochow University, found a presentation on using Moodle to conduct peer assessment amongst students particularly useful, saying she was keen to implement similar practices in her teaching.
"The issue with students' submissions when it's a long piece of written work is of course the marking time so [this approach] shares the task of marking out and means that students know that their work is also going to be seen by their peers," she said.
"I've had an absolutely brilliant time…we use Moodle [in my workplace] but nothing like as innovatively as this," she said of the presentation.
Nick Merwitzer, from XJTLU's Language Centre, attended the technology showcase to help with his professional development and to give him ideas on how better to use technology in the modules he teaches.
As well as being impressed by a presentation on interactive polling software that can be used in lectures, he was particularly interested in a session delivered by Sara Sterling, from XJTLU's Department of Industrial Design, on using online lectures and how they can facilitate workshops.
Sara said she was pleased to present at the session in order to share her experiences of using online lectures with others from around the University and externally.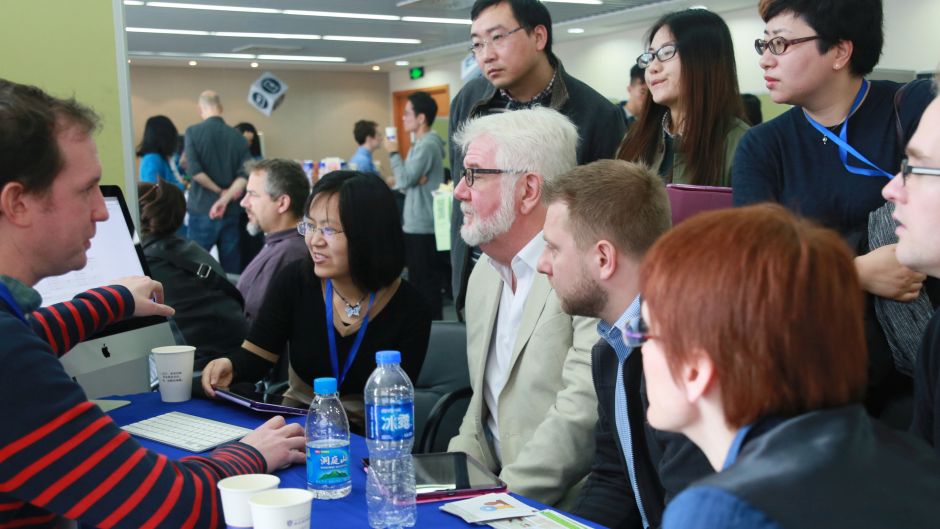 "Anytime we can learn best practices from each other [is good] and I wish that it would happen more! I like learning about other people's philosophies, other people's techniques. We can all learn from each other always so I think this event has been quite good," she said.
The colloquium, which this year was held under the theme "imagining the next 10 years in learning and teaching", is an annual opportunity for colleagues to share good practice with peers.
The two-day event welcomed participants and presenters from not only XJTLU but from across China and the East Asia region.
Grahame Bilbow, Director of the Centre for the Enhancement of Teaching and Learning at the University of Hong Kong, enjoyed the event, particularly the keynote speech by social learning theorists Etienne and Beverly Wenger-Trayner.
"We wanted to be here to hear Etienne's latest thoughts on communities of practice so that we can better provide a service for our university. The big thing for me [about attending the colloquium] is engaging with other people and listening to what they're doing here at XJTLU. It's been a very positive experience for me," he said.
During the event's closing lunch XJTLU staff who have successfully completed the XJTLU Certificate of Professional Studies (CPS) in Learning and Teaching in Higher Education this academic year were honoured and certificates awarded to those who have successfully completed the programme.