'Prehistoric powers' on the campus? From 'examinee' to 'global citizen'.
Dear students, parents, teachers, colleagues and friends, I have a question for you all: why do we go to university?
Some people may say it is to gain more knowledge, while others say it is to obtain an academic degree for personal development. But I think, these are just accessories. In this age of the internet, gaining knowledge has become a matter of clicking a button. Likewise, even though an academic degree can be a measure of experience and ability, fewer and fewer companies are placing primary emphasis on academic degrees, favoring personal potential and performance.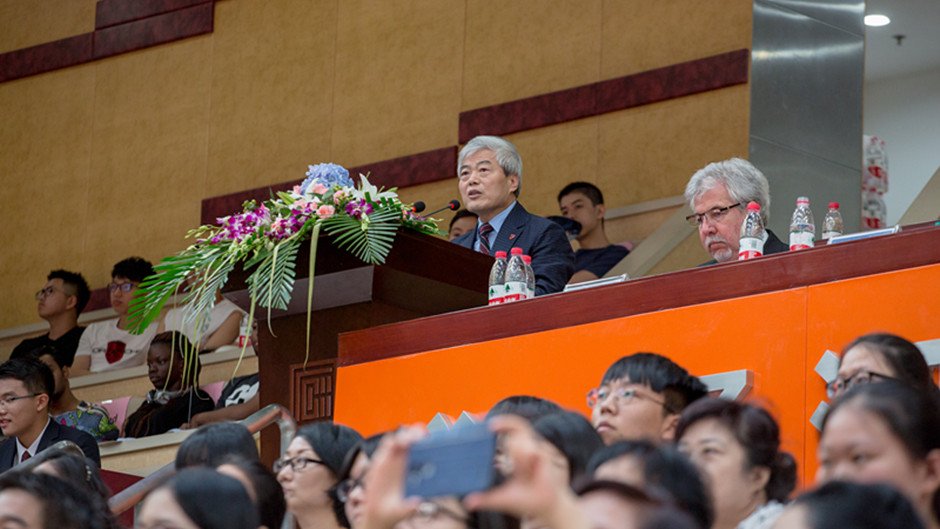 So, what can a university education do for you? What is the value of the modern university? I think there are many important aspects to higher education. Firstly, to get to know yourselves at an important stage of your lives: your interests, your dreams, your principles and ways of conducting yourselves. Secondly, you go to university to better understand the world and the norms governing people, society and nature. Finally, you go to university to build upon the collective knowledge of humanity. At university, you master the skills of lifelong learning, the skills and knowledge needed for you to create value in the world. If you can, over your years at XJTLU succeed in these three areas, you will be able to succeed in this complex and ever changing world. By continuously learning and innovating you can create value and carve out your own space in this diverse and ever evolving world.
From a young age, our parents and education system have molded us into 'examinees', building the skills for successful 'test-taking,' all the while sacrificing the joys of our childhood and youth. But education at a modern university is far from what you are used to. Your parents are no longer by your side, reminding you how to live your life, sternly warning you to study hard and build knowledge, holding your hands through your studies. You can no longer enjoy the hand-fed life you had before university. Nobody will help you to clean up your dormitory, reminding you to cut down on video games or watch out for you as you cross the street. No one will be there to arrange your time or planning and balancing your study schedule for you. Your teachers and professors will not be the 'spoon-feeders' of your high-school years.
XJTLU's approach to education differs yet again from some traditional universities. At XJTLU, we see you as young adults in the truest sense, and as such, we give you a great amount of freedom and respect. In this, we hope to gradually 'wean' you from your dependence on your parents, helping you to develop into an independent person. In every choice, whether you succeed or fail, we hope that you learn to take responsibility for yourselves, without your parents beside you to shelter you from the wind and rain. We truly hope that in your time at XJTLU, you can grow into competitive, visionary 'global citizens' who not only dare to dream but also pursue your dreams.
So, what kind of 'magical powers' does the university need to transform students into global citizens? What kind of 'prehistoric powers' will you need?
There are a number of ways in which XJTLU stands out from a traditional university:
In seeing students as 'young adults' rather than 'children', we cultivate independence and a sense of responsibility
By helping students to develop rather than simply 'impart knowledge' we help students to learn via research-led learning instead of sacrificing themselves to 'highly efficient' but fragmented and shallow learning via search engines in this internet-era which would only shape students into seemingly knowing almost everything with no deep understanding or becoming 'knowledgeable' yet shallow-minded.
Here at XJTLU, we do use internet and modern technology to broaden their knowledge. But more importantly, we are trying our best to help students to integrate the knowledge they learn from different channels to develop their intellectual depth and height, to become an accomplished person. It is also very crucial for university to offer many extracurricular activities for their skills training and personality development, all of these help to transform them into talented adults, shaping them into global citizens.
Instead of asking students to 'blindly learn', we call on them to develop their own personal interests in their studies, through which they can pursue their dreams. This year, in the 10th anniversary of XJTLU, we proudly celebrate our 8,000 graduates who have entered the world stage.
For a student to realise his or her goals, they need to realise their own 'prehistoric powers' on campus. First, you must realise that you have already turned 18, and that therefore you are adults with civil responsibilities. You are away from your parents, and for many of you, away from your hometowns for the first time. You must now care for yourselves and learn to look after yourselves.
Second, you will need to abandon your old 'passive' learning habits, and learn how to develop self-guided and research-led learning habits. You will need to learn how to think and observe, identify problems and be able to learn from and develop solutions to tasks, challenges and problems that you will inevitably encounter. In this process, you will learn how to think critically, communicate, cooperate and express yourselves. Through this you will need to challenge yourselves and grow. If you don't find yourselves challenged and too relaxed at XJTLU, it means that you are wasting a golden opportunity!
Finally, you will need to balance your studies with an array of extra-curricular activities, remembering the overarching goal of healthy growth and learning. After entering university, you will find yourselves with a significant amount of free time on your hands. You may want to rush back to your life in high-school, fully occupied with studies and no worries about how to fill up your schedule. This would be a BIG mistake. At university, and especially at XJTLU, extracurricular activities constitute another important means of self-growth. If you don't go out and practice your English, for example, you may find it hard to catch up later, when it counts. If you neglect your homework, projects, group activities, you may miss important opportunities for collaboration and problem solving. Club activities are not just for fun and socializing, they are also important means by which you can hone a variety of important life skills. The real-life applications required on our syllabi are not intended simply to earn credits, but to learn about society, develop skills, and learn about opportunities in the workplace. Reading week is not just a weeklong holiday, but rather an important period of review and reflection. At XJTLU, even the long holiday is not a holiday, but rather an important time for research, deepened study, reflection, as well as, social and personal growth.
I think the word I've said most over the past several years is 'growth'. From self-understanding, to knowledge building, to life skills, to understanding society, life at university is a growth process. Likewise, XJTLU is growing. From 160 new students in 2006 to 3,600 students from across the country (and the world) this year, XJTLU strives to provide a platform from which you can climb on to the world stage, helping you to exceed your own expectations.
Today, XJTLU seeks to provide you with a better environment for learning and growth than ever before. I truly hope that all of you will treasure this opportunity, that you will cherish your ultimately very brief time at university, and that you can use the university platform and resources to nurture your capabilities and pursue your dreams!
Finally, remember XJTLU's motto: "Light and Wings". Let us fly together!
Thank you!
Professor Youmin Xi
Executive President, XJTLU