Academic staff and students from the Department of Urban Planning and Design at Xi'an Jiaotong-Liverpool University are involved in local neighbourhood community planning, with the support of the government of Suzhou Industrial Park.
In 2012, Dr Ying Chang (pictured below) from UPD extended the module Planning Methodology to include practice in local neighbourhood communities in Suzhou.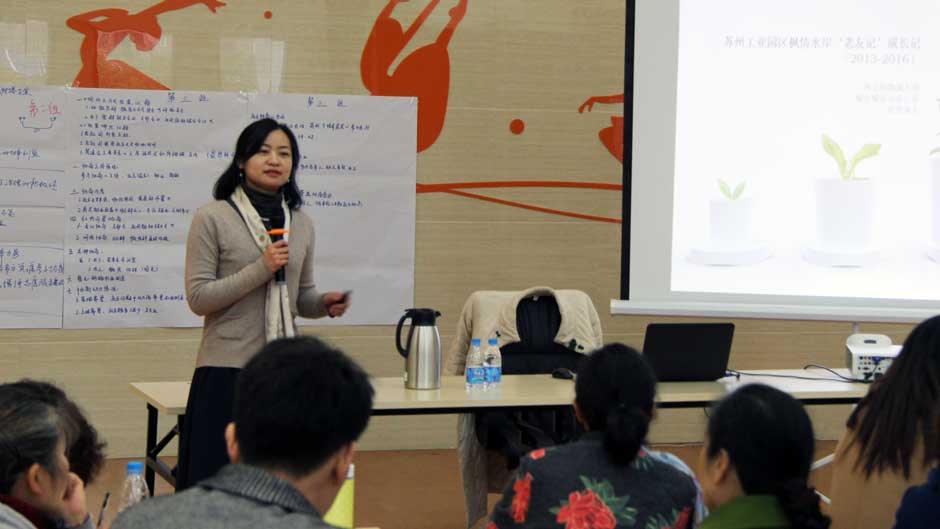 "Unlike traditional cramming-style classroom teaching, we lead students into neighbourhood communities to conduct on-site surveys and communicate with the residents, which is very important for future planners," said Dr Chang, "Internationally, planners are mostly playing the role of coordinator."
Dr Chang said that the future trend for planners is to visit the living spaces of residents to learn their ideas, and to employ their professional knowledge to help the residents to realise their demands.
INCLUDING LOCAL RESIDENTS' IDEAS IN PLANNING PERSPECTIVES
In November 2013, Dr Chang and Dr Bing Chen from UPD and Dr Yiping Dong from the Department of Architecture at XJTLU led students from the two departments to a neighbourhood community at SIP, Binjiangyuan, and held a participatory design workshop inviting residents from the community to attend.
During the workshop students, under the guidance of academic staff, collected residents' opinions through a variety of methods, such as an 'information wall', and made suggestions for the redesign of internal functions of the community's Citizen Liaison Office.

The students' design plans were praised by the community and local design firms and were partially adopted.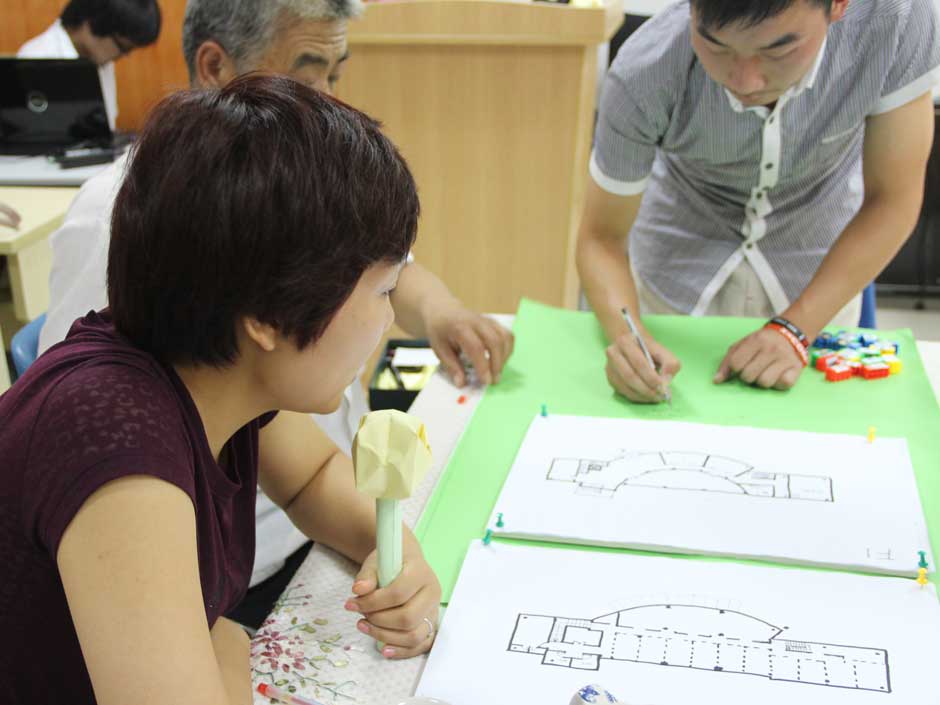 Dr Chang said, "Participatory planning is an international trend and we teach students how to use skills to collect the voices of residents. The planning and design of neighbourhood communities should not be decided solely by planners; instead, planners should respect the residents' opinions and voices, and our aim is to help the residents express their opinions.
"Through participatory planning, students can understand the real ideas of the residents, discover problems that exist in the community, and help residents to realise their ideas using the knowledge they've learned in class." he said.
CONTRIBUTING TO NEIGHBOURHOOD COMMUNITY CONSTRUCTION FROM A PROFESSIONAL ANGLE
In July 2013, students and staff from UPD were invited by another neighbourhood community in SIP, Living Bank, to participate in a discussion on the uses of community clubs.
"In that activity, we introduced the residents to a new popular international way of meeting: World Café," said Dr Chang.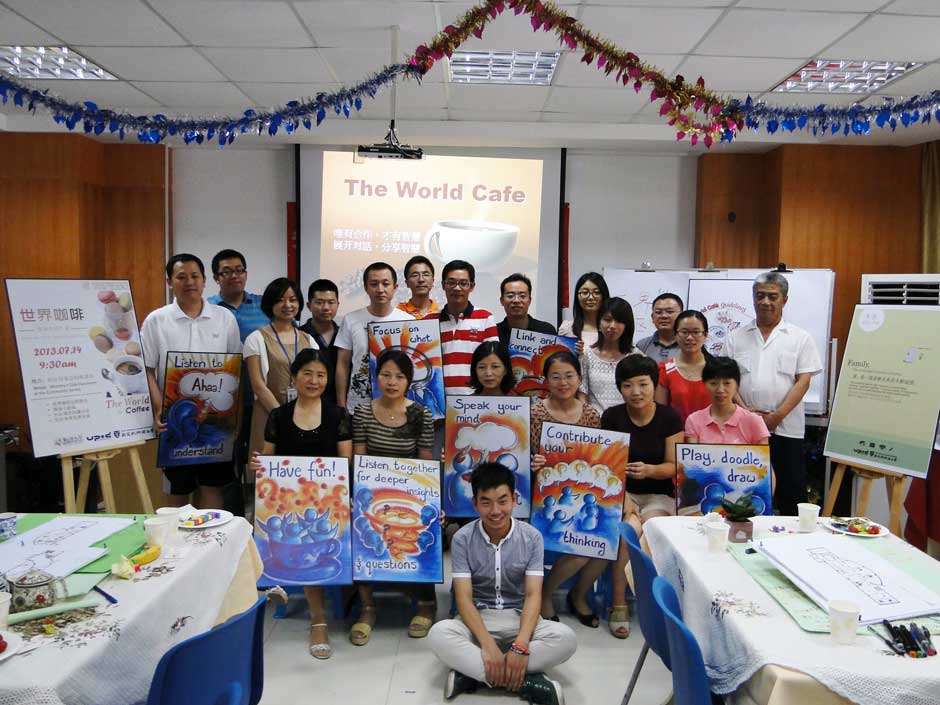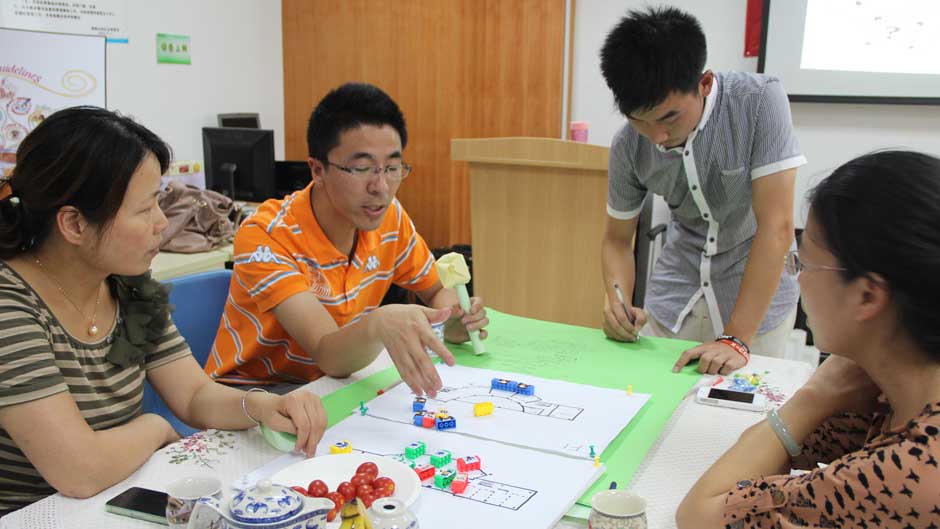 World Café was created in the U.S. by Dr Juanita Brown and Dr David Isaacs and spread it throughout the world during the 1990s, providing means for discussions on topics related to enterprise, governance, and community development. This method was known as 'Community Teahouse' when it was introduced in China.
Dr Chang said that Community Teahouse treated conversation as a core element in the process of problem solving. Based on the principles of sharing, equality, and respect, residents can have equal and open conversations in a relaxed atmosphere and discuss their common concerns.
With the help of XJTLU students, residents of different ages and genders expressed their thoughts fairly and efficiently during the July 2013 activity, and formed four proposals for the organization of the community's clubs.
XJTLU was invited to organise a second round activity of World Café in September 2013 to further refine the four proposals, with two of these proposals becoming adopted by the community.
Yan Su, director of Living Bank neighbourhood committee, praised and recognised XJTLU's contributions to neighbourhood communities, saying: "We have never done community service activities these forms previously; XJTLU introduced new ways to us, which was a learning opportunity for social workers at our neighbourhood committee."
"We really appreciate XJTLU contributing to neighbourhood community construction from a professional angle over the past few years. The students and staff have put forward viable plans to solve our community's internal contradictions and problems, and we will continue to use these meeting methods and negotiation skills to serve and manage residents," she added.
XJTLU AS A FORCE FOR SOCIAL GOOD
Dr Chang believed that in addition to extending the classroom to social practice, students' awareness of citizenship and service can also be developed by taking part in local neighbourhood community activities.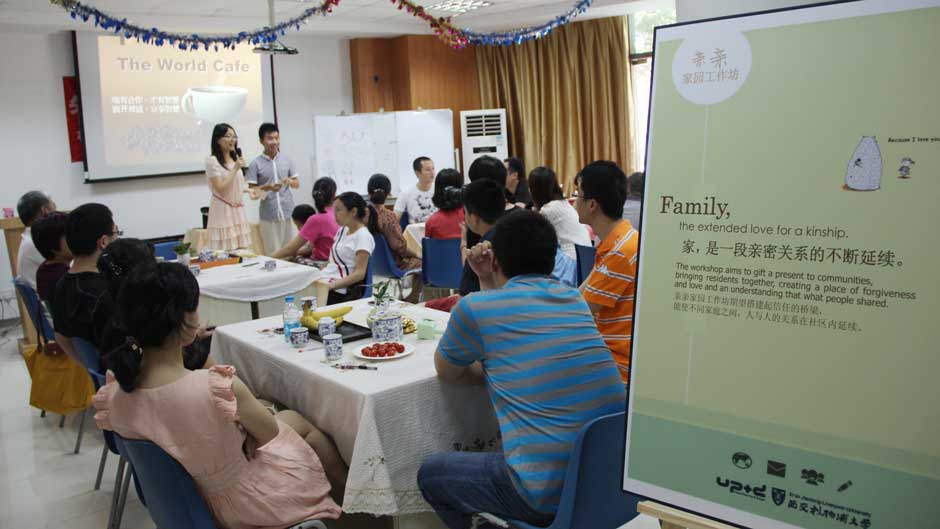 "To become a global citizen, students should start by understanding and serving their own society. Besides learning professional knowledge, we also guide students to undertake social responsibility by participating in neighbourhood community engagement, solving their issues, and helping the community to achieve better development. In this way XJTLU is becoming a force for social good."
At the end of 2016, Dr Chang worked together with XJTLU Volunteer Academy, SIP Juandi Social Work Service Centre, and SIP Zhongxin Social Workers Office to initiate the XJTLU Community Engagement Project.
At present, nearly 40 students from International Business School Suzhou at XJTLU, XJTLU's departments of Urban Plan and Design, Architecture, English, and Mathematical Sciences have participated in the project. The first Suzhou Youth Benevolence Forum, to be held in June, will exhibit the first cohort of students' neighbourhood community achievements and stories.