The Senior Management Team of Xi'an Jiaotong-Liverpool University met with heads of departments and academic services staff, and directors of research institutes to explain and field questions about future strategies for the development and growth of the University.
It was the first in a planned series of regular workshops aimed at supporting senior academic and administrative staff's leadership skills, and enhancing their understanding of the University's strategies and priorities.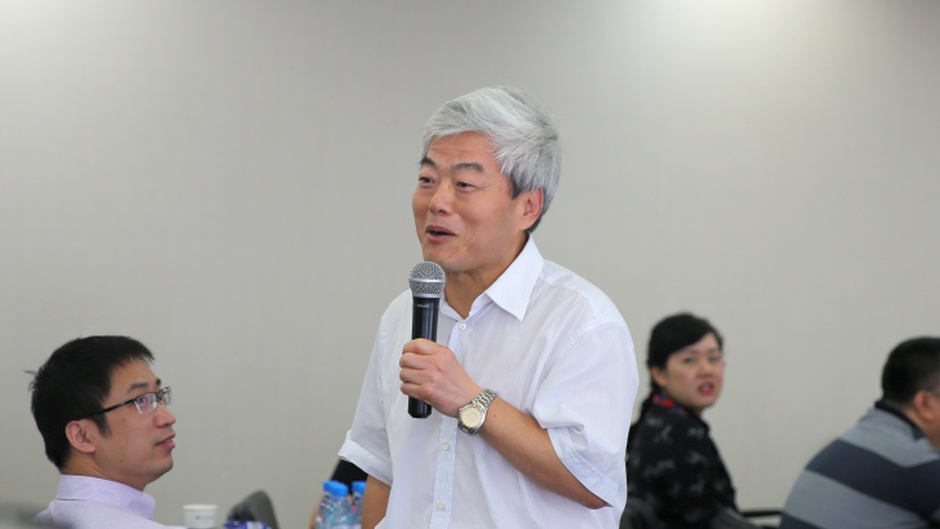 Professor Youmin Xi (pictured above), executive president of XJTLU, outlined key aspects of the University's strategies in research-led teaching, learning, and working, Syntegrative Education, research development, and internationalisation. He indicated:
"We aim to help our students' alter their learner behaviour from mere memorisation to a process of enquiry and research," he said. "We also encourage and facilitate our teaching staff to incorporate aspects of their own research into their teaching models.
"Additionally, the resources, support systems, and working culture of the University aims to be in-line with the latest research in educational practices," he added.
Professor Xi also outlined the conceptual grounding for XJTLU's new educational model: Syntegrative Education.
"Higher education needs to change in response to the coming AI revolution," he said. "Through Syntegrative Education, we aim to produce 'syntegrative elites' who will lead future new industries."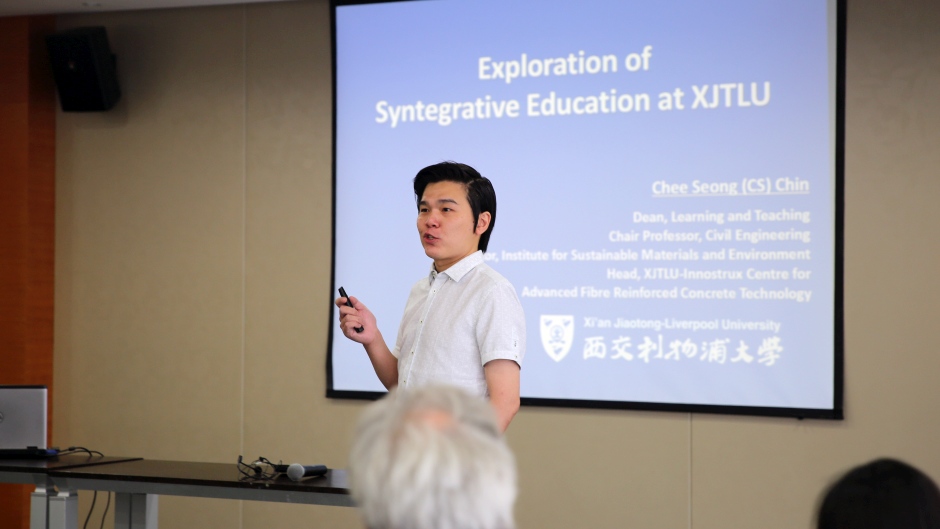 Dr Chee Seong Chin (pictured above), dean for learning and teaching, gave further details about Syntegrative Education and its three main aspects: Industry and Enterprise Tailored Education (IETE), a planned Entrepreneurial College (EC), and the long-term goal for an Innovation and Entrepreneur Community (IEC).
"IETE will enhance graduates' competitiveness and career prospects by equipping them with industry training and entrepreneurial skills," said Dr Chin.
He outlined the five study pathways currently available for IETE: Finance; Film and Television; Urbanisation; Enterprise Development; and Logistics. Students will complete field studies with local companies and 4 taught modules over the summer holidays of the first three years of their undergraduate degrees, with their Final Year Projects being linked to the work of the company.
"After graduation, students will be offered a job interview and will have further opportunities for on-the-job postgraduate education through XJTLU," said Dr Chin.
The Entrepreneurial College will be a satellite campus of XJTLU located in Jiangyin, and is being developed with the support of Jiangyin municipal government. It will cover an area of over 600 square meters and will accommodate up to 8000 full-time students.
"Our larger vision is to establish an Innovation and Entrepreneur Community centred around the Entrepreneurial College, optimising XJTLU's collaboration with society and making the University an even more influential organisation in Suzhou and the world," he added.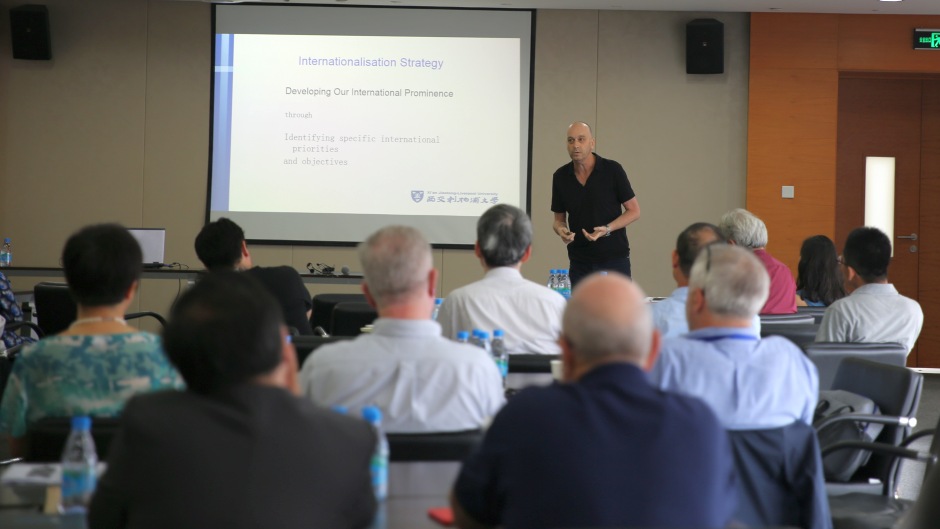 In his talk about the University's internationalisation strategy Dr Stuart Perrin (pictured above), dean for international affairs, listed five core themes to focus on: recruitment; research engagement; entrepreneurial engagement; international mobility; and internal internationalisation.
"We're reviewing our internationalisation strategy based on these themes and the next steps will be consult with staff and students, redraft, obtain approvals, and implement the new policies during the next academic year," he said.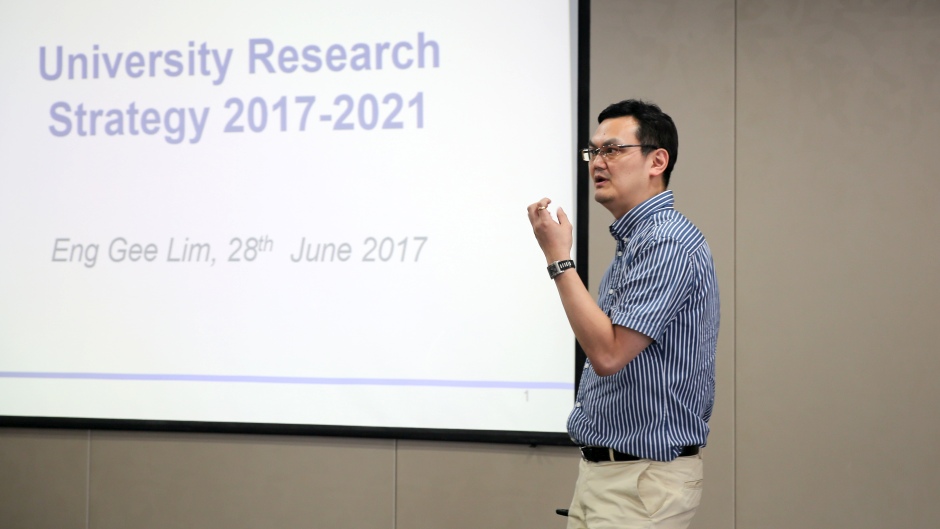 Professor Eng Gee Lim (pictured above), dean for research and graduate studies,gave a detailed account of the University's five year plan for research strategy, highlighting research strengths including data analytics, sustainable construction, 3D printing, and smart and green cities.
"Our strategy is based around six key elements, starting with prioritising key research platforms and themes," said Professor Lim.
"Then we aim to: recruit, develop, reward and retain staff who produce internationally distinguished research; to create a collaborative and effective research environment; to work with accountability, cost-effectiveness, and integrity; to build research partnerships; and ultimately to produce internationally distinguished research and innovation in those specified areas," he said.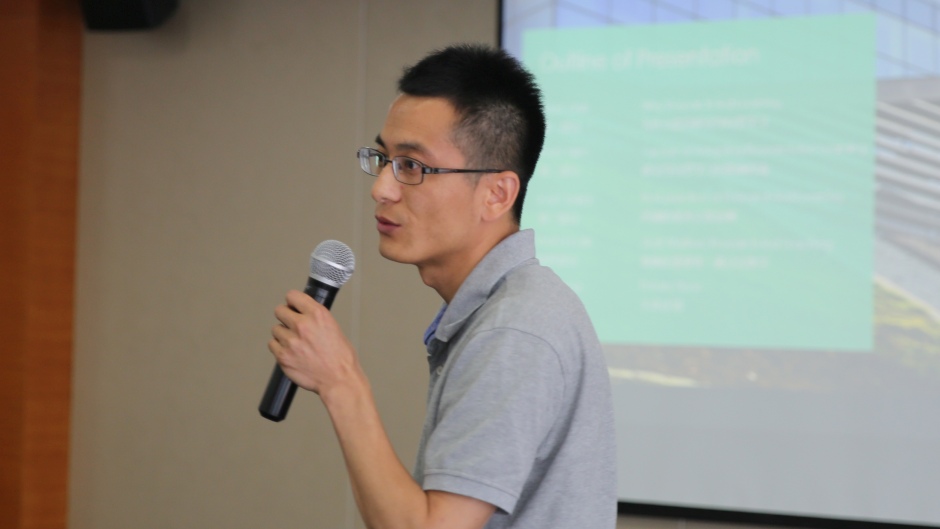 Dr Xiaojun Zhang (pictured above), deputy director of the Institute of Leadership and Education Advanced Development (ILEAD), gave details on how the University is promoting research-led teaching and learning to other universities in China.
The presentations were followed by a Q&A session with heads of academic departments and services staff.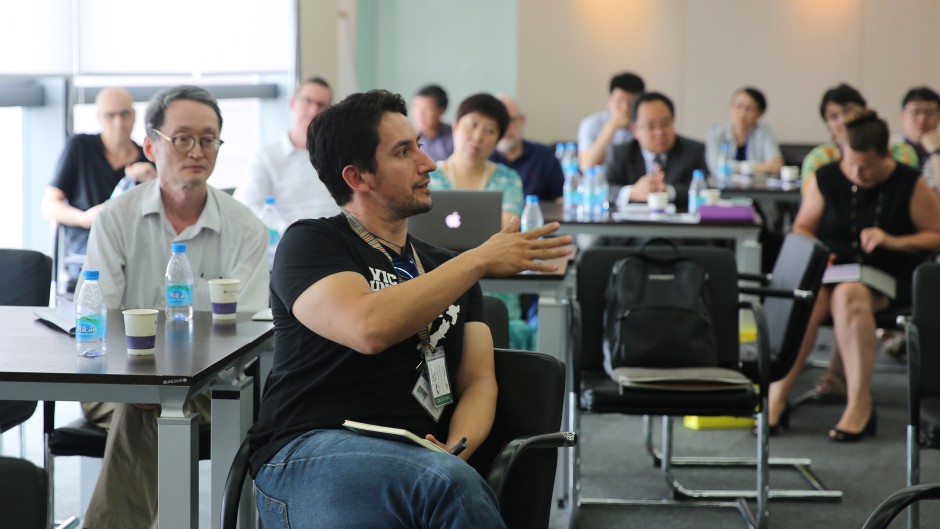 (reporter:Danny Abbasi)