Daring to lead: Launching a New Era in XJTLU Education
Dear Teachers and Colleagues,
This July, we saw a new cohort of XJTLU alumni making its entry into the world marking another year of rapid growth at XJTLU. This August, we welcomed with eager expectation a new set of students to our campus signalising the opening of a new academic year. Thank you all for your hard work and contribution! We start this academic year with a day of celebration for ourselves, Teachers' Day. I extend my warmest holiday wishes to you all!
With support from our faculty, staff and friends, XJTLU has transformed from an infant university in the education scene towards a young and formidable player on the world stage. In launching into our second decade of growth, we must learn from our experiences, look to the future and grow. As a university focused on innovation, our development must be forward-looking. I would like to take this opportunity to lay out the goals of our strategic development for you.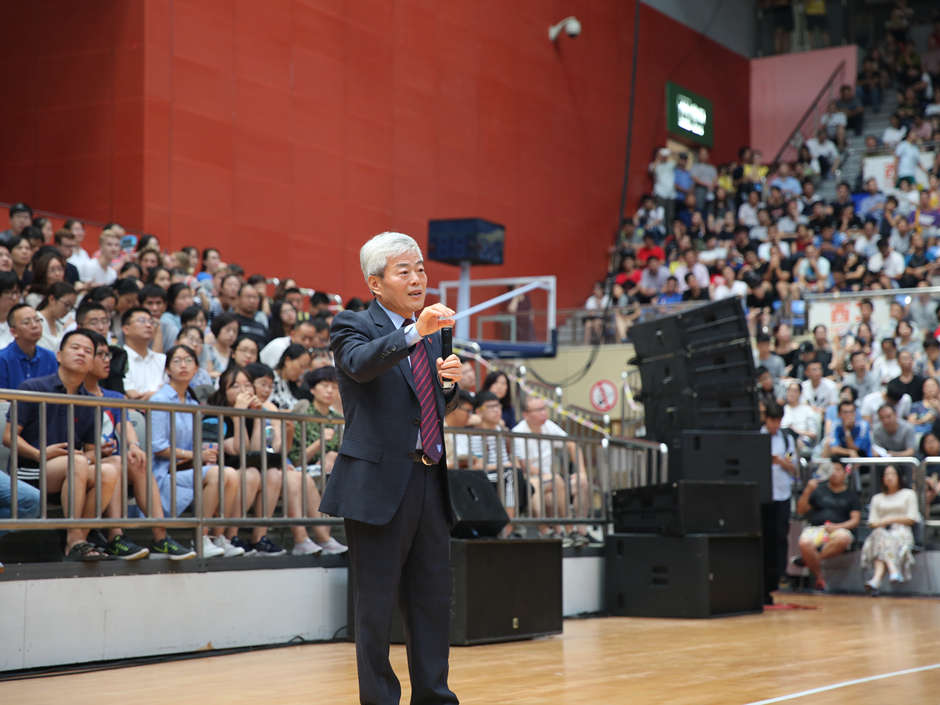 Guided by our vision and mission, XJTLU seeks in its educational realm to continue improving and optimising our innovative new education model that seeks to train specialised elites. We also seek to develop a Syntegrative Elites (SE) education model in the hope that these elites will be better equipped to meet future industry needs post the artificial intelligence and robot revolution.
In our scientific research, we will both continue to support the development of individual research interests as well as establish interdepartmental and multidisciplinary research institutes and R&D centres with the aim of promoting cooperation between universities and industry. We will invest more in this area to help create a prosperous ecosystem for scientific research.
In social services, we will upgrade the operation of the International Innovation Hub (IIH) and International Technology Transfer Centre (ITTC), work to strengthen Entrepreneurial Education, build a platform for full-life-cycle innovation, develop bridges for international exchanges, create an environment and ecosystem for internationalised innovation, spur innovation and partnerships and through this talent and technological development promote social development. Secondly, we are establishing a think-tank called Wisdom Lake Insights (WLI), with XJTLU as a base and a hub linking global knowledge, facilitating social and economic development through knowledge-sharing and interaction between China and the world. Thirdly, through the development of Entrepreneur College and the Innovation and Entrepreneur Community of XJTLU at Suzhou Industry Park, we will work to pool resources, increase cooperation, promote innovation and leverage development. Fourthly, through our strategic training platform and SE model, we will assist the region in creating an ecosystem for developing inter-disciplinary innovation and innovative talents.
We seek in the area of educational reformation to launch postgraduate programmes of education, open our CPS training to the public and continue to promote education innovation through ILEAD. Through these training, consulting and scholarly activities, we will promote our educational vision and best practices, at same time to implement our mission to impact HE in China and beyond.
In working toward these four major goals, XJTLU will continue to deepen international cooperation and brand development with the ultimate aim of developing into a globally influential research-led university.
Here, I wanted to provide further introduction to the Syntegrative Education model, which is central and strategic to our educational landscape. Over the past 10 years, XJTLU has begun to develop its unique education model for training internationalised and specialised talent, earning recognition from the industry and the community at large. Our tens of thousands of alumni who have gone through this model have made a great name for the XJTLU brand in their respective positions. However, in looking to the future, with the rapid development of robotics and artificial intelligence, many traditional industries are being replaced or disrupted. At the same time, we need to develop new industries out of robotics, the Internet, big data and artificial intelligence, and construct a higher level and more friendly living environment. For this, unique industry elites are needed, those that are different from specialized elites, and understand the technology, those who are familiar with industry and who are also well versed in international and cross-cultural management. In particular, we seek to develop well-rounded talent capable of innovation and entrepreneurship with a masterful capacity. Current mainstream education is designed to develop specialized elites. Looking toward the future, universities should respond quickly to help the students who are interested in becoming industry elites by establishing a model which could nurture the industry elites. XJTLU has started the exploration and call it Syntegrative (synergy + integration) Education, because the education process is highly synergized and integrated. XJTLU will continue its education exploration to respond to future societal development trends and needs by both deepening and improving our existing Specialized Elites model as well as exploring the new Syntegrative Elites model. Through XJTLU's SE model, we believe we will be able to cultivate industry elites capable of transforming into leaders in the years to come.
There will be three types of SE models in the future, which include Industry Enterprise Tailored Education (SE-IETE), Entrepreneur College (SE-EC) as well as an Innovation Entrepreneur Community (SE-IEC) developed in close cooperation with local governments and enterprises that will benefit the development of syntegrative elites and societal advancement. Through syntegrative education, we hope to integrate general, specialized, industry, and management education into one. In organization, we seek deep integration of on campus study, company internships, industry leadership and social development. In designing the degrees, we hope to combine practical undergraduate education with on the job post-graduate education. In training, we seek to combine study, internships, research and practice. In pedagogy, we seek to put students in first place and combine research-led study and teaching, and internship as well as on-the-job training. In employment support, we seek to combine study and practice, employment and continuing studies, talent cultivation, R&D and enterprise growth. Through Syntegrative Education, students will combine theoretical in class study with practical experiences at enterprises. We encourage students to both understand and apply what they learn and to use what they learn to guide their practices. In turn, through practical experiences, they can strengthen their theoretical understanding. By the time they graduate, our elites have already laid the foundations for their career. While students from other universities are handing out their resumes looking for jobs, our student maybe already the one who decide to hire them as representative of employers. They have not only seized the opportunity before them but are also more likely to grow into industry elites and leaders.
At present, no systematic SE model is available internationally. While it has been attempted in some areas, for example to strengthen students' internships at companies, it has been largely fragmented. In actively exploring an SE model to train industry elites, we aim to turn XJTLU into a leader in the development of future talent. In this we are confident!
This summer holiday saw the first cohort of XJTLU students to successfully complete the SE-IETE-Level 0 training. They did so with flying colours! I am confident that with the further growth of the SE programme, more parents, students, companies as well as society at large will come to understand the value of such an education model. Let us work together to cultivate well-rounded talent and leaders in various fields!
Whether the Specialized Elites model or the Syntegrative Elites model, the reshaping of learning and teaching process is the route we must to take. Due to this, XJTLU advocates Research-led Education through which students can maximize the value of their studies. The "research" in Research-led Education is not merely "research" in the narrow sense of the term, but also an awareness of exploration and problem-solving. More specifically, in the process of research-led education, teachers focus each class on problem solving or systems-thinking, training students' curiosity and critical thinking, cultivating innovation and preparing in them a "Complexity Mindset" that can respond to the constantly changing world around them. In cultivating this, teaching is not simply transferring knowledge but rather leading students in exploration. The focus is not on "knowledge points" but rather responding to the challenges we face and the healthy, well-rounded development of students.
I sincerely hope our faculty and staff will treasure this unique opportunity given by this era and see the challenges faced by students in their growth, transforming yourselves from traditional teachers to "engineers of the human soul". I look forward to building an education model for the digital age with you, helping students apply modern technology and the Internet to their learning and growth and that through this we may live out our social responsibility and pursue our mission together!
Education is an exciting profession that brings out people's passions. Teachers' Day is a recognition of this, and something we look forward to. Let us pour our passions into innovation, progress and self-perfection into the coming decade. Let's kick off our education brand together in China and the world!