STAYING AT THE FRONT LINE
Dear staff, students and friends,
This winter in Suzhou has been unusually warm. The temperature keeps fluctuating from cold to hot and it's been hard to tell when Christmas and New Year are approaching. We know, however, that Christmas, New Year and the Spring Festival will eventually come at this busy end of the year.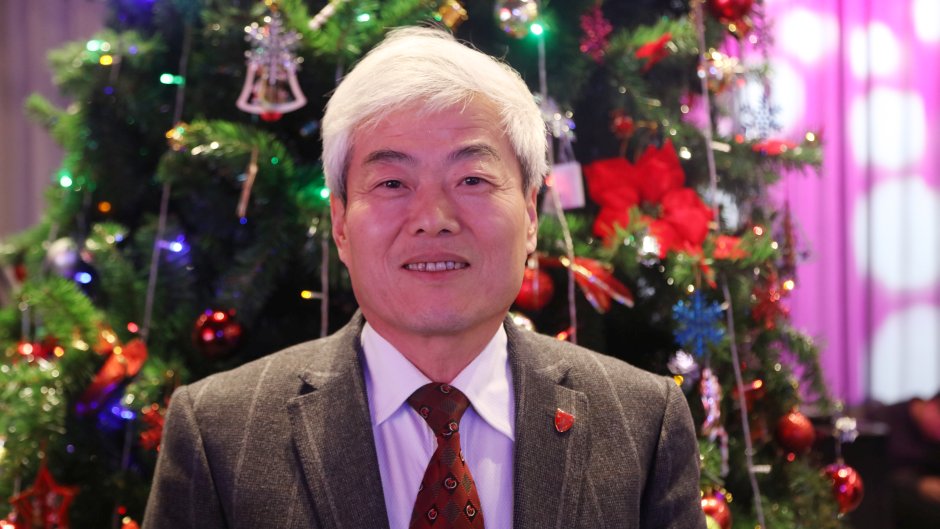 XJTLU will soon be a year older. At this time, we should reflect and celebrate our achievements. First, we have seen more than 4,000 new students enrolled from countries across the world this year making the total number of registered students now 13,000. Of those, over 10,000 are studying on the Suzhou campus, and among these there is an increase in graduate and international students. We also have great news about and from our teachers and students.
We now have more than 1,000 international staff and also launched new degree programmes such as International Relations. We have witnessed a rapid growth in research projects and achievements, increased and strengthened cooperation with external enterprises, increased national research funds and new R&D centers invested by international enterprises. Simultaneously, the local governments of Suzhou City and the Suzhou Industrial Park have granted investments to support the sustainable development of XJTLU and our alumni have become highly recognised around the world. To further improve the student experience and value of their learning, XJTLU fully promotes research-led education. After much deliberation and careful planning, we have launched the Syntegrative Education (SE) model so that students can explore and adapt to the demands of future social development.
In an effort to provide a greater contribution to the community, we have established the XJTLU Think Tank with support from the Suzhou Government. To further the influence of XJTLU, in the area of education reform and development, we have restructured the Institute of Leadership and Education Advancecd Development (ILEAD) and the Academic Enhancement Centre (AEC).
I would like to extend heartfelt congratulations to everyone for this great start to XJTLU's second decade and thank all staff and students for their hard work and wisdom, all levels of government for their high recognition and continuous support and all of our friends for their trust and help. The purpose of reviewing this past year is to give us hope as we look to the future and aspire for a greater year and an even brighter future.
A few days ago, a student club invited me to write a letter to XJTLU for its next birthday. I thought it would be fun and immediately accepted the invitation because I have great expectations, a sense of excitement and utmost confidence in XJTLU for the next year, the coming few years and into the distant future. I would also like to take this opportunity to ask everyone: Have you achieved your goals for the past year? Have you taken one step further towards your goals in life? And what are your plans for the coming year?
This year, we launched the Syntegrative Education (SE) model, in addition to the existing professional elite training model at XJTLU. The SE model aims to develop students to become industry elites and leaders as we enter the new era of Artificial Intelligence (AI) and robotics. This strategic plan will have a profound impact on XJTLU and China's higher education as a whole. First of all, globalisation, the connectivity revolution and the emergence of new technologies such as AI and robotics will change people's ways of learning and living. If education cannot keep pace and bring about innovation, we will lose in the future. Second, for over the past decade, XJTLU has successfully tested and implemented a professional elite education model that incorporates our unique approach, which we have learned from the education systems of both the East and West.
This successful integration, according to future demands and trends in social development, has garnered recognition at home and abroad. However, if we stop moving forward, we will be left behind because of the rapidly evolving needs of society and being challenged by our peers, such as Double First Class Universities and other Chinese-foreign cooperative universities, who have better resources and a more solid foundation, surpassed by those even more bold explorers. Therefore, we must move forward, build on the past decade and respond effectively to changes so that we can continue to take the lead in future trends.
Who will be the leaders in different industries as we look into the future, which will feature increasing interconnectivity, sharing, symbiosis, intelligence and green? When traditional industries are replaced, what kinds of people will create new industries based on AI and robotics? How should universities develop talent in these areas? What will education models of future universities look like? If XJTLU dares to explore and can successfully answer these questions, we will become the leader of education reform and development in China and beyond!
XJTLU has more than 10 years of experience as an established international education model leveraging its unique advantage of integrating the wisdom of both the East and West. Another advantage that we have is that we are in China which aims to lead in the development of the 21st century.
In the future, in addition to the professional elites, society will need more industry elites who can create better lives for others by incorporating developments in AI and robotics. With a well-rounded educational background, such industry elites will not only have specialised knowledge but also possess knowledge about their industry. They should be able to manage, integrate, innovate and master these new industries. Always willing to be a leader, XJTLU launched the SE model for such industry elites to provide 'XJTLU Solutions' for future education.
XJTLU's SE education model consists of three paths: the first is the SE-IETE, or SE for Industry Enterprise Tailored Education, which aims to innovate the professional elite education model and contribute to society to assist XJTLU students to better fit into the business world and society during their time at university.
While also providing both general and professional education, SE-IETE is further designed to help students understand the real situation of companies as soon as they enter university, and provide students with learning and practical opportunities in industries as well as management and leadership opportunities.
This model will not only improve the industry through cross-disciplinary knowledge and the development of management and leadership skills for professional elites, but it will also provide a solid and effective training environment for students who aspire to become industry elites. In turn, this will help students to combine theoretical knowledge and practical operation and equip them with more practical skills together with comprehensive experience to prepare them for career advancement.
The second path is the SE-EC, or SE for Entrepreneur College, which is to be launched in due course. It seeks to provide a more integrated training environment for industry elites by inviting enterprises, with the potential to become future industry leaders, to XJTLU and explore new forms of industry elite training and social interaction at the University, so as to explore and test the 'XJTLU Solutions' for future universities.
The third path is the SE-IEC, or SE for Innovation and Entrepreneur Community, which combines cooperation with local governments and companies to explore the mechanisms and models for future university-society interactions. The walls of higher education will be torn down. Facing a future of interconnectivity, sharing, intelligence, green, innovation and life-long learning, education will be integrated into social development and universities will become a subsystem of the society with their intellectual resources and global knowledge networks, under the ecology of social development serve as a catalyst to mobilise and promote social resources and create and share greater value.
In other words, XJTLU will work with enterprises and governments to create a completely new social ecology - an innovators and entrepreneurs community - that will have a powerful impact.
Time has given us a golden opportunity, and as part of the XJTLU community, we must march towards our future. As we continue our education innovation trilogy, we exude passion and confidence and we will continue to stand on the frontline of global education reform.
We clearly understand that the changes that come from our exploration of these new education models will not happen overnight and that our existing elite education model still needs further optimisation. We should never forget why we started. We are dedicated to promoting educational reform and innovation and XJTLU will continue to thoughtfully progress steadily along this path. Our objectives are solidly supported by our research-led learning, teaching and working methods we advocate for, our comprehensive and strengthened internationalisation strategies and the ongoing optimisation of our administrative services.
In the new year and during the new development period of XJTLU, I invite you all to continue working and innovating with XJTLU to build a brighter future for higher education.
I wish you all a Merry Christmas and a Happy New Year!
Professor Youmin Xi