Dr Sekar Raju, acting head of the Department of Biological Sciences at Xi'an Jiaotong-Liverpool University, has been appointed as an associate editor for a leading journal in the field of microbiology.
He is handling manuscripts submitted in the areas of ecological and evolutionary microbiology for BMC Microbiology, an internationally recognised journal which is part of global publisher Springer Nature Group.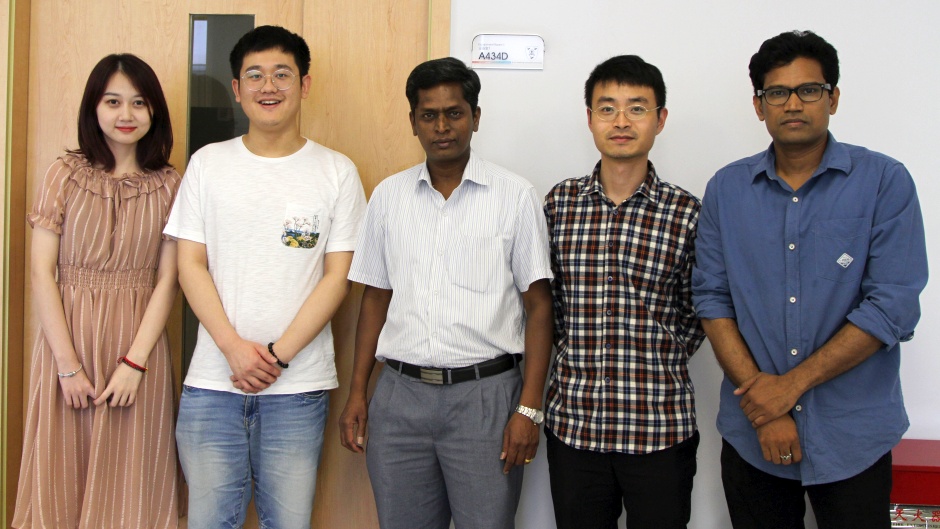 Sekar (pictured above, centre) has also been invited to be a guest associate editor for the research topic 'Microbial Ecology in Reservoirs and Lakes' for the journal Frontiers in Microbiology. He is editing the above topic together with Dr Haihan Zhang, Xi'an University of Architecture and Technology, China, and Dr Petra Visser, University of Amsterdam, The Netherlands.

Sekar previously served as an expert reviewer for many journals in environmental science and microbiology. Thus far, he has reviewed pre-publication articles for nearly 20 journals in the above areas (verified by Publons).
He has also authored over 30 referred articles in international journals, including five journal articles and a book chapter in 2018 alone.
In addition, he has recently co-edited two books: Biofilms in Environmental Biotechnology, and Biofilm Control: Biomedical and Industrial Environment (published by Narosa Publishing House) together with his former colleagues in India and Hong Kong. The books are currently in press and are expected to be published very shortly.
Dr Sekar Raju's research group at XJTLU (pictured above) currently focuses on projects such as:

microbial source tracking techniques to identify faecal pollution in watersheds;
the impact of urbanization on microbial diversity-ecosystem function;
antibiotic resistance in environmental bacteria.
Their research involves internal collaborations with colleagues in the departments of Environmental Science and Civil Engineering at XJTLU as well as external collaborations with researchers at The University of Liverpool, UK, Nanjing Institute of Geography and Limnology (Chinese Academy of Sciences), Xi'an University of Architecture and Technology, and the University of Science and Technology of China.
Story and photo provided by the Department of Biological Sciences; edited by Danny Abbasi