Leading in the Future with a "HeXie (Harmony) Mindset"
A Letter for Teachers' Day 2018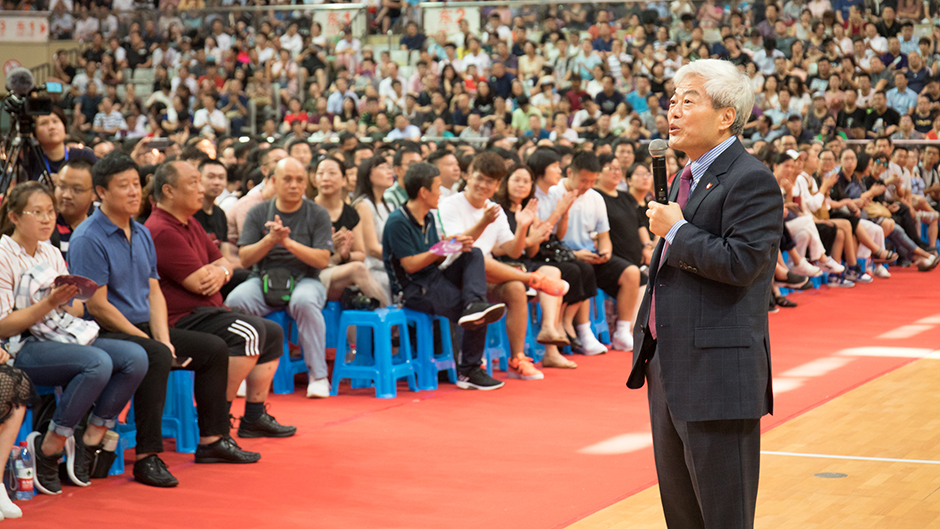 Dear faculty, staff and students,
How time flies. Teachers' Day is just around the corner. First, I would like to thank everybody for their contribution to education and to the development of XJTLU. I must say that this Teachers' Day feels quite different than in the past. The time we live in is one of unprecedented changes that have come as a result of globalisation, digitalisation and the internet – where various technologies such as artificial intelligence and robots are revolutionising society and altering our behaviours. Paradigm shifts are happening in our daily life. For example, our education industry and daily educational work are undergoing significant transformations. Meanwhile, the growth of the Chinese economy, Brexit, the unrest in the Middle East and the moves of the Trump Administration are creating waves of change on a global scale that we cannot ignore. In China, the China-U.S. trade war exposed many deep domestic political, economic and social issues that complicate our situation and threaten our stability. The uncertainty, ambiguity, complexity and changeability (UACC) in the world is greater than at any time in history.
As I mentioned in my 2018 XJTLU commencement speech, UACC is affecting the entire world in an alarming manner and changing the way people understand things. This calls for a transformation of our mindset to adapt to the multiple structural revolutions taking place in our lives, work and society at large. By that I mean we need to replace our current mindset that was developed in relatively simple and stable times to a complexity mindset that can help us survive and thrive in a time of UACC.
Mindset refers to our assumptions, impressions and narratives about every aspect of ourselves, other people, organisations and the world around us. It is limited by our conventions, habitual thinking and acquired knowledge. It influences our behaviours, perspectives, views and thinking so deeply that we accept our conclusions as reality, which then shapes the results of our actions and reinforces this mindset. We are largely unaware of the shortcoming of our mindset, and thus are trapped by it. Therefore, we need to constantly reflect on our behavior, evaluate and improve our mindset.
When facing the challenge of UACC, we need to change from an isolated, individual focus to a connection and interaction orientation, from controlling to adapting, from designing and optimising in a relatively predictable scenario to paying attention to the dynamic evolution of a system, from being accustomed to stability to getting familiar with change, and from being objective observers to contributing as active participants. This is the complexity mindset that we need to cultivate in times of UACC.
Aware of this since its inception, XJTLU is committed to exploring future education models by combining the best practices and wisdom from the East and the West, to allow for this new global order and education reform. We will cultivate global citizens with a complexity mindset, who can adapt to and lead the world in the future.
However, the challenge still lies in building a complexity mindset that can succeed in the future. First, we need a clear worldview, epistemology and methodology, and the right corresponding development theory. Then we can build a complexity mindset that can thrive in a future world characterised by UACC. Fortunately, I have developed HeXie Management Theory – a solution to complicated and uncertain situations that integrates Eastern and Western wisdom – as the philosophy and methodology for the development of XJTLU that has led to the University's rapid growth. (Note: HeXie roughly translates in English to the word "harmony". Harmony in Chinese is 和谐(HeXie), consisting of two Chinese characters - 和(He) and 谐(Xie). 和refers to feeling of people and has the meaning of unity with diversity. 谐 means coordination and cooperation like what takes place in a symphony orchestra. We will use HeXie instead of harmony in this letter to put emphasis on the richer meaning of the word that is lost when translated directly. BTW, HeXie has been used in the academic papers and journals already.) As we move to XJTLU 2.0, I would like to develop the "HeXie mindset", which is a complexity mindset model based on this theory, to help students, staff, our University and people succeed in the future.
The worldview of HeXie management believes that human activities are uncertain and diverse (ontology) and evolve with limited intervention (epistemology), and that the evolution process often includes gaming (methodology). Developed as a vehicle to help us interact with the world and address issues, the theoretical framework for HeXie management consists of a vision and mission, the HeXie theme, the principle of He, the principle of Xie, and the Coupling of He and Xie.
The vision and mission provide the positioning and long-term goal for development and are relatively stable and strategic. The HeXie theme is a medium-term goal for a specific period that contains some key issues to be solved and can be adjusted over time. The principle of Xie provides the rules and propositions to minimise uncertainty through reasonable design and optimisation of systems, processes and structures. The principle of He gives the rules and propositions that encourage the initiative among participants to adapt to the uncertainty – this is applied mainly through incentive mechanisms, establishing the workplace environment, culture building and the cultivation of innovative ecosystems. The coupling of He and Xie is the mechanism and dynamic adjusting process that responds to UACC through incorporating the principles of He and Xie with the specific HeXie theme, in line with the vision and mission. Leadership plays a key role in deciding the vision and HeXie theme and the coupling process of the principles of He and Xie. According to HeXie Management Theory, specific issues in the world of UACC should be addressed in line with the vision and mission according to the following steps: 1) analyse the HeXie theme in a specific period; 2) build the right principles of He and Xie; 3) coupling and dynamically adjust in response to the environment and operation of the system developed in above steps; and 4) start the cycle of "vision and mission – HeXie theme – a system developed with the principles of He and Xie – Coupling of the principles of He and Xie".
The HeXie mindset in response to a world of UACC can be constructed according to this framework that includes the following components. The first one is a dynamically evolving, systematic outlook. A person or organisation should look at an object and its development and context dynamically to understand meaningful changes and valuable trends so that a properly positioned business model or long-term goal (i.e. vision and mission) can be determined.
The second component is thematic thinking and the wisdom to integrate. Whoever is capable of integrating the overwhelmingly fragmented knowledge, resources and demands of society to create value and share it through the internet will take a leadership role in an age of UACC. As it is difficult to develop a clear long-term strategy, an entity usually needs to realise its vision and mission gradually by testing a series of short-term major tasks, key issues or sub-strategies (HeXie theme) at various stages. Thematic thinking supported with HeXie theme in line with the vision and mission will ensure that the direction and roadmap is correct and the wisdom to integrate things will become an advantage.
Third is a capacity to use both principles of He and Xie, for example, integrate Eastern and Western wisdom, to develop a system to implement HeXie theme and realise vision and mission gradually. Overreliance on science (Xie Principle) or human management (He Principle) will harm the realisation of the planned objectives, and can even lead to a dead end. A thought pattern that sees both the whole and its parts and an analytical ability to integrate human management with science can help us see the truth. An integration of the Western approach that emphasises system, logic and science with the Eastern approach that excels in art, ambiguity and uncertainty will develop superior perspective and wisdom.
Fourth is a dynamic balance of diverse elements. In this internet age characterised by sharing and coexistence, the best development strategy is to create an ecosystem to integrate resources, stimulate innovation and create and share value. UACC can easily distract us with chaotic, unreliable information and glamourous fashions, making us feel lost. A clear vision and mission can prevent this. The HeXie theme can keep major tasks or core business at each stage on track, and the He and Xie principles will support the building of an ecosystem. The Coupling of He and Xie will maintain and guide the ecosystem of diverse, coexisting elements into unity with diversity. We always need a clear strategy (vision and mission), a focus of work (thematic thinking), an insight into trends and the sensitivity to changes (adjustment of HeXie theme), and a creation of an ecosystem (right use of HeXie theme and principles of He and Xie)—and to reach a harmonious development.
The last component is the foresight and courage to transcend the status quo and advance to a new harmonious state. The HeXie (harmony) of an ecosystem will not last forever and needs to be upgraded as the environment changes over time. The ability to cultivate, protect and facilitate cutting-edge or disruptive innovation and facilitate the constant advancement of an ecosystem is the highest wisdom needed for sustainable growth.
This sophisticated and multi-faceted complexity mindset can only be cultivated through long-term effort, but it will be easier if we understand how the HeXie Management Theory responds to a world of UACC and master its intellectual framework and mindset. In this way, we can not only adapt to the new age and be ready for its challenges but also build a foundation that is valuable and impactful and leads to a meaningful, rewarding life.
Teachers and colleagues: "It was the best of times, it was the worst of times, it was the age of wisdom, it was the age of foolishness, it was the epoch of belief, it was the epoch of incredulity, it was the season of Light, it was the season of Darkness, it was the spring of hope, it was the winter of despair, we had everything before us, we had nothing before us, we were all going direct to Heaven, we were all going direct the other way." It seems that Charles Dickens foresaw the world of UACC we are facing. Whether we like it or not, we cannot escape the four-dimensional world of UACC. We must be proactive in transforming our mindset to a HeXie mindset so that we can fully experience and enjoy what this age has to offer.
Through its decade-long efforts, XJTLU has developed an innovative education model to cultivate international and professional elites, a networked organisational structure and platforms to improve the efficiency of knowledge, work and organization, an open university-community ecosystem, thought leadership in the field of education, and a cutting-edge research and training center in China.
The University also has grand plans in place for the future. We are exploring "Syntegrative Education" as a new way to cultivate industry elites who are better prepared for the rise of artificial intelligence and robots. We are also working on new concepts of university and campus by building the XJTLU Entrepreneur College. Drawing on its intellectual capital and social resources, the University will cooperate with companies and governments to facilitate the building of international innovative eco-parks and green communities to explore solutions to the significant social problems in the upcoming decades, to benefit society. These developments will further enhance the leadership of XJTLU in education, and the function of its research and training center as a prestigious institution in China and throughout the world.
Dear colleagues, we have a long way to go to accomplish our mission. Let's live out XJTLU's principle of a "happy life and successful career" and equip ourselves with a HeXie mindset to shape our life and the innovative development of XJTLU, leading the future education industry, and promoting social progress and civilisation.
Happy Teachers' Day!
Youmin Xi
Executive president of XJTLU
Pro-Vice-Chancellor of University of Liverpool