Lecturer Ping Yan joined XJTLU in October 2020. She is an assistant language lecturer at the School of Languages who is responsible for teaching EAP (English for Academic Purpose) Year 1 courses. On the day of onboarding, she received a bouquet from her friend and a card that said: Welcome Back.
Ping graduated from the School of Humanities and Social Sciences of XJTLU in 2015, majoring in Applied Linguistics, and then went to the University of Liverpool and University College London for further studies. After five years, she returned to the XJTLU campus as a lecturer, with different experiences and feelings.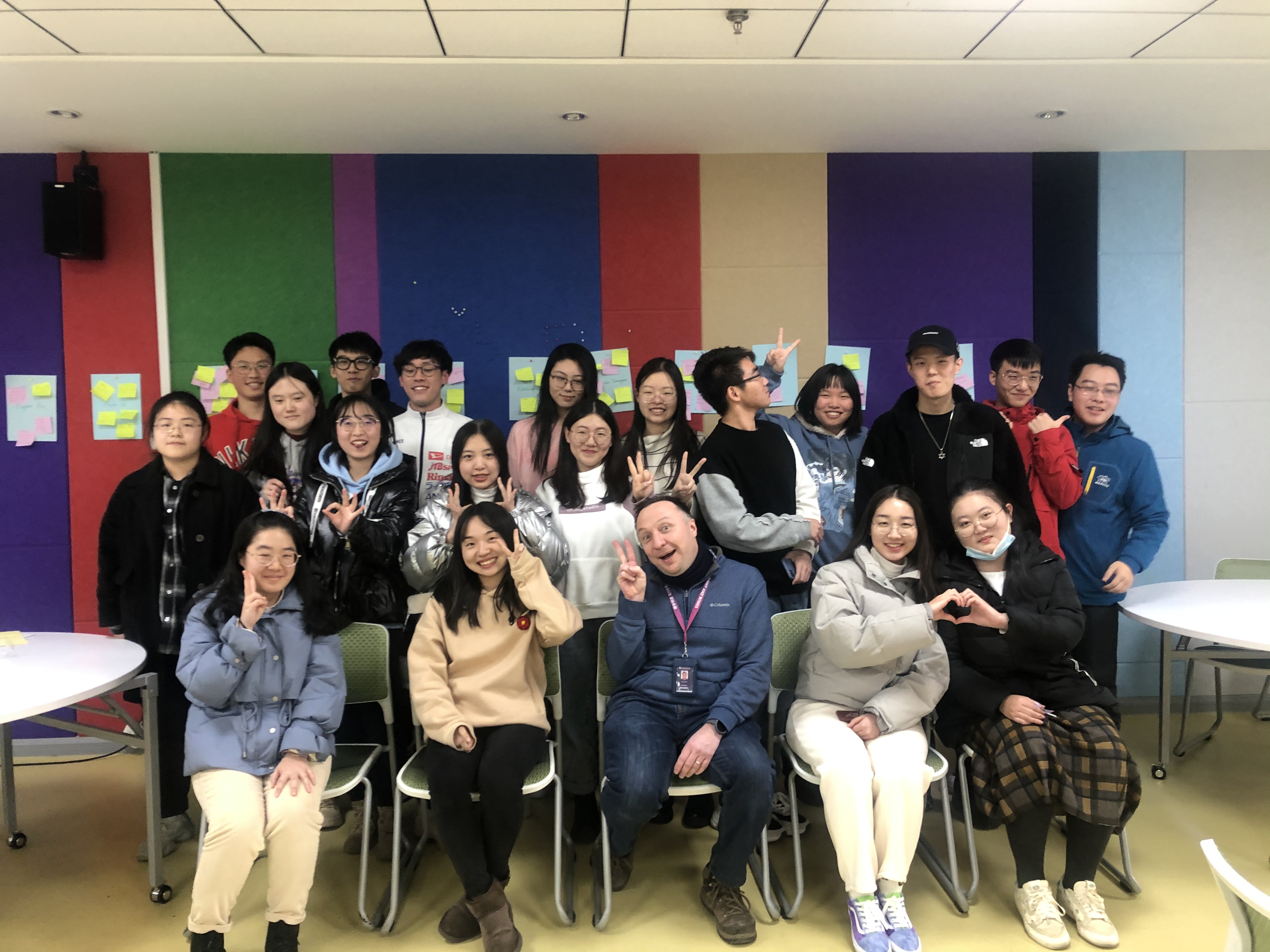 (Ping Yan with her students)
Back to XJTLU: Familiar and Unfamiliar
Ping described the feeling of being back in XJTLU as "familiar and unfamiliar".
"The first thing I felt was warmth, coming to XJTLU gave me a feeling of being back home."
At the same time, Ping also felt many things had changed. The university has more beautiful buildings, abundant resources, and many unfamiliar, youthful faces.
"Especially when I opened the EAP textbook I found that our EAP curriculum has also undergone many updates: more extensive topics, plentiful modes, and also a higher degree of difficulty, so students can get comprehensively exercised."
"EAP was my favourite course during school life"

When it comes to school life, Ping expressed her recognition and love for EAP courses. She also shared a change of her mindset in the process of learning EAP:
"When I just started to learn EAP, I felt like it was different from the traditional English class in high school. Compared with other courses, EAP is more interesting and relaxing with various kinds of activities and topics in class. And for small-sized classes, we had close relationships with classmates which created a lively class."
"Because we didn't need to pass the CET exams compulsorily, so firstly I felt that our English learning lacked the approval of official certificates. However, I found what I learnt in EAP class was rather practical after I became a sophomore or even a postgraduate."
"The EAP course helps prepare me for academic studies in the United Kingdom. Without a language barrier, I can concentrate better on educational knowledge."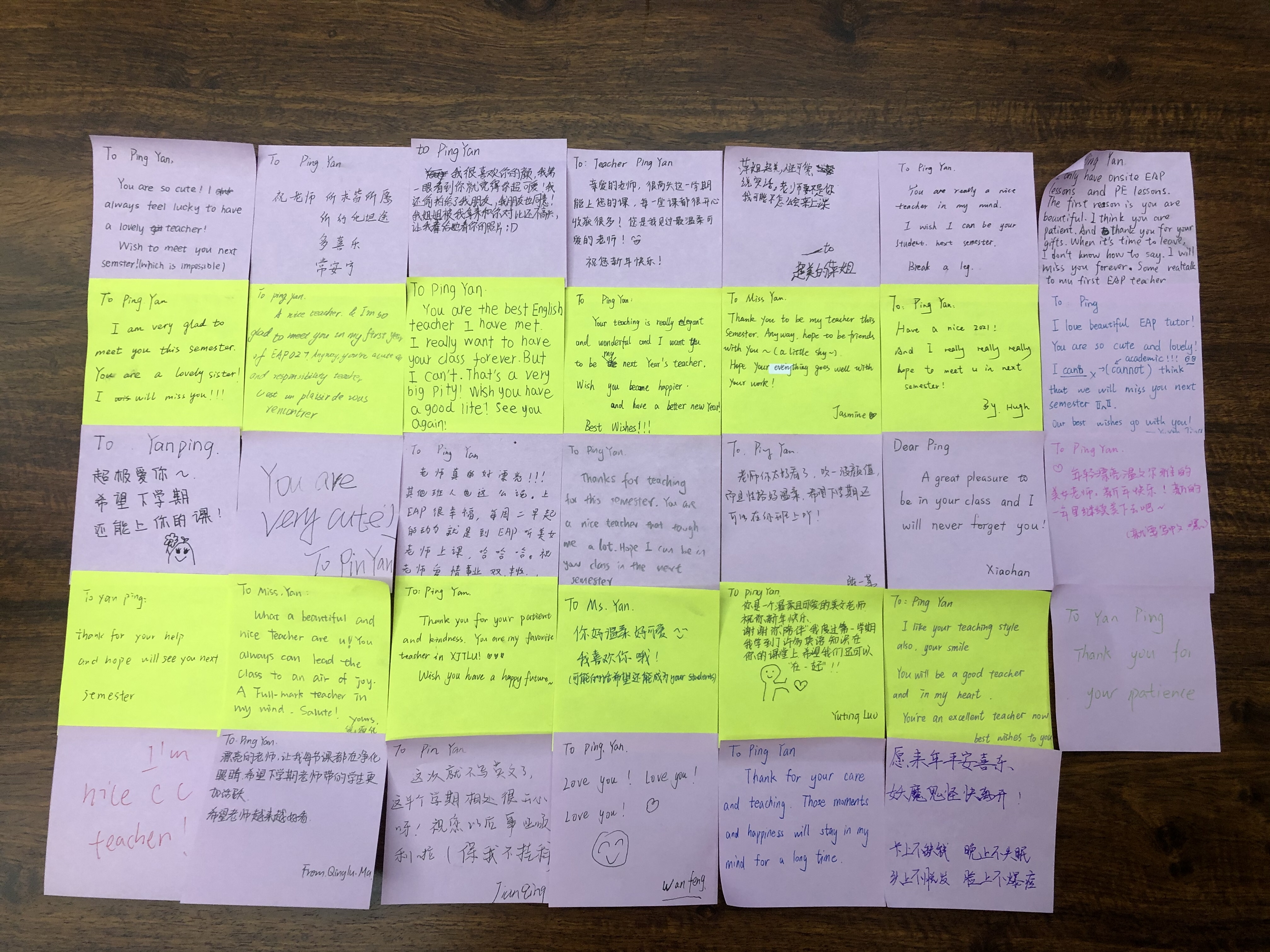 (Notes from Ping's students)
New Year Goals: Let More Students Fall in Love with EAP
When it comes to the goal for 2021, Ping plans to learn various teaching modes from lecturers in the School of Languages:
"XJTLU doesn't set any standards and restrictions on teaching methods, so lecturers have much freedom to develop their own unique style."
In this semester, under the influence of COVID-19, XJTLU takes online & offline teaching mode. Ping hopes that she can interact with students in a more diverse way and explore more possibilities in EAP teaching on the offline class of next semester, thus optimizing students' learning habits and helping prepare them better for major courses.
"EAP laid a solid foundation for my future studies and work, and also developed my logical thinking and presentation skills. More importantly, it makes me more confident to communicate with others. So I would like to let my students fall in love with EAP as I do."
By Xinyi Liu
Photos courtesy of Ping Yan