In June 2021, two undergraduate student teams from the Department of Civil Engineering at XJTLU won the 'Innovation Award' and the 'Cultural Heritage Award' in the 2021 International Concrete Dragon Boat Competition (ICDBC-2021).
The competition was held at the International Campus of Zhejiang University with the aim to enhance students' awareness of sustainability, innovation, interdisciplinary collaboration, as well as Chinese traditional culture.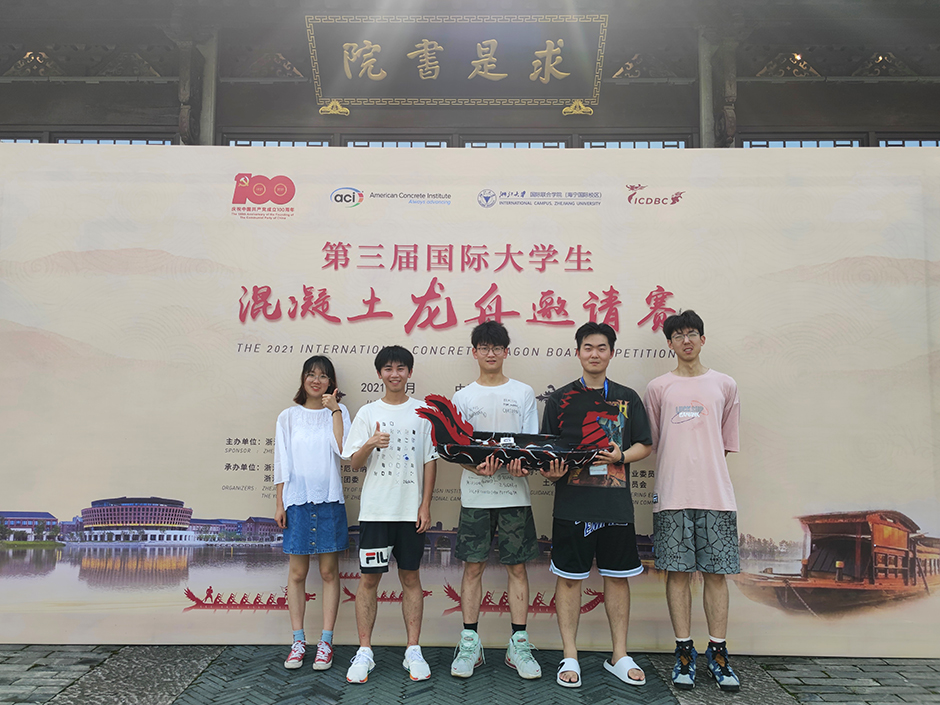 Year 2 Student Team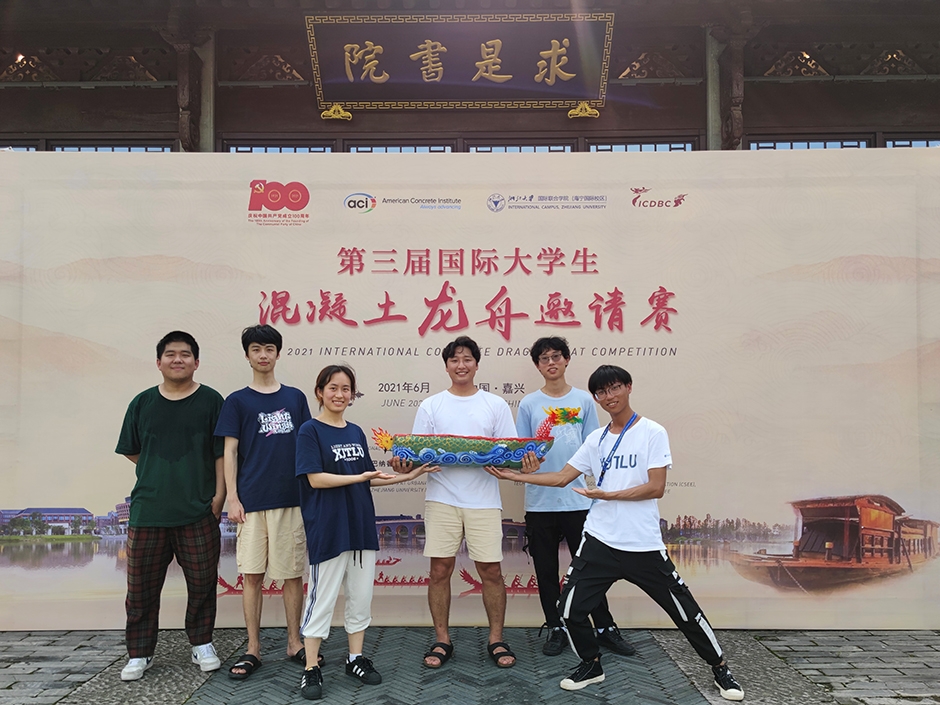 Year 3 Student Team
Under the supervision of Dr Ominda Nanayakkara and Dr Engui Liu, the teams completed Computational Fluid Dynamics (CFD) analysis, design of boat body, material experiments, dragon boat manufacture, power system design, mechanical assembly, and remote control boat driving test.
"The concrete dragon boat competition was a challenge for the students, testing their civil and electrical engineering technical knowledge," says Dr Ominda Nanayakkara.
The boat from the Year 2 Team (right) was named "嬉蛟号". The theme colour is black, symbolizing the dragon in charge of rivers and lakes in ancient Chinese mythology. The red and white lines are inspired by the world-famous silk craft in ancient China, and also represent that the work came from Suzhou, which is known as the 'hometown of silk'.
Year 3 Team named their boat "龘龘". The character "龍" looks like a dragon flying, and the name "龘" is composed of three same characters "龍", which represents the spirit of collaboration.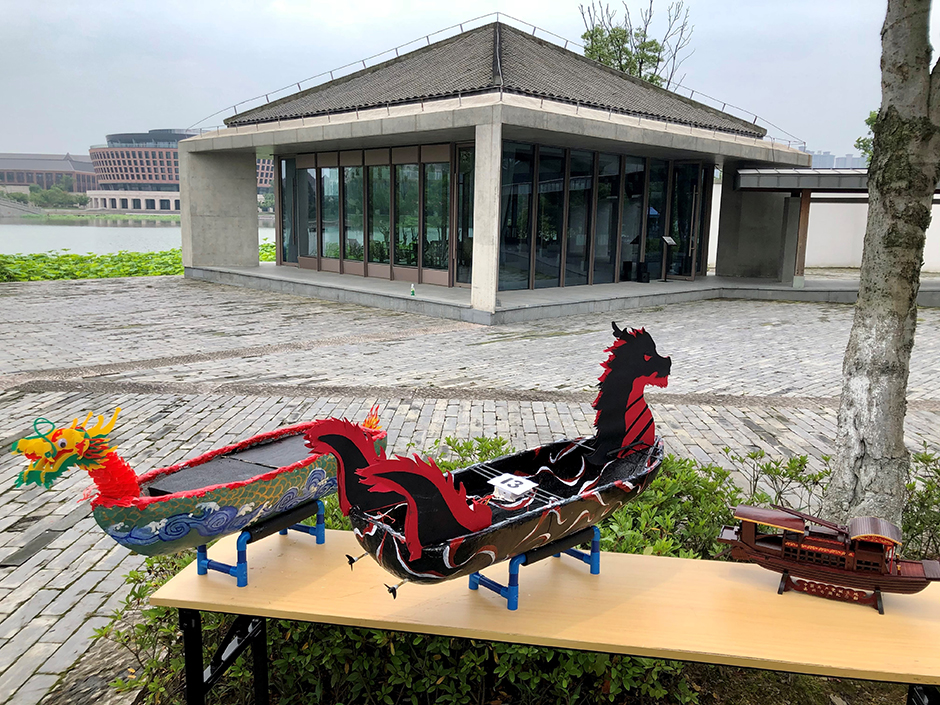 Two Dragon Boats (right: "嬉蛟号" from Year 2 Team, left: "龘龘" from Year 3 Team)
During the manufacturing process of the dragon boat using lightweight concrete, sustainable construction materials such as fly ash and silica fume were used to replace a portion of Portland cement, and lightweight rubber crumbs were used to replace a portion of sand. In addition, Basalt textile fibres were used to strengthen the very thin boat hull.
The students conducted preliminary experiments to decide the optimum combination of materials by conducting a concrete compressive strength test. After setting the remote controlled mortor to the boat hull, they tested the boat at the civil engineering laboratory to evaluate the floating ability and the travel speed.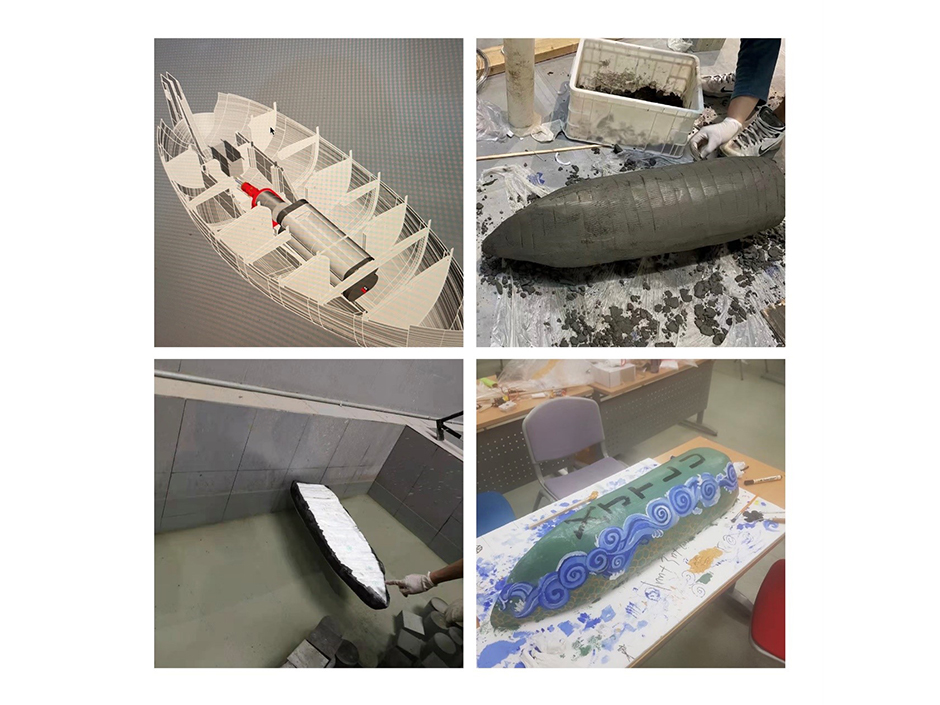 Process of boat design, manufacturing, and decoration
"The teams experienced several failures due to various reasons, however, we learnt a lot from the start of the boat making to the final race," says Dr Liu, "we really appreciate the students' dedication in the competition."
Story and photos provided by Department of Civil Engineering
Edited by Yi Qian