IBSS faculty and students recently participated in the inaugural "Responsible Management and Youth Education Forum" at the 2021 Education Forum for Asia (EFA) in Chengdu. Dr Xuanwei Cao, Director of the Centre for Responsible and Sustainable Business Education (CRSBE) was the Co-Secretary General of the Forum while Yitao Pan, President of the OIKOS student organization was one of the members of the Students' Organising Committee. Dr Ellen Touchstone, Associate Dean for Responsible and Sustainable Business Education presented a keynote address. 4 IBSS students: Zinan Yue, Jiayi Ren, Pinhsuan Lee and Xiaowei Fan and 1 HSS student, Xingyan Nan, were finalists in the Academic Speech Competition. Zinan Yue, Year Four student in Information Management and Information Systems (IMIS), won the Grand Prize for the English speech competition with her speech on access for the disabled in China. Xingyan Nan, Year One student in Media and Communications was named runner-up in the Chinese competition, presenting on digital inclusion.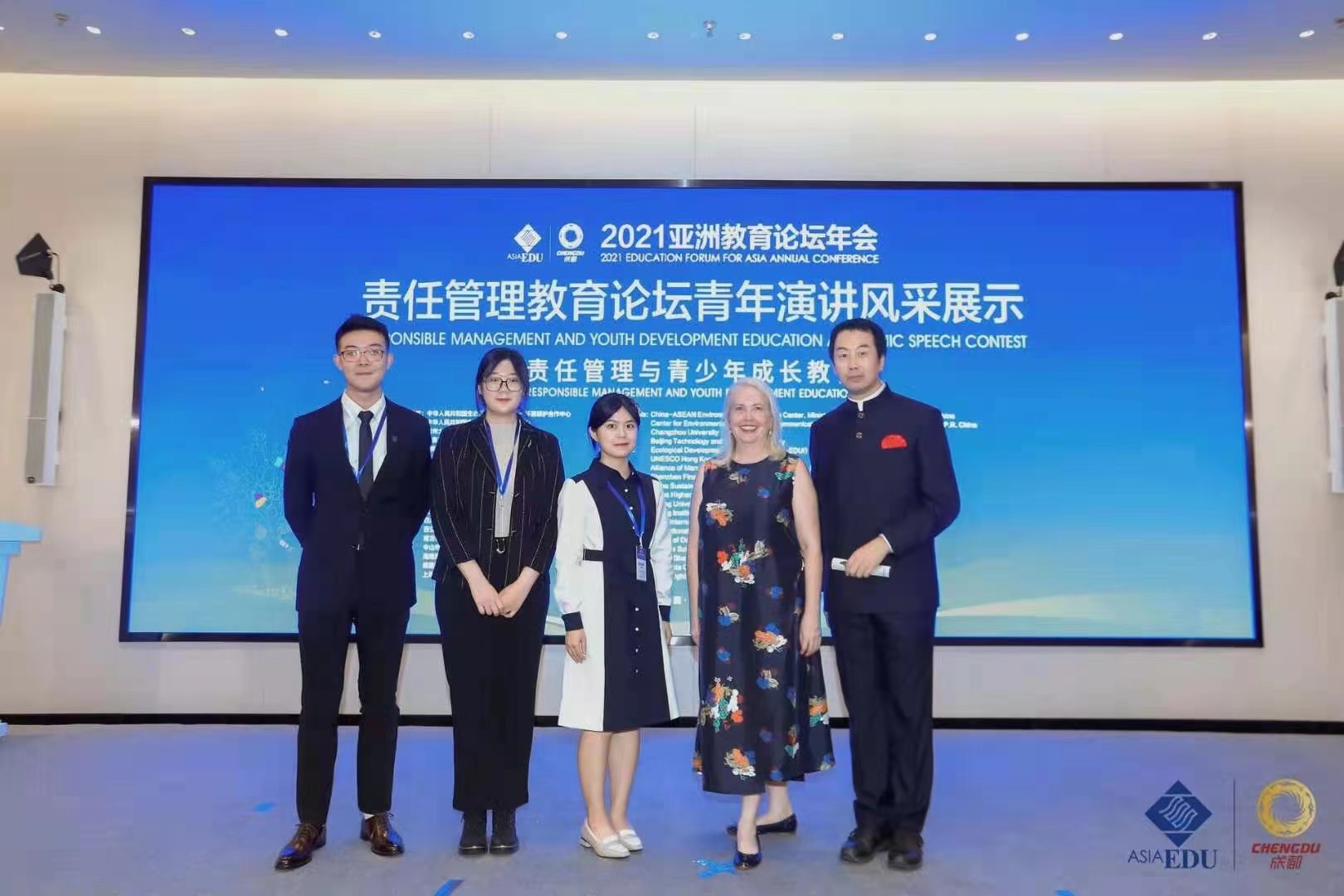 Zinan Yue reflected on her experience at the forum, "The participation of the 2021 Education Forum for Asia Annual Conference was a meaningful and special experience for me. IBSS is one of the practitioners of the Principles for Responsible Management Education (PRME), and this opportunity for our students further enhances our ability to achieve the Sustainable Development Goals (SDGs). It is a great honor for me to
represent our university and IBSS."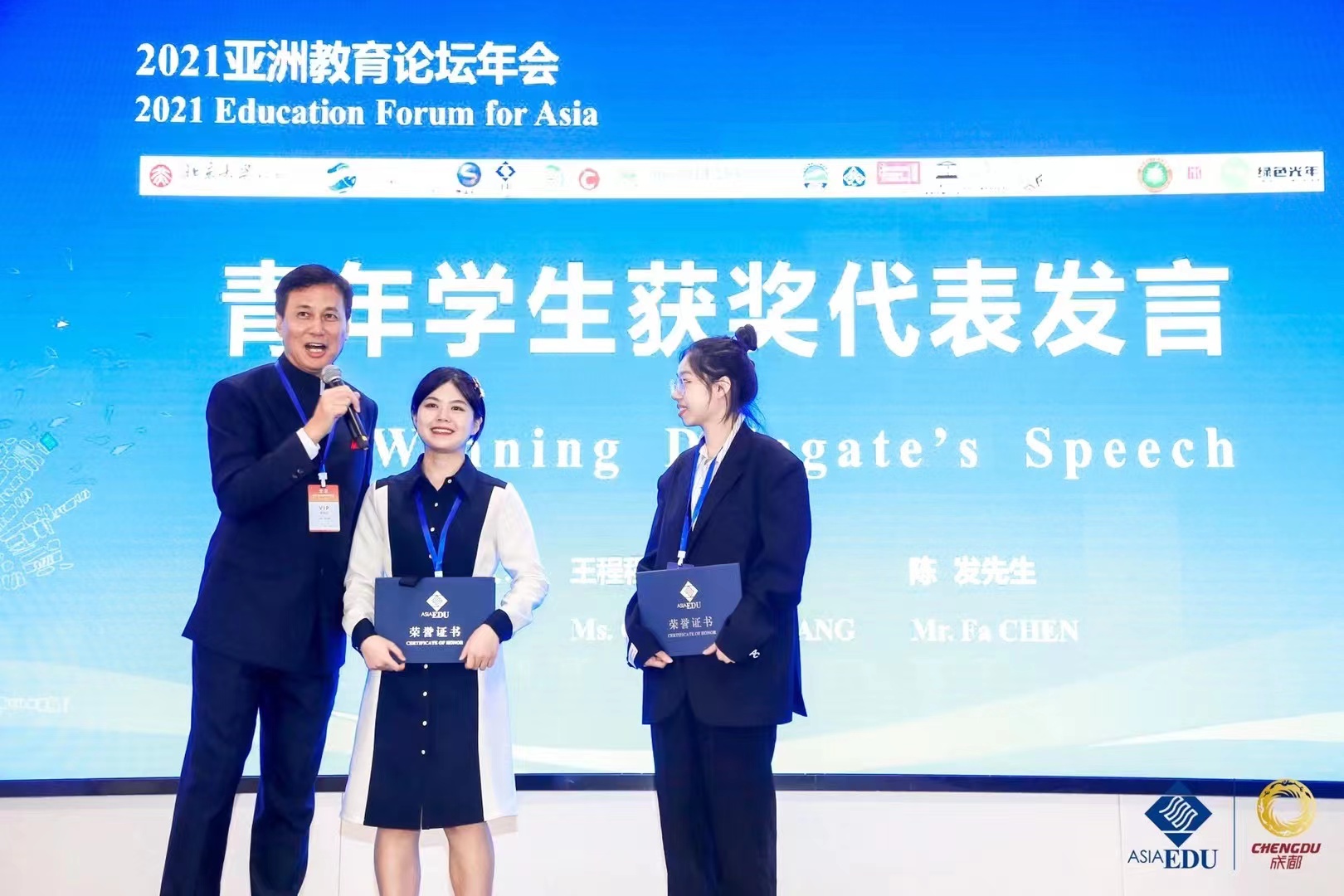 The inspiration of the topic that she chose came from a video posted by a disabled Chinese girl whose normal life was obstructed by the lack of barrier-free facilities, which stimulated her desire to do a research study on barrier-free systems. In her presentation, she discussed the current problems of accessibility in China as well as provided an analysis and suggestions for improvement. She is hoping that more will be done in China to provide inclusive access. As one of the guests of the event said to her, "If you have an idea, put it into practice"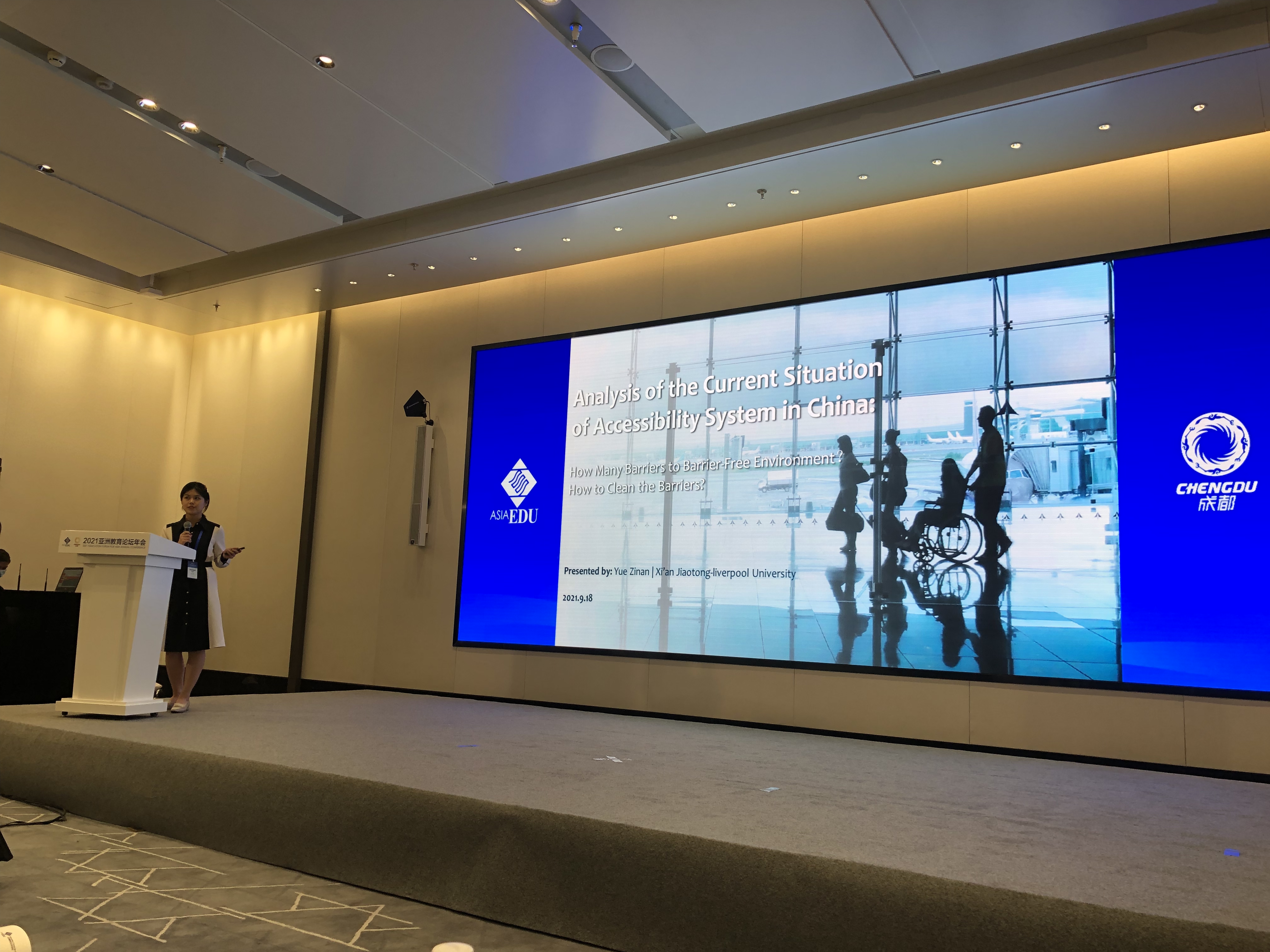 She added, "From the original preparation for the paper to the final presentation, it was a process of constant inner fulfillment for me. Meanwhile, I was surprised to win the Grand Prize in this competition. First of all, I would like to thank Dr Ellen Touchstone for her encouragement and dissemination of sustainable concepts that inspired me to participate in the competition. I am also grateful to the organisers and the guests for providing an opportunity for me to share and learn. After the competition, some of the guests talked to me about some areas for improvement in my presentation, which let me feel the experienced experts' tolerance and encouragement to our younger generation of students."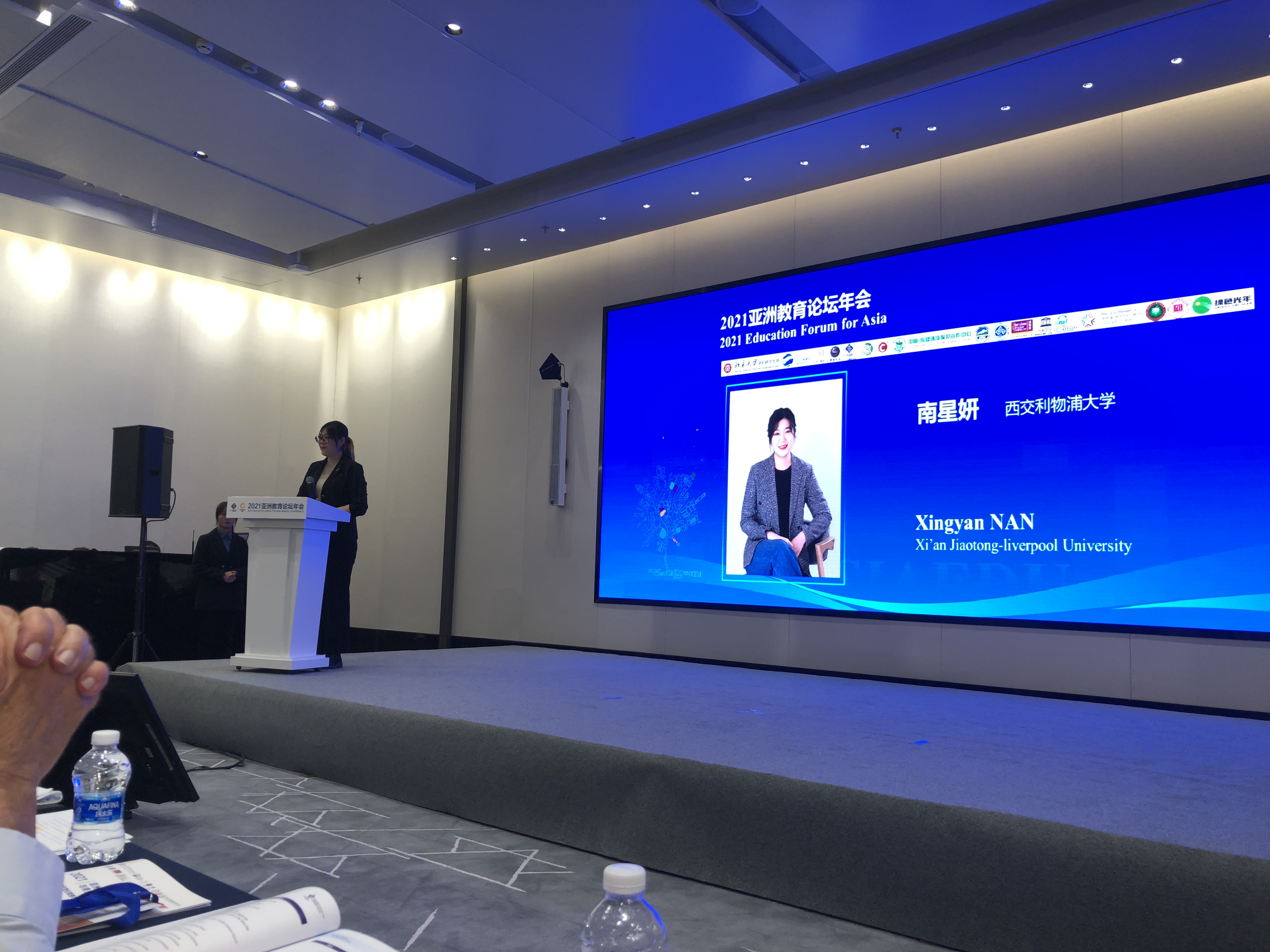 Xingyan Nan is a Media and Communications student as well as a member of the Sustainable Future Talents student group devoted to sustainability in IBSS. She also felt honored to participate in the competition. She explained, "I had made friends with many students from other schools, and obtained many professors' opinion about sustainable development. From the preparation of the essay. I read a lot of literature, my instructor Dr Peng Liu gave me a lot of help, including the choice of topics, article modification, etc. In terms of the essay, I also encountered a lot of difficulties, such as the topic of the essay, research methods, and proposed solutions. At the competition in Chengdu, I met a lot of students from different school, we exchanged our ideas about sustainable development which provided more new knowledge. I have learned a lot from this competition. After participating in the competition, I know how to write essays, developed the ability to give a live speech, and understand professors' thoughts of sustainable development. This activity is only a starting point; I will continue to practice the low-carbon lifestyle, take action to call for more college students to join in us in the cause of sustainable development in the future. I hope I can take actions to target China's goals to achieve carbon neutrality target by 2060 and make a meaningful contribution to the global environment.
As an active Signatory of the UN Global Compact's Principles for Responsible Management Education (PRME), IBSS has committed itself to developing responsible and sustainable education. Dr. Xuanwei Cao explained that PRME is getting more and more business schools' attention in China. The organizing of this "Responsible Management and Youth Development Education Forum" is the first time in the 18-years history of the Education Forum for Asia that sustainability has been addressed. As a main organizer to this event, the CRSBE of IBSS provided significant support to preparation for this event, "Our students' participation in and preparation for this speech contest also received full support from the Centre and IBSS. It is always our principle and belief to empower students and create opportunities for them to engage in the real world to understand and make contributions to major societal challenges. This event will improve more students' awareness of youth leadership on sustainability and ignite more students' passions on exploring the ethics, responsibility and sustainability issues to future-proof their leadership. The CRSBE will play a more important role in leading the youth responsibility management and sustainability education in near future."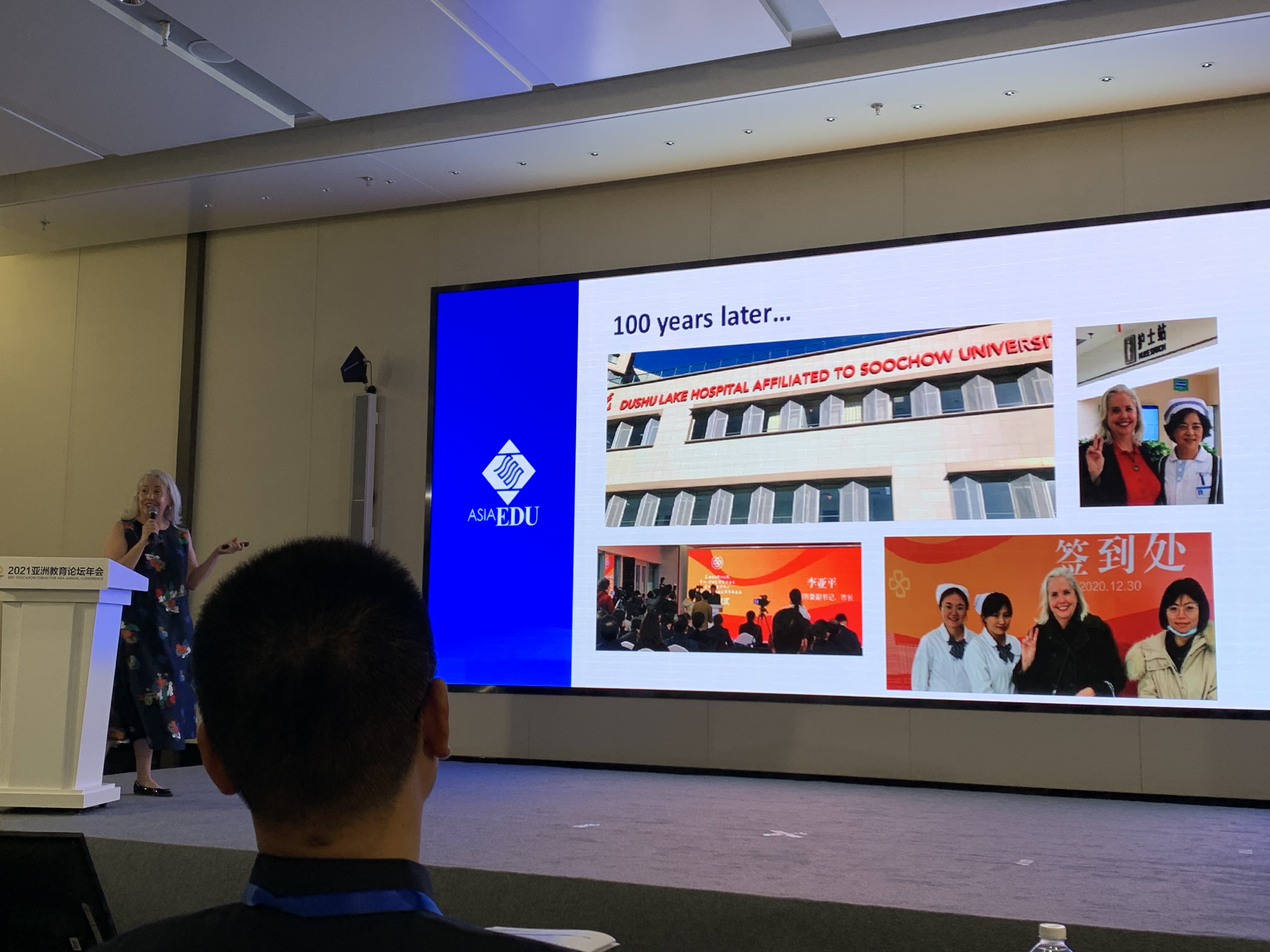 In her keynote address, Dr. Ellen Touchstone, IBSS Associate Dean for Responsible and Sustainable Business Education chose collaboration as the main theme in her speech, showing the power of collaboration of diverse groups of people. She illustrated the practice of working toward the SDGs through the story of her family over the past 100 years demonstrating the intergenerational transmission of sustainability. Her grandfather, Cary Touchstone, was an administrator at Soochow University helping to lay the foundation for the modern education system in China. Her grandmother, Mabel Ellen Thomas, served as the Nurse Leader at the First Affiliated Hospital of Soochow University where she collaborated with her Chinese colleagues to create a hospital that respected Traditional Chinese Medicine as well as Western medical practices. A more recent collaboration she mentioned took place during Earth Week in April 2021 when IBSS students participated in a joint workshop with Microsoft employees related to sustainable development. As a call to action, she sent the students on a mission to create partnerships with all stakeholders to work together to save our planet for future generations.