Earlier last month, Xi'an Jiaotong-Liverpool University Learning Mall was upgraded to an online interactive dual-platform, consisting of Learning Mall Core and Learning Mall Premium.
Learning Mall Core is an internal platform exclusively for XJTLU students and academic staff members. It's designed to support degree courses, and it allows members to learn and teach inside and outside of the classroom through any internet-connected device.
Learning Mall Premium provides content and services for external users. It collaborates with world-leading educational partners, and offers high-quality learning resources for all users, including internship and employment opportunities and other innovative programmes.
Since its launch, Learning Mall has partnered with several global brands to enrich its digital resource base for lifelong education, including Massachusetts Institute of Technology (MIT), Apple, Microsoft, Huawei Technologies, Adobe, Cactus Communications and more.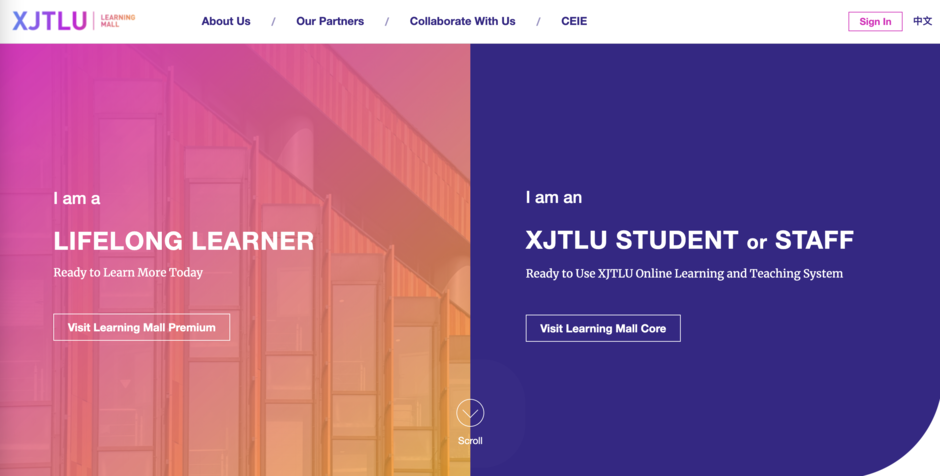 XJTLU Learning Mall homepage
Professor Youmin Xi, Executive President of XJTLU, says: "Learning Mall will be a supporting platform for future educational exploration. It combines educational resources with community resources. Together, they will change the future educational model."
Dr Xin Bi, Director of XJTLU Learning Mall, says: "Learning Mall is an innovative ecosystem developed with XJTLU's educational concept at the forefront. It reflects the development of education and teaching, and it responds to the demands for digital learning in the new era."
Top talents and skill masters
Last year, China released the 14th Five Year Plan which sets out the country's vision for economic and technological development. Under the national plan, Jiangsu province has outlined the goals for higher education, and provided funding for specific projects to support industrial development.
Learning Mall recently started an industry professional training programme named Ying Cai Ming Jiang (meaning top talents and skill masters). The programme has received funding from the Industry and Information TechnologyDepartment of Jiangsu Province.
The programme will cover topics including intelligent and digital transformation of manufacturing enterprises, innovation and development of the automobile industry, and improvement of enterprise management.
With the provincial support, Ying Cai Ming Jiang will strengthen talent training and accelerate its implementation in manufacturing industry. The programme will also help enterprises understand the latest international trends, apply intelligent manufacturing scenarios, and build their own digital intelligence teams.
By Xinmin Han
Edited by Patricia Pieterse