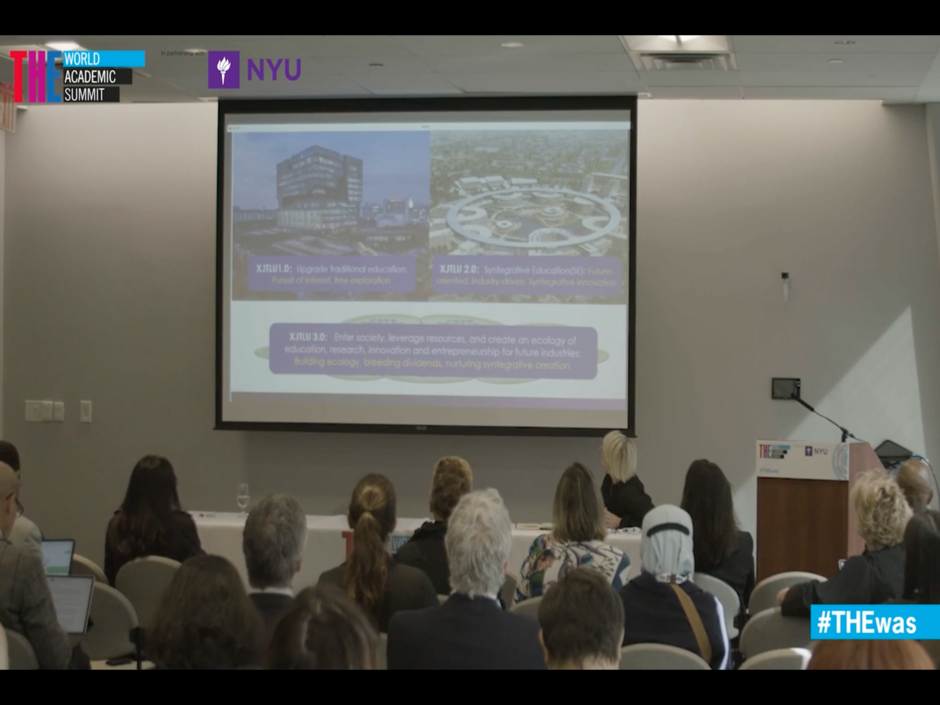 Earlier this month, Professor Youmin Xi, Executive President of Xi'an Jiaotong-Liverpool University, spoke at the Times Higher Education (THE) World Academic Summit on shaping the trajectory of global higher education.
The panel consisted of moderator Sara Custer from THE, Clay Shirky, Vice-Provost of Educational Technologies from New York University, and Farshida Zafar, Director of ErasmusX and the Erasmus Centre for Entrepreneurship from Erasmus University Rotterdam.
In the presentation, Professor Xi shared his visions for XJTLU and his understanding of future education.
"In the new era, educators need to reflect, reshape, and redefine universities because of the post-pandemic challenges and technology innovation.
"Future education will have several technological features, including virtual campuses that meet the requirement of cross border teaching and learning. Future education will also highlight personalised interests, lifelong learning, and hybrid learning.
"In order to support such a kind of education, it is very important for higher education institutions to nurture a community and ecosystem for learners, researchers, innovators, and entrepreneurs."
Professor Xi also said that future education should be interest-driven lifelong learning, and XJTLU has developed Learning Mall, a resource platform that welcomes everyone from everywhere.
"Learning Mall aims to combine the physical campus with online resources, and it has two versions: one is Learning Mall Core and one is Learning Mall Premium. Learning Mall Core supports our students and staff, and Learning Mall Premium provides academic courses for external users."
XJTLU has around 25,000 students and more than 100 programmes. Undergraduates will receive two degrees: one from the University of Liverpool and one from XJTLU that is recognised in China and internationally.
"We have a global stage and international resources. Our purpose is to become a fulcrum of future education exploration, and an international university that prepares students for the future," Professor Xi concluded.
By Xinmin Han
Edited by Catherine Diamond