The Xi'an Jiaotong-Liverpool University (XJTLU) Learning Mall and the Chartered Institute of Building (CIOB) Academy recently announced the launch of a joint learning platform and a series of CIOB courses on the XJTLU Learning Mall Premium. This is the first time that the CIOB has established a joint learning platform in Asia.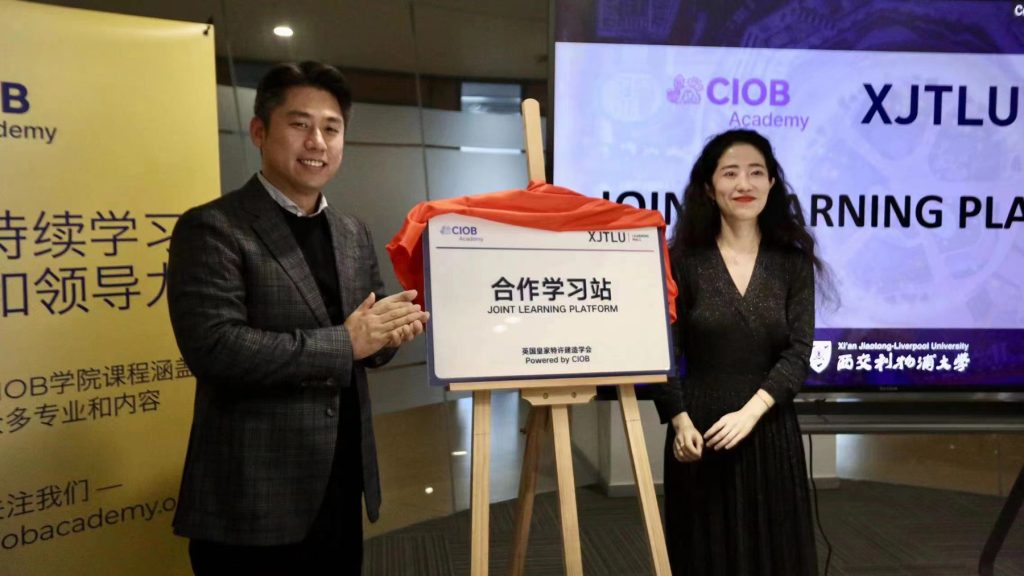 Dr Xin Bi, Director of Centre for Knowledge and Information and the  Learning Mall, left, unveils a plaque for the new joint learning platform with CIOB Training Manager (East Asia), Qiong Wu
XJTLU signed a Memorandum of Understanding with the CIOB last February, setting the foundation for cooperative projects like the joint learning platform.
The CIOB Academy courses cover topics including planning and organising work, management, health and safety, sustainability, and commercial and contractual issues. Course content, delivered by experienced industry and academic experts, supports learners in achieving key built-environment competencies and industry-leading qualifications.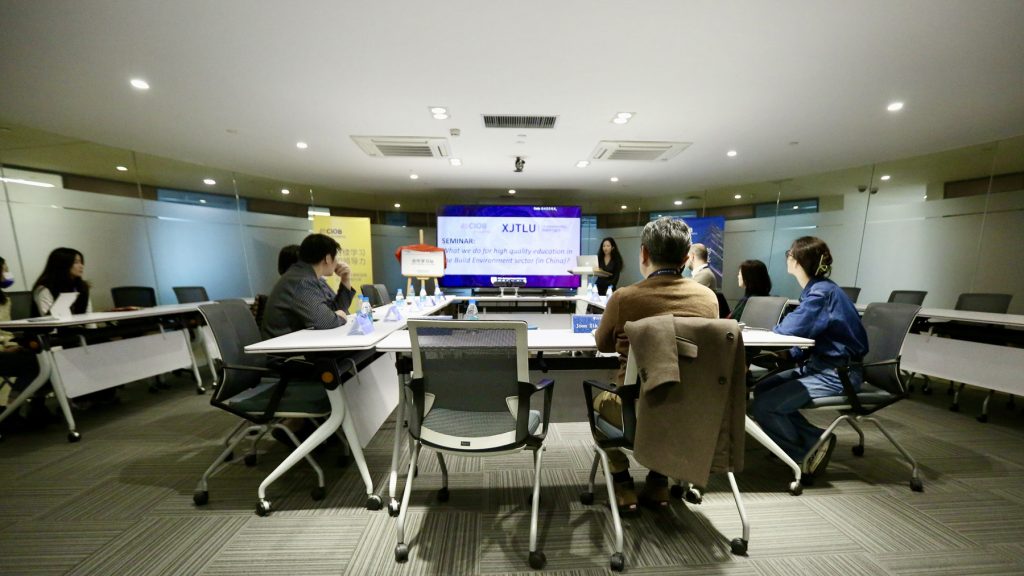 The XJTLU Learning Mall, Design School and CIOB discuss high quality education in the built environment sector
Dr Xin Bi, Director of the Centre for Knowledge and Information and the Learning Mall, says that the new joint learning platform connects high-quality resources from both education and industry sectors. The courses empower the teaching and learning activities on campus while serving a broad range of learners.
Adrian Montague, Director of the CIOB Academy, says that collaboration between universities and the CIOB provides opportunities for knowledge and information exchange. He says he expects the XJTLU Learning Mall, Design School and the CIOB to jointly develop high-quality, diversified course content with flexible learning methods.
Dr Konstantinos Papadikis, Dean of XJTLU's Design School, says organising academic conferences and developing teaching materials together with the CIOB will improve education methods. These new ways of teaching will help provide the international perspectives that students need for the 21st century, he says.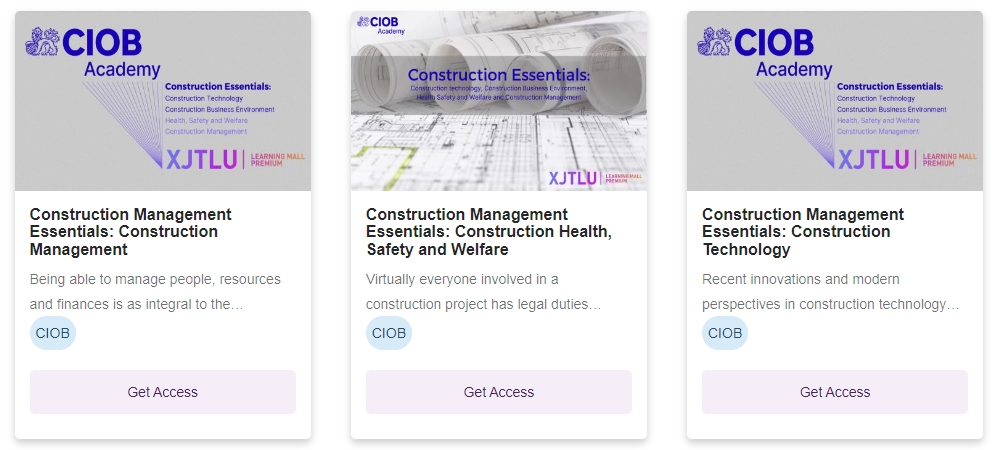 CIOB Academy courses on Learning Mall Premium platform
About CIOB Academy
Established in 1834, CIOB is the world's largest and most influential professional body for construction management and leadership. With its headquarters located in the UK, it has more than 50,000 members in more than 100 countries. The CIOB Academy is committed to providing a wide range of courses to connect learners with learning resources, mentors and career opportunities while supporting them to realise their potential in the construction industry.
About XJTLU Learning Mall
The XJTLU Learning Mall acts as an innovation and entrepreneurial research and development hub, as well as a project and partner centre. It is constantly developing and re-evaluating its business development strategy based on the evolution of the global market to build academic, research and strategic partnerships with innovative university and industry partners.
By XJTLU Learning Mall
Edited by Tamara Kaup