On February 24, 2023, officials from the Department of Culture and Tourism of Jiangsu Province and the Suzhou Municipal Bureau of Culture and Tourism visited the School of Cultural Technology, XJTLU Entrepreneur College (Taicang) and were given a warm welcome and a one-hour seminar. Professor Alvaro Collar, Dean of the School of Cultural Technology; Professor Andrew King, Associate Dean of the Entrepreneurship and Enterprise Hub, and Mr. Chen Zhonghao, lecturer of SCT attended the meeting together. The meeting went very well and was followed by a pleasant and friendly interaction.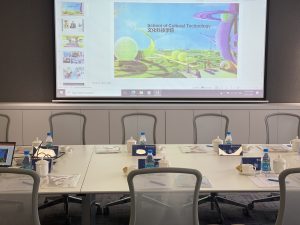 It is reported that the leaders visited the office area in depth and learned in detail about our staff, the quality of teaching and the configuration of our facilities. They learned about our school development process, management system, student progression system and future development plan. After that, they inspected the G building where the School of Cultural Technology is located. Our school lab technician explained to the guests the structure of the whole building, as well as our unique and diversified characteristic spaces.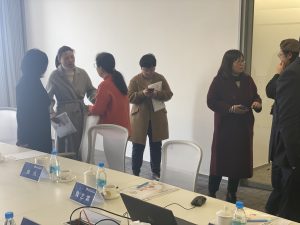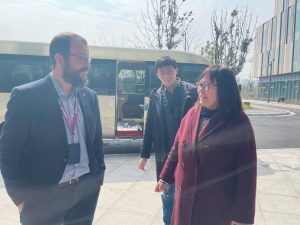 During the meeting, Ms. Li Mingzhen, Director of the Science and Technology Education Department of Jiangsu Provincial Department of Culture and Tourism, also mentioned several times that she hoped to cooperate with our institute in the future. Mr. Xu Fan, Director of the Training Center of the College of Design and Innovation, Tongji University, said he was very optimistic about the development prospect of our institute and looked forward to closer communication and interaction in the future. Mr. Yan Hao, Director of Taicang Culture, Sports, Radio, Film and Tourism Bureau, said that he understood and recognized the concept of Syntegrative Education (SE) of XJTLU, and hoped that we could also increase our cooperation; he was also willing to match our school with the right platform and provide timely assistance. Meanwhile, Prof Alvaro Collar, the Dean of our school, also expressed his gratitude to all the leaders for their expectation and attention to our school; he also sincerely hoped that we could strengthen the cooperation with related enterprises in the future and show a stronger School of Cultural Technology to everyone.